Novak Djokovic has achieved what no other player has achieved, he has claimed the Golden Masters by now winning every one of the nine ATP Masters 1000 events at least once.
And to boot he also was the first man since Rod Laver in 1969 to hold all four majors at the same time. No one, not Roger Federer, not Rafa Nadal, no one, has done that.
Five previous times Mr. Djokovic had been in the final of the Cincinnati Masters, on four of those occasion he was beaten by Roger Federer. It was the only one of the Masters Series that eluded him.
In order, he won, for the first time (number of times), Miami in 2007 (6), Canada 2007 (4), BNP Paribas Open in Indian Wells 2008 (5), Internazionali BNL d'Italia in Rome 2008 (4), Madrid 2010 (2), Shanghai 2012 (3), Monte Carlo 2013 (2), Paris Bercy 2013 (4) and now Cincinnati.
"Definitely one of the most special moments in my career," Mr. Djokovic said. "Achievements, making history of the sport that I truly love is a great privilege and honour and something that I'll be very proud of for the rest of my life.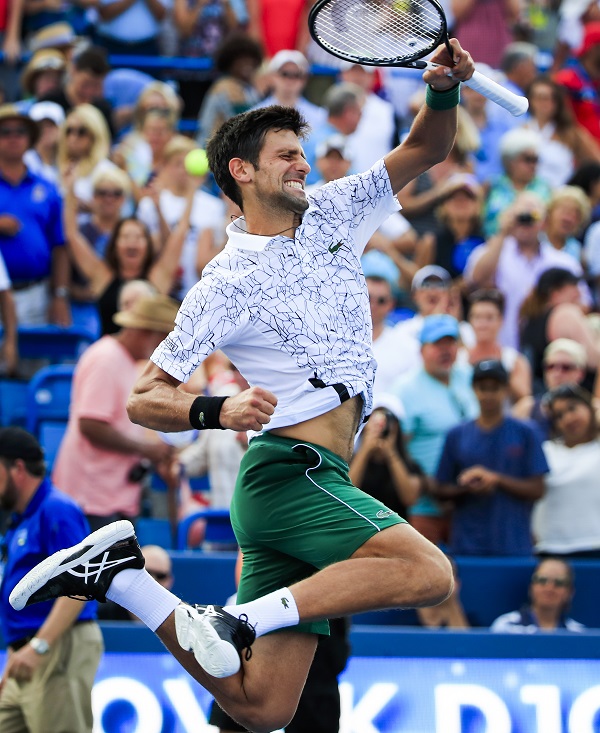 "I was saying previously that during the week that obviously this trophy has been a motivation, big motivation for me. But at the same time I tried not to think about the pressure of really making history too much, because I have had already some failed attempts, three years ago with Roger, and coming into today's match, I mean, wasn't easy psychologically because I knew I lost to him every time I played him on this court. But at the same time, I liked my chances because I felt better and better as the tournament week was progressing.
"I felt that in the past when I had this particular, you know, circumstances in the tournament and matches where I come back, you know, from situations where I'm down a set and a break and I managed to win close matches, I usually come out semi-finals or finals playing my best tennis.
"That's something that I was hoping is going to happen again, and I believed that it will and it did. It was by far the best performance of the week."
It has been a tremendous road back for him capped off so far with his fourth Wimbledon title last month but as he said this achievement is incredibly dear to him and one that he savours. Not too many would have predicted this at the start of the year when he was still struggling big time with his elbow injury that required "intervention".
But during The Queen's Club you could see things were turning around for him, even though he lost a close final to Marin Cilic. Quite probably his anger and disappointment of losing from a winning position at Roland Garros was the tipping point for him with turning things around.
"It's a pleasure to share the court with (Roger Federer), with the all-time great, I truly mean that," Novak said. "With him, with Nadal, these guys have been such an integral, important part of my life and my career and my evolution as a tennis player. They make me play my best tennis. They make me improve. They made me think about what I need to do in order to try to be the best player in the world."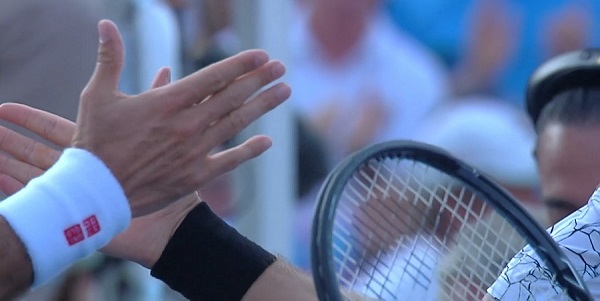 In a sort of way, having the Cincinnati title elude him till now, was like the French Open eluding him. He said it was hard to compare but also "it's very fulfilling"
"I will just say that I'm very, very, you know, pleased and proud and, you know, satisfied," Mr. Djokovic said. "Just filled with great emotions. You know, obviously I tried for five times. I didn't succeed. I kept on coming here, and I felt, to be honest, more pressure every time that I kept coming.
"Just wasn't managing to overcome the last hurdle. You know, coming in this year, obviously the Wimbledon win made things quite different for me in terms of approach to both Toronto and Cincinnati. So, I felt more confident on the court."
And the man he beat in the final was, as expected, suitably impressed with this achievement.
"I think as generations will go by, more and more players will probably get a chance of doing something like this, but he is the very first one to do it," Roger Federer said. "It's a great credit to him. Yeah, I think it's an amazing accomplishment."