Stefanos Tsitsipas is by far one of the most exciting players in men's tennis and he is someone to keep both eyes on.
Stefanos Tsitsipas lost the Toronto final last weekend but there is no doubt that he is continuing to show why he is one of the brightest names for the future of tennis.
He turned 20 the day of the final in Toronto which he lost to Rafa Nadal and the crowd sang "Happy Birthday". It drew a wide smile despite his disappointment, but it helped him to appreciate what he has achieved so far.
The tall Greek with long mid-brown locks tucked in with a headband, started the year just inside the top 100 which had been a move of about another 100 places from the year before. Now he has hit the top 15 and should have a top 16 seeding at a major (US Open) for the first time.
Mr. Tsitsipas enjoys developing his abilities and makes no bones about the fact that he is taking a leaf out of other players' books and as he put it "it never gets easier". That quote may just become his catch-cry but it proves that he knows how much work it is going to take to get amongst the best.
He got the taste of a tour level final for the first time when he lost the Barcelona final to Mr. Nadal and in Toronto he had the week of his young career.
Stefanos became the first man since the inception of the ATP World Tour in 1990 to beat four top ten players at the same event - he accounted for Alexander Zverev (who he lost to the week before), Dominic Thiem, and in back-to-back matches dismissed both Wimbledon finalists - Novak Djokovic and Kevin Anderson from match point down.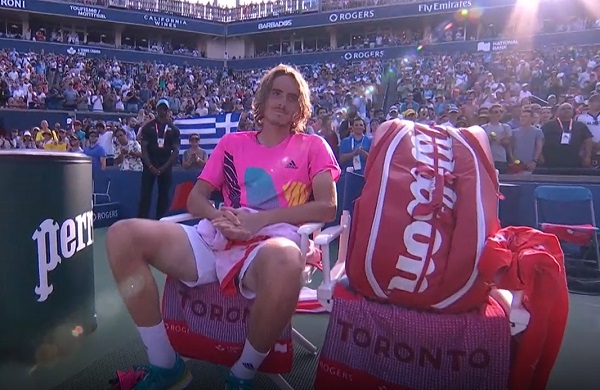 He said he was "living the dream" and he is enjoying everything about his life more than ever which is not hard to do when all is going in the right direction. How he handles it when things are not going right is what make a champion but with Stefanos Tsitsipas you get a sense he will be okay
"Four wins against top ten players; I would never imagined that I could pull this out in a single tournament, we're not used to that," he said "And I don't know if I got lucky with all those players, but somehow it happened that I played four top ten and managed to beat them, which is a huge achievement for me and for my game.
"The Djokovic win was the highlight and most emotional, but I have learnt how much I have to work. How much gap there is between (Nadal) and me in our games, and how much more I need to improve. I don't want to be rude, but bust my ass more on the court.
"Work more hours and become stronger and more solid baseliner; and withstand pressures, physical pressures on the court that to him it just seems like nothing special. That's the big difference between my game and his game.
"And the patience that Rafa has is amazing. He never cracks. He will always grab you like a bulldog and always will have you -- he will always make you suffer on the court. And it is amazing what he has built as a player. I mean, he was, like, you know, normal like all of us, and he managed to become this beast, this monster that he is today.
"It is true. It is true. It's not that I'm saying something that -- that's how you feel when you play against him. So, I need to work much more, as I said, and hopefully I can reach his level one day.
"I'm really hungry for more. I believe I can achieve much more this year. My game is currently … I feel like I can still beat good players. So, I really want to make more points this year and get the best out of me."
That is just so refreshing to hear. He is not prepared to just sit back and enjoy what he has done so far, which, really, in the overall scheme of things is not much. Stefanos has such a long way to go and it is thrilling to watch him develop.
He is such an exciting player. Generally, he can remain quite composed on court but there are definitely occasions when he can lose his cool as was evident the week before Toronto when he was frustrated with himself playing Mr. Zverev and was then seen bashing his head during a change of ends. The German was more than a bit amused as he watched the sequence after the match and likened it to when Mikhail Youzhny hitting his head with his racquet and cutting himself.
"I can see that my tennis has changed, has changed from what it was before," Mr. Tsitsipas said. "And now I feel comfortable. And I can adjust fast from grass to hard, from hard to clay. It doesn't matter in which surface. I feel like I have an all-around game. So I feel comfortable playing on all the surfaces."
Despite not expecting what transpired with his results, he believes he has the game to compete against the best players and when there is confidence, anything can happen.
"I feel like I belong in this level. I feel like I have it and that I can compete against these players and play lots of matches against them and have a positive head-to-head against them. And I feel proud of myself. I feel proud of my country. And I feel proud that I'm showing my best out on the court on such big stages, and that I can make tennis in Greece the thing," Mr. Tsitsipas said.