The behaviour of Justin Gimelstob during the match between John Isner and Kevin Anderson needs to be addressed by the ATP.
The excitement has died down now. The grounds have gradually been cleared at Wimbledon. There were many stories during the two weeks with some to be continued and highlighted. One matter that came up late in the fortnight had to do with American Justin Gimelstob and his distasteful behaviour during the match between John Isner and Kevin Anderson.
Gimelstob has fingers in a lot of pies but you wonder if some of them cross the line of conflict. He was a mediocre player whose highest singles ranking was 63. He never won a singles title and the closest he came to one, was one final. He won some doubles titles and a couple of mixed doubles titles.
He commentates for Tennis Channel and is an ATP board member having also served on the Player Council some time ago. He is also a coach to Mr. Isner. The latter is where the inappropriate behaviour came to the fore and caused concern. No doubt it was not well received by the ATP, the governing body for men's tennis.
Dressed in a navy blue suit and wearing sun glasses Gimelstob looked stylish but his persona was uncouth.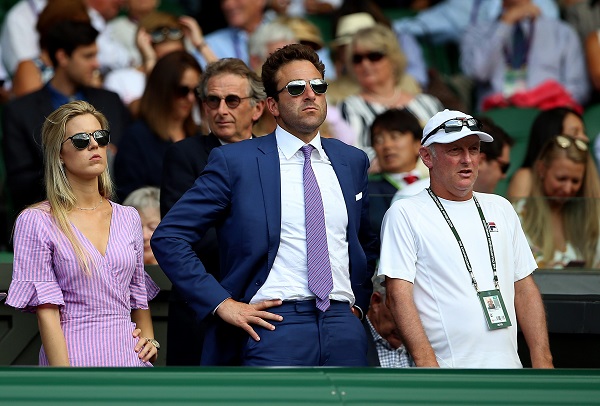 The match between John Isner and Kevin Anderson became the longest semi-final ever played at Wimbledon and the second longest match played there – Mr. Isner was involved in the longest one as well, back in 2010. Gimelstob's antics of screaming and shouting from the player box during the match was frowned up.
It is all very well to support your player but what he did and the way he carried on was totally inappropriate. He was disgraceful. People sitting in the neighbouring Royal Box were turning to their right and looking in amazement.
What added to the off-colour attitude was the fact that Mr. Isner's opponent, Kevin Anderson is the Vice President of the Player Council.
It is believed that players watching from the locker room were shocked and dismayed at Gimelstob's behaviour.
He showed no respect for the players on court and it even led to Mr. Isner getting a warning. Gimelstob was insulting two players who were working their hearts out. Mr. Isner did not deserve to be branded with the pathetic approach from someone in his team and Mr. Anderson deserved way more than the near abuse displayed by Gimelstob.
Gimelstob needs to decide what he is - a coach, a board member or a TV commentator. The ATP management should sanction him, maybe even have him step down, because as a representative of the Tour he did not project things in a good light. It was almost as if he was going through an out of body experience. He has always been brash and loud, but this was unsavoury.
At the very least he should be issuing an apology to Mr. Anderson and that should be displayed on the ATP website.
I have never seen an individual representing the Tour at such a high-level behaving in such poor manner and showing no respect for another player let alone one who represents the players, including John Isner on the Player Council.
Mr. Isner and Mr. Anderson handled themselves with immense grace and humility as did everyone connected with this epic, marathon match … except Justin Gimelstob.