Novak Djokovic has defeated Kevin Anderson to win Wimbledon again.
It was 41 days ago, Tuesday 5th June, that Novak Djokovic was very angry and frustrated. He had lost a match he should have closed out with a win. It was against Marco Cecchinato at the French Open. That evening he very grumpily declared that he didn't know if he would play the grass court events.
Sunday 15th July Novak Djokovic was holding the gold Challenge Cup for the fourth time from five finals. He had won Wimbledon again.
In two hours 19 minutes he defeated Wimbledon final debutante Kevin Anderson 6-2, 6-2, 7-6.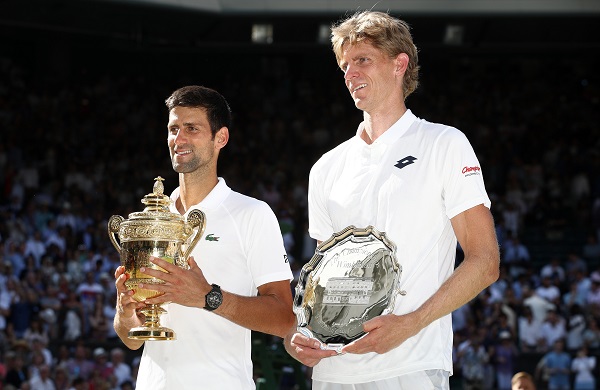 For Mr. Djokovic it has been a long journey to get back to this level. Twelve months ago, at Wimbledon he retired against Tomas Berdych because of the pain in his elbow. He tried treatment, and nothing was working so after the Australian Open he ended up having surgery. By his own admission, he came back too soon, and he was not finding the game he wanted and was expecting.
A lot of that anxiety built up with the Roland Garros loss. When he calmed down things were clearer and he played Queen's and reached the final. That was starting to give him encouragement and at Wimbledon with each match things were getting better. He probably got a raw deal with his court allocations in his earlier round matches but he played through it.
"It took me many tournaments (to come back)," Mr. Djokovic said. "I couldn't pick the better place, to be honest, in the tennis world to peak and to make a comeback. Wimbledon has been always a very special tournament to me, and to many players obviously. I dreamed of winning it when I was a seven-year-old boy. I made a lot of improvised Wimbledon trophies from different materials. I really always dreamed of winning Wimbledon.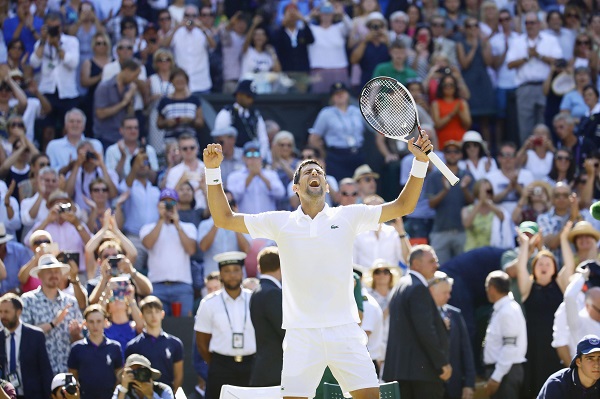 "When that happened back in 2011, when I became No. 1 of the world, in just a couple days all my dreams came true. It's really hard to compare this year's victory and trophy with any of the other three because they're all special. But if I can pick one, that would be probably the first one and this year's winning because my son was at the trophy ceremony, which made it extra special."
The little boy gave Novak "the biggest motivation for this Wimbledon". He was picturing Stefan being there for the presentation.
"I never had him in the box watching the tennis match," he said. "I was hoping that Wimbledon can be that tournament because he's big enough now I think to stay quiet maybe for 30 minutes or so. Maybe... He was not there till the very moment when I was walking to get an interview. He walked in. So that was just a moment that I will carry inside of my heart forever."
The experience of being in five finals was huge against Anderson who was very nervous at the start of the match and Mr. Djokovic took advantage of that. The mental edge helped him accelerate through the first two sets. In the third set Mr. Anderson started to swing through the ball and reduced his error count and even the Serb said Mr. Anderson was the better player in the third.
The South African had five set points but was not able to convert and the set went tio the breaker which Mr. Djokovic won comfortably.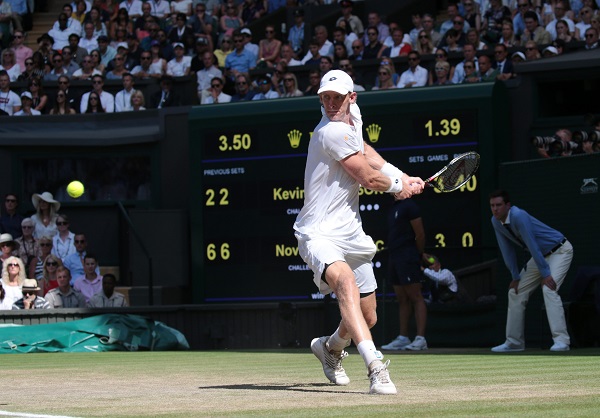 "It was a tough start for me," Mr. Anderson, the first South African to reach the Wimbledon singles final in 97 years, said. "You always have high hopes. Going into the match, I was hoping to draw on some previous experiences, playing at the US Open in the finals, obviously playing Federer a couple days ago.
"But, yeah, I didn't really find my form the way I wanted to. Of course, my body didn't feel great. I mean, I don't think you're going to expect it to feel great this deep into a tournament when you've played so much tennis.
"But I was definitely quite nervous starting out the match. Didn't play great tennis in the beginning. I tried my best to keep at it. Definitely felt much better in the third set. I thought I had quite a few opportunities to win that third set, especially a couple of the points where Novak hit a couple balls, I thought they were actually going out, managed to land right on the line. I would have loved to have pushed it to another set, but it obviously wasn't meant to be."
This is Mr. Djokovic's 13th career major putting him into clear fourth place behind Roger Federer, Rafa Nadal and Pete Sampras. The semi he played against Mr. Nadal was extraordinary and Novak said that is a match that he regards as the one to give him the confidence for the rest of the year and on.
"Playing against Nadal in the semifinals here was the biggest test that I could have specifically for that, just to see whether I can prevail. That's why I spent a lot of energy and I put a lot of effort to win that match because I knew how much that will mean to me and how much it means to me, to my confidence.
"I thought the first two sets against Kevin today, even though you could feel he was nervous, you could feel that he wasn't playing at his best, was making a lot of errors, but I thought that I was very, very solid. Probably the two best sets I've played in a long time."