What players are saying as Wimbledon 2018 is about to start.
ROGER FEDERER
Q. You're going to play for the eighth time tomorrow the first match on Centre Court. Can you elaborate on how special this moment is, the memories you have.
The first one, I'm not sure how much I remember of it. If I think of tomorrow now, I think it remains a little bit nerve-wracking, you know, in all honesty. It's a big deal. I mean, besides the history and the mythical place that it is, you cannot also practice on it. When you come out, there's a bit of uncertainty for both players, from a very quiet week and site that we've seen this week, it's just packed everywhere. The entire atmosphere changes at Wimbledon, and you realize the eyes are on you. That naturally makes you a bit nervous, you know, I believe.
Plus it's not the second day or something, or a Wednesday sometimes like it used to be at the US Open when you started the tournament, you're basically the first one on the show court. It's always a lot to ask for from the players, but I love it. It's a massive honor. You try to do your best. I'm looking forward to it. It's exciting.
Q. You look even more handsome than last year.
Okay, thank you (smiling).
Q. How do you feel?
I feel great now (laughter). I feel red.
Q. How do you feel physically this year, this time?
Incredibly sexy (laughter).
Q. I still remember last year, you told me you feel tired, more tired.
Oh, yeah.
Q. During the Australian Open, because the long and hard match, yeah. But when you came to Wimbledon, you feel much better, much more relaxed. How about this year?
I mean, I look good, I feel good, so it's all good (smiling). Honestly, I'm feeling good. I was tired at the beginning of the week because of the nine matches I played in 12 days in Stuttgart and Halle.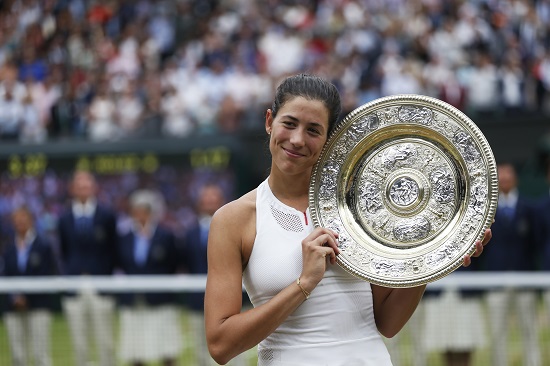 GARBINE MUGURUZA
Q. You come to Wimbledon as defending champion. What does that mean to you?
Really just good memories. I'm here to try to win another Wimbledon, not really to defend the title. I think it's just a new year, it's a new field. That's it. I think just good memories.
Q. Maybe not so much about defending a title, but what is the feeling like coming into Wimbledon as the titleholder? When you arrived at Roland Garros last year, how is it different, what are your feelings about it, the mentality?
Of course, it's a special situation to come back to the Grand Slam that you won last year. You're very emotional and happy. I think I give it less importance right now. I think it's just doesn't really matter what happened in 2017. It's just about this year. I think that's what I had to learn in French Open. This year it's different. Different mentality.
Q. Who do you see as the main threats, main contenders for the title this year?
Yeah, I think there is a lot of people. There's a lot of players, because this year, and also the previous year, you see that every tournament, there is different winners. The top ranking is constantly changing. Even the top 1 spot is always -- there's always people that have chances. Yeah, I mean, honestly on grass, especially in this tournament, I feel whoever has two great weeks can be a threat.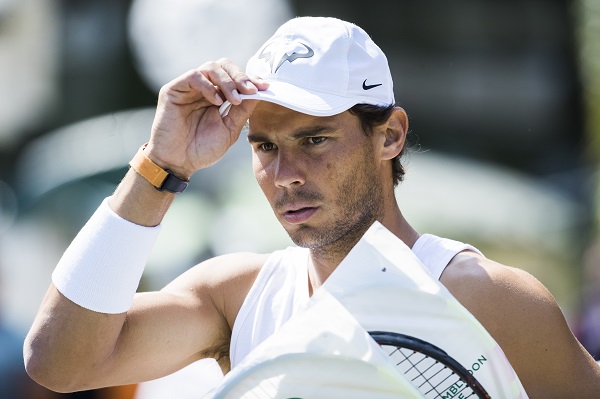 RAFA NADAL
Q. The 2008 final 10 years ago, could you reflect on how you felt at the time, what it meant to you at the time, then 10 years on what it means to you looking back on it today?
I am not thinking every day about that final. I am just focused on what I am doing today. But of course in that moment, that final have been a very important step forward for me in my career.
I always have been very clear that probably is one of the most emotional matches that I played in my career. Yeah, everybody knows that for me win here was one of my dreams. After losing two finals, that final created a big impact in my tennis career. The personal satisfaction that tournament give to me is difficult to compare with other things.
Q. Do you approach Wimbledon, because you don't play too many tournaments on grass, differently than other tournaments? Do you have different expectations? Is it always the same?
No, expectations are always high. I am not here to play the tournament; I am here to try to have a good results, of course. But is true that in the other hand is one of these events that you arrive here and you really don't have the previous feeling of how you feel, how you are playing, how you are not playing.
But is nothing new. Even when I won here, when I played finals here, I played five in a row I think. So I played, yes, one year I won on Queen's, played five matches. The other year the maximum I played was three matches on Queen's.
Even with three matches, you arrive here and you really don't know very well. Is an event that you need to find your confidence during the tournament and during the practice the week before. For example, when I arrived to Roland Garros, I know more or less if I am playing well or if I am not playing well. I know where my chances are, more or less. In the US Open, little bit less, but still knowing better than here.
PETRA KVITOVA
Q. Obviously a former champion here. Many are talking of you as a possible favorite for the title this year. Is that a burden or something you carry easily?
Well, I've been hearing this every year I'm playing Wimbledon, so it's not really anything special. I heard the same last year, as well, even I just played two tournaments.
I didn't feel that way last year. Not either this year. I know how the Grand Slams are this year for me. I'm just here probably to try the best and kind of do the best result I can on the Grand Slam this year. I don't really feel as a favourite of the Wimbledon anyway.
Q. You have said that Centre Court is your favourite place at Wimbledon. What goes through your mind, what is the experience like when you are walking out to Centre Court to play a match?
It's always been great to walking all the way to the Centre Court. It's kind of special over there. Always feels lots of nerves going there. Especially when you step on the Centre Court, you see the beautiful stands, all the people in the crowd, it's just amazing. You feel very special to be out there, that the people came to watch you. It's just amazing to be in kind of historic place as Centre Court is.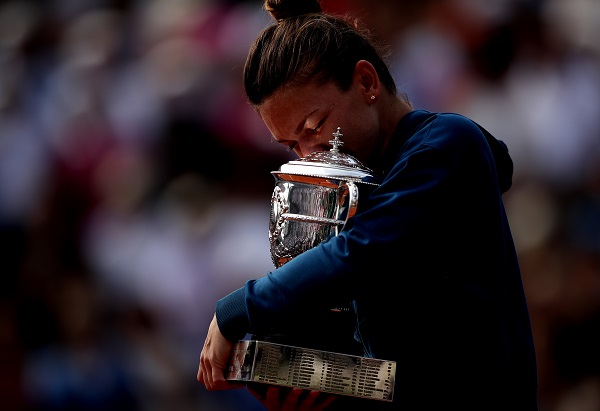 SIMONA HALEP
Q. What did you think it was going to be like to be a major champion, and what has been the reality?
No, the same. I didn't expect a big change. Of course, inside of myself it's a change because I'm really happy that I was able to break that barrier.Life is the same. Everybody's the same. I am the same. I have to start again to play tournaments. I'm here ready to go ahead. I'm really looking forward to start it. I don't know how it's going to be, this tournament. I smile a lot. I feel happy. I'm happy to be back on court.
Q. You said there was a change inside of you. What was that change?
Well, the pressure is off. The dream came true. So I don't stress myself any more with that Grand Slam thing. It's nice to be in this position. But, you know, gives me just happy moments, nothing else. I was dreaming for this. I did it. Now I have already set another goal.
Q. What is the new goal?
The new goal? Actually it's about the Olympics. I would love to have an Olympic medal. So my focus is on that.
Q. How was preparation for this tournament? How much do you know about your first-round opponent?
I slept a lot when I had those two weeks off (smiling). I came here actually eight days ago. I practiced on grass. I feel okay. I feel ready. I didn't have an official match yet, but it happens when you go till the end the French Open. I know that my opponent is very fast, is playing flat. I need just to be strong on my legs, to be ready for a fight. It's going to be a big battle.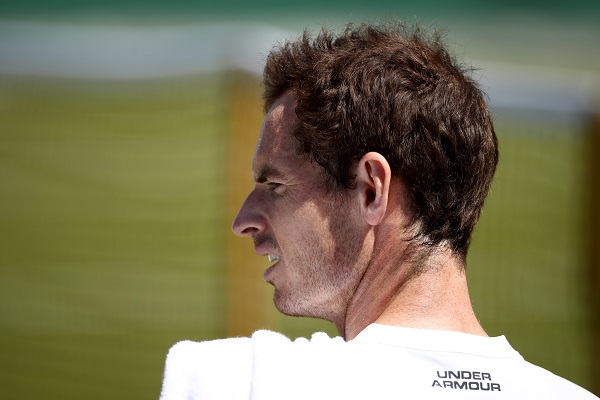 ANDY MURRAY
Q. Can you tell us, have you decided yet whether you're playing?
Yeah, unless, you know, in the next couple of days I don't -- I wake up and don't feel good. I mean, through all of this, you know, I have to view it, like, very much day by day, just as a process. I'm practicing, like, a high level, a high intensity every day with some of the best players in the world. That's really positive for me as part of getting better, to compete again.
I spoke a little bit about it last week. You know, in other sports when you come back, you don't tend to come back and be competing against the best in the world immediately, like, for five sets or three sets, whatever. You would build up a little bit, play 15 minutes, 30 minutes, and so on.
I'm just trying to right now keep building, practicing with these guys, then hopefully pulling up each day and obviously competing in the matches, which went well I think the last couple of weeks, in Queen's and Eastbourne. So far here that's also been the case, which is good.
Q. It was not that long ago where you thought you probably wouldn't be here. What does it feel like to be back here with a very good chance?
Yeah, I'm pumped obviously because, yeah, I mean, four or five weeks ago, I didn't know whether I'd be capable of competing at a level I'd be happy with. I think the last couple of weeks, you know, has been beneficial. I don't think in the matches I was sort of -- I don't think I played amazing in the matches, but I think I've done well, considering the opponents, the level of the guys that I've played against.
Obviously Wimbledon for me is obviously special for a lot of reasons. I always want to, you know, be here competing. It feels a little bit odd coming into the tournament this year. Normally like at this stage I feel really nervous, lots of pressure, and I expect a lot of myself around this time of year. I've always loved that and enjoyed that in a way. It has been difficult, but enjoyed it, whereas this year it feels very, very different.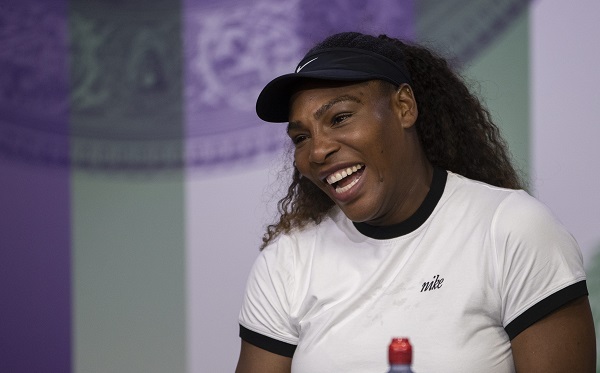 SERENA WILLIAMS
Q. I saw that you posted a picture of you with your daughter on Centre Court earlier this week. What was it like to show her where you work? Have you changed your approach to how accessible you are with fans when it comes to social media and why?
Yeah, you know, I did take her to Centre Court early on this week when I was here. I don't know. I got a little emotional when I was telling her a story about a girl who had a big dream. I started getting choked up. It was on my Instagram Live story.
I never felt that before, you know. Just taking all that moment and having the opportunity to share it with my daughter and my future. It was more than I expected. I didn't expect to suddenly get emotional. So that was really, really nice. We'll always have that. We'll always have that memory. We'll always have that footage of her. I've been to the other Grand Slam, but I never actually brought her on-site. This was the first one. Obviously it was really special for me. I wanted it to be special for her, too.
In terms of social media, I feel like there's definitely a different side. I love having this family and having opportunity in the world of social, we live in the age of social media. I like sharing, but I also draw a line as to what I'll share and what memories we keep for ourselves and what moments we want to keep for ourselves so... At the same time I feel so proud, you know, and it's so amazing that there's also lots of things I want to share, as well.
Q. Being at the French, being back here, how would you describe your competitive desire now that you're a mom?
You know, my competitive desire is definitely the same. I don't know if you saw the Being Serena on HBO, it was hilarious. I was in the hospital. I said something about Olympia playing. I said, Not if I'm still playing, I'm going to win. It was totally ridiculous. I was still on medication. I don't think I ever actually lost that competitive side. In fact, I feel like it's stronger because I've been through so much. I put so much on the back burner, I feel like even more so I'm even more competitive.
Q. The decision on seeding players, they chose to move your seed from your ranking to No. 25. What are your thoughts on that decision? 25 too low, too high?
I think I would be very ungrateful if I sat here and said it was too low, to be honest. So not at all. I don't at all feel that way. In fact, I was pleasantly surprised. I came in here expecting that maybe I wouldn't get a seed. I do know Wimbledon tends to kind of beat to their own drum. That's kind of one thing that's been able to set them apart.
It was a little bit in the back of my mind, that I would have a chance, but I didn't put that on it. You know, I'm here to do the best that I can do. I thought it was very, very noble and cool.