Marin Cilic is one of the nicest guys in tennis and with his first title of the year at The Queen's Club, he has moved into serious contention for Wimbledon.
Croatia is having a pretty high time in sport at the moment. There is their run at the World Cup football and last weekend Marin Cilic and Borna Coric cleaned up with the titles at The Queen's Club in London and Halle, Germany, respectively. It was he first time since 2007 that Croatia players had won titles on the same weekend. That year it was Ivo Karlovic in Nottingham and Ivan Ljubicic in s'Hertogenbosch.
And while Mr. Coric's big upset of Roger Federer was a sterling effort, it was Mr. Cilic's win over Novak Djokovic from championship point down in the longest final at The Queen's Club in the Open-era, that placed him even more in the forefront for Wimbledon, which is less than a week away.
Last year Mr. Cilic was runner-up at Queen's and then reached the final of Wimbledon. He is hoping by winning Queen's this time, that will morph into winning Wimbledon.
"If those things go like that every single time, that would be great," he said smiling. "But I'm feeling great. Obviously amazing week behind me. Went through the draw, really difficult draw, I have to say. From the first round to the last match it was all great quality players and one of the toughest tournaments I have won apart the US Open victory. So really pleased with that and feeling really confident about Wimbledon, as well."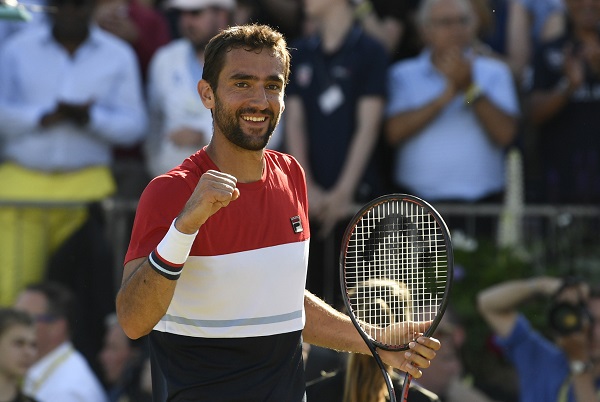 Mr. Cilic has enjoyed quite a twelve-month period. Apart form the Wimbledon final he was a finalist at the Australian Open this year as well and he feels he is improving every week and he has used to increasing experience to great benefit. He says he has learned a lot about himself, his training processes and the equally important recovery aspects.
One of the nicest guys in tennis, Mr. Cilic has taken things up a level and is paying attention to every minor detail and as far as possible not leaving things to chance. He was very focused about coming up with good tennis and keeping a strong attitude for every match. When he faced the championship point in the tenth game of the second set, he treated it as another point and did not stress out being in that position.
"That has given me a lot of great matches and great weeks in last, I would say maybe year and a half and even two years," Mr. Cilic said. "I'm always trying to motivate myself, challenge myself to move forward. The games is always evolving, a lot of great players around. The competition is getting stronger and stronger so you have to always adapt and be better and better."
While is he regarded as a major contender for the big one, Marin is not considering such a position, and that is probably the right approach to take.
"I'm not obsessed by it (but) I feel that I'm playing great," Mr. Cilic said. "That's what I need to do, you know, have a few days of rest and practice and just do things well on my own part of the court.
"You know, even if you're playing maybe great tennis, you can come up playing against somebody who's got amazing day and lose still. Just focusing on myself, keeping going on my own things and I feel that my game is clicking really nicely and hopefully I can deliver great tennis.
"It gives you a sign that you're playing great tennis when you're put under pressure. You know, even playing Novak who has been so many times in the final so he has that huge experience, and being set down even under pressure tells me that I've mentally done really well.
"That's something I'm going to take out positively from this week. I played great tennis, managed to win, managed to find a way to win, and feeling definitely very strong for coming weeks."