Novak Djokovic is working to put the bad memories of Roland Garros behind him and grow on the grass.
Novak Djokovic went hiking after his exit from the French Open; after a loss that angered him probably more than many other ones he has experienced in recent times. The early evening defeat he suffered at the hands of Italian Marco Cecchinato, saw him fuming and he just had to get away from the environment he was in.
Normally Mr. Djokovic has spoken of calming down after a loss with his children but this time he needed to just get away.
"I was hiking with my wife with no kids for five days, if you really want to know," he said. "It was a wonderful time after two years with not having a break only with her without kids, so we managed to do that. We were very far away from any tennis court, in nature, and it was the best way to clear the mind and just also have a possibility to slow down.
"Because we live in a society where everything is so rapid, and we are overstimulated with everything, you know, sometimes you need to just slow down and have time for yourself to think about things, to understand your emotions and what you're going through. So that's what we have done. I managed to just kind of recalibrate and get back on the court."
He made it clear that Paris stung and stung in a big way. He was angry at not capitalising on opportunities against his Italian opponent in the quarters and it took a bit to come back to reality after that.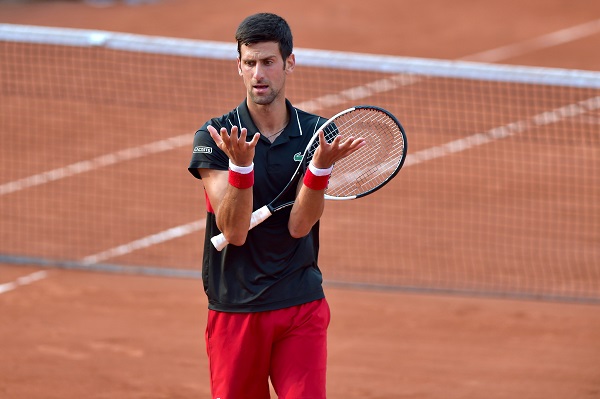 "Look, it's not the first nor the last match that I lost in my life, my career," Mr. Djokovic, ranked 22, added. "I know how to deal with these particular situations, although, you know, considering the circumstances that I was in in the last twelve months, you know, that kind of match loss hurt a lot, because I thought I had a really fair chance to get at least a step further, and I was starting to play really well. I thought in Rome I had a fairly good tournament.
"Got to quarters. Played well. And then just underperformed in quarters, but that's sport. You know, you have to deal with it. It was a big stage. It was a big occasion. Credit to my opponent for winning. But I had to just take some time off the court, you know, and just recharge the batteries physically and mentally and just get back on it.
"So that's what happened, and this was the best way to sort of, say, bounce back from such a loss in Paris."
He wasn't exactly sure how many days the racquets didn't get used; maybe a week, or six days or eight days, but once Roland Garros had subsided in his mind, even though it was at the back of his mind, maybe in one sense to push him that extra inch, Mr. Djokovic started to practice on hardcourts in Monaco where he lives.
He made the trip to London and then hit the grass for the first time and enjoyed about four quality days of training, something he explained was much needed. Going from clay to grass is the greatest alteration for surface change and the adjustment is extreme. It is such a different style of tennis slow to fast, high bounce to low bounce, sliding to potential slipping.
To help the transition he is also playing doubles for more match time on the grass. He was pleased with how things had started but being unseeded at a tournament, as he is at The Queen's Club, in more than a decade, means that the seeded opposition comes up faster. In Novak Djokovic's case this time, it is second seed Grigor Dimitrov in the second round.