Rafa Nadal has won the French Open for the eleventh time.
Like Simona Halep from the day before Rafa Nadal has fallen in love with Paris all over again and in the process and in the process added his name to another part of tennis history. Incredibly Mr. Nadal won Roland Garros for the eleventh time becoming the first player to win as many titles at the same major and he joined Margaret Court as the only players in the entire history of tennis to achieve that. Mrs. Court did that during the sixties.
"Memories are forever, and I have incredible memories of this event," Mr. Nadal said. "I don't want to start explaining all the memories that I have, because are so long. But since the first time that I came here until today is a love story with this event, not only with the victories, but this is all about the people who is working the event, too. I feel very close to all of them.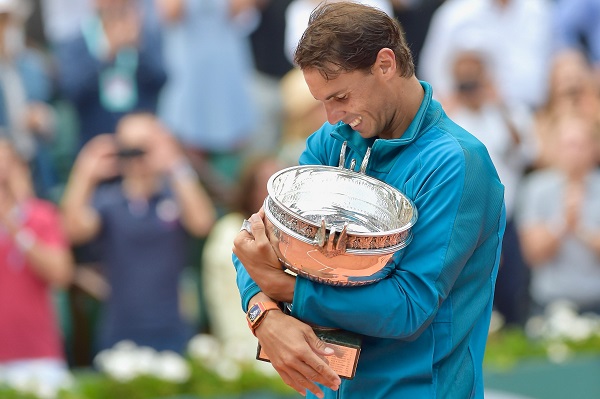 "Yeah, all the people who take care of the event, all the girls that are working, and men here on the lobby. I feel close, happy. I enjoy here watching them all day. And the same when I'm coming here to play Bercy, I like to see this great team of human people that make this event very special."
Mr. Nadal got off to a quick start with an early break but the Austrian rebounded soon after. The First eight games of the final were competitive even though Nadal had a slight edge. Mr. Thiem was started to get frustrated because he was struggling to penetrate through his opponent's spirit.
When Mr. Nadal broke serve to win the first set, there was a sense that this was not going to be Dominic's day. The Spaniard was brutal with so many of his returns and Mr. Thiem was being rocked on his heels. Often, he would gesticulate in frustration, wondering what to do.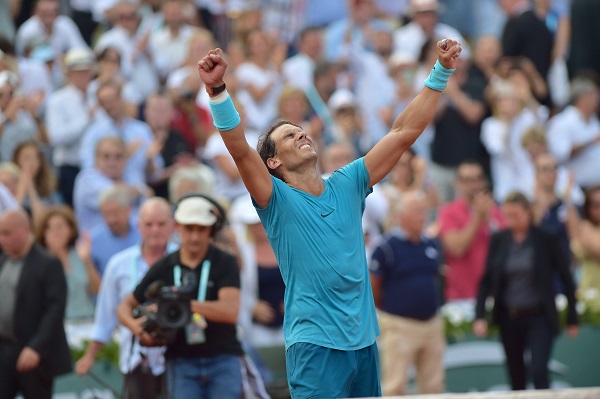 However, in the third set there was an incident that Mr. Nadal described as scary. The middle finger of his left hand stiffened, the physio said it was cramp. Mr. Nadal managed to play through and for the second consecutive year the final was over in straight sets 6-4, 6-3, 6-2.
On court Mr.Thiem explained that as an eleven year old he watched Rafa Nadal win his first French Open in 2005 and dreamed one day of the opportunity to play such a final. Watching was certainly a lot easier physically and mentally but he wouldn't swap the experience for anything.
"Physically I enjoyed more watching him on the couch," he said smiling. "But when he won here the first time, actually when he won here the first four or five times, I was always watching it. Of course, it's really a great thing that I made my way and that I was competing in a final against him. It's a really great thing, honestly, but still I'm disappointed, of course. It was a final. I really wanted to win.
"I gave everything I had, and I'm the loser of today. So at the end, it's not the best day. I think it was the first time against him here in Roland Garros where it was a fight. It was a decent match from my side. He was playing very well, I think, and there is a reason why he won 11 times here. It's definitely one of the best things somebody ever achieved in sport.
"For sure, me, I'm confident that this was not my last Grand Slam finals, and that's my biggest goal, to get into the next one and then to do it better than this one."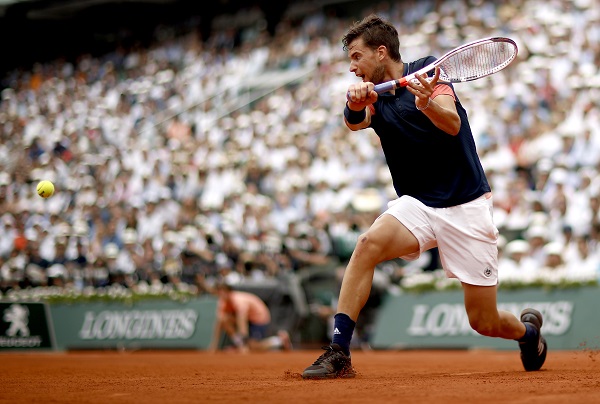 This is Mr. Nadal's 79th career title, his 57th clay title and 17th major which puts his three behind Roger Federer's record. Could that be his aim now?
"Let me enjoy this title," he said. "No, no, no, I can't be always thinking of more. Of course, I have ambition, of course. I have passion for what I am doing. But I never have been crazy about all this kind of stuff. No, you can't be frustrated always if somebody have more money than you, if somebody have a bigger house than you, if somebody have more Grand Slams than you. You can't live with that feeling. You have to do your way.
"And then you have to be happy with the things that are happening to you, no? Because if you are looking next to you, you can be frustrated thinking that people have more things than you in general terms. I am not this kind of person. I happy that other people have things, and I am very satisfied, and I feel very lucky with all the things that happened it me.
"Of course I would love to have 20 like Roger in the future or even more, but being honest, is something that is not in my mind. What is in my mind now is I won a very important title for me. I add one more Grand Slam. 17 is an amazing number. I feel very lucky to all of the things that have happened to me. I am enjoying that moment."