At last! Simona Halep has won her maiden major, the French Open and the world No.1 is on top of the world.
All that chatter about being No.1 without a major now stops. At last Simona Halep can lay claim to be the winner of a major and it is the major that she wanted the most, the one that is her favourite, the French Open.
Ever since she started playing tennis she dreamed of one day winning Roland Garros and now she is the champion. She has come though tennis heartbreak – this was her third final in Paris and fourth major final overall having lost a nail biter to Caroline Wozniacki at the Australian Open in January.
Last year when she was in striking range of the title leading by a set and 3-0 and had a point for 4-0 she lost to Jelena Ostapenko and that, as her Australian coach Darren Cahill said hit her hard. It had a greater effect than losing the close Australian Open final. It took a fair bit of work to regain her mental strength, but she did and the end result was worth the wait.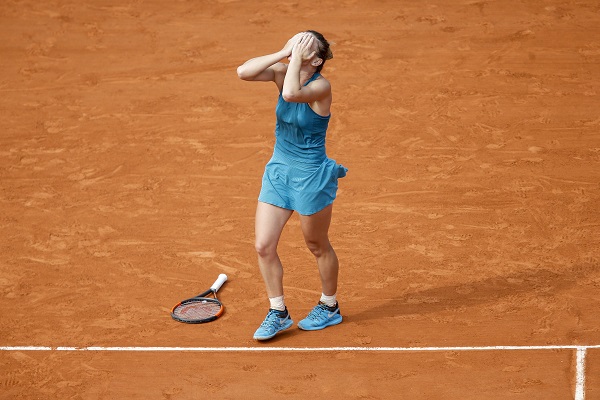 She beat Sloane Stephens, the US Open champion 3-6, 6-4, 6-1.
Incredibly the last seven majors have been won by seven different women and Miss Halep has played 32 majors before winning her maiden one.
"Well, it's an amazing moment" she said beaming. It's a special moment. I was dreaming for this moment since actually I started to play tennis. It's my favourite Grand Slam. I always said that if I'm going to win one, I want it to be here.
"It's real now, so, yeah, my family was all the time supporting me since I started to play tennis, also all the coaches and all the people that I have worked during this 20 years. Thanks to them, because it's tough to keep working every day at the highest level.
"All the friends, all the people that are really special for me in this life. Without them probably I couldn't, you know, come back after losing three finals of Grand Slam. But now I want just to forget everything and just enjoying this moment because it's really special."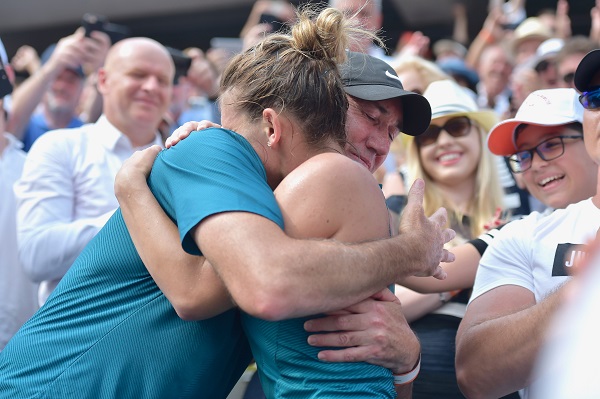 Halep had to come back from a set and 0-2 down to beat Sloane Stephens who had never lost a final before this one, she was 6-0. From that point on Miss. Halep told herself she had to stop missing. The errors began to drop, and she began to engage in more baseline rallies trying to move the American around.
Miss. Stephens was beginning to los a step and the world No.1 noticed that. She fought hard in the second set by break back and then going up a break only to drop serve once more. However, Miss Halep held serve to lead 5-4 in the second and went on the attack as Miss Stephens served to stay in the second. She was not able to hold and the final was now locked at a set all.
It just seemed that the American was not starting to feel the effects of the pressure being laid upon her and in the deciding set, game after game fell away. Halep was up 5-0 before Miss Stephens was on the board, and it was for a fleeting moment only as the match came to a close.
"I couldn't breathe very well in the last game at 5-0," Miss Halep said. "And when I lost the game, I said, Okay, I have four more until she gets back. So I have just to take ball by ball, point by point, and taking it. Because last year I was a little bit defensive when I was leading the match, and now I just change it in my mind. I said that I have to hit the balls. I have to move and not thinking about the last game. Just every ball, every point. So I did it well, and I was very strong mentally to finish that."
Needles to say Sloane Stephens was very disappointed in losing her first final but she was gracious about Miss Halep explaining that she played very well.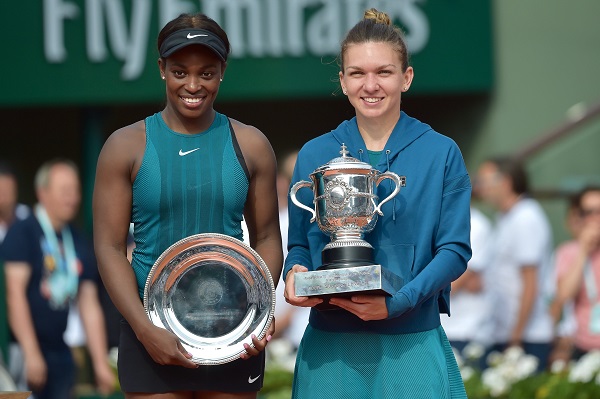 "She raised her game, raised her level," Miss Stephens said. "Not much you can really do about that. I competed the best I could, and the better player won the match today.
"Obviously being in a Grand Slam final is very special. It's a great opportunity. Not very many players ever get to a Grand Slam final. So the fact that I have won one and been in another final in such a short period of time, I'm very optimistic and very pleased with myself. I'm not satisfied, but I am proud of myself."
Maybe it was the omens also working in the Romanian's favour in the background – it was exactly 40 years ago that the only other Romanian woman won the singles, Virginia Ruzici, who is now her manager, and it was exactly ten years ago that she won the junior title.
Now Simona Halep has the big one, the French Open and she does not want to let go of the Coupe Suzanne Lenglen.
"It's heavy," she said with a smile of relief but also pride. "I kissed it many times to be sure that it's going to stay in my heart forever. It's heavy, it's beautiful. And always when I was seeing the pictures with it, I dreamed to have it, to touch it, and now it's a special moment and I'm really happy that it's mine."