Serena Williams made her return to the majors with her first round match at the French Open and she spoke on a wide range of topics from the outfit she wore, to her baby Olympia, to the recent Royal Wedding.
By playing and winning her first round at the French Open, Serena Williams was playing her first match at the majors since winning the 2017 Australian Open which she did while in the early stages of her pregnancy.
Her post-match media conference after that first match at Roland Garros went over 16 minutes when generally the norm for such a press conference is about seven or so minutes. This media conference was one of the best Serena Williams has ever held as she responded superbly to a range of topics that started with the incredible black cat suit she wore in the match.
While she felt it was empowering, it reminded me of the similarly incredible white cat suit worn by American Ann White when she played Pam Shriver at Wimbledon in 1985. That match was suspended overnight, and Wimbledon officials told Miss. White not to wear the outfit again. It will be curious to see if Serena might try to get away with it next month at the All England Club.
"(This) cat suit, the new version, 2.0, it's cool," Miss Williams said. "I call it like my Wakanda-inspired cat suit. It's really fun. Although we designed it way before the movie, but still, it kind of reminds me of that. It was comfortable. I tried it on a couple of times before. Hadn't tried it on in a long time, like, over a month. So I was just winging it in the last minute."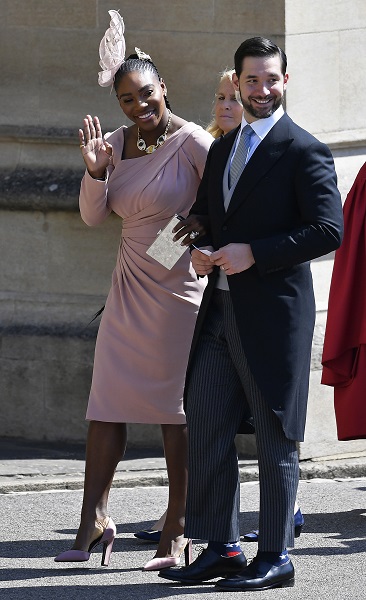 Q. (Does the outfit) have any special meaning?
WILLIAMS: Like I said, I feel like a warrior in it, like a warrior princess kind of, queen from Wakanda maybe. I'm always living in a fantasy world. I always wanted to be a super hero, and it's kind of my way of being a super hero. I feel like a super hero when I wear it.
Serena was asked about being a mother and playing at the majors which is so different to the regular events
"This is an easy answer. The biggest difference is definitely I'm semi on time, two minutes late, because I want to get home and see Olympia, because I have been here all day. You know, there was a couple of rain delays. So I haven't been able to -- usually we hang out all the time. If I'm not practicing, we're hanging out.
"So that is the biggest difference. I'm, you know, I'm concerned how that's going to work out for me, because normally in Grand Slams, I do spend a lot of time at the site. She's so young, I don't really bring her. So, yeah, this is definitely going to be interesting."
Q. How much more difficult do you think it is to be a mother playing tennis than, say, some of the fathers who are playing?
Well, first and foremost, you have to get your core back, which is hard, because it literally spreads when you have a baby. That's difficult. And just coming back from the physical of having a baby, at my age is never, I think, really easy.
You know, emotionally I think it's different, because, you know, I'm so emotionally attached to my daughter. Dads are, too, but I actually breast fed for a really, really, really long time, and so I just had this real connection with my daughter.
Yeah, so I think there is definitely some differences, but there is a lot of similarities, as well, too.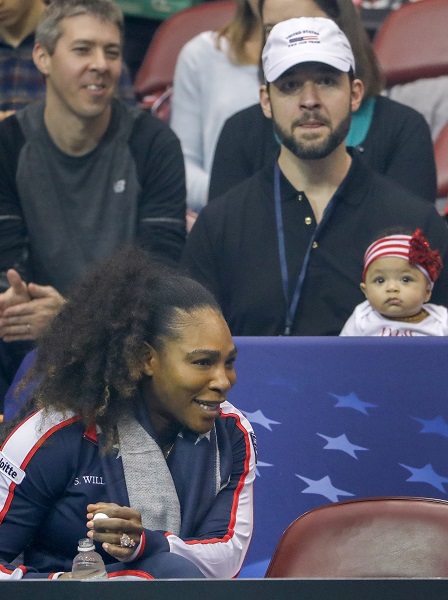 What's been the most difficult thing for you to juggle?
I can't say it's been super-difficult. I mean, I'm really fortunate enough that I can plan my days and I can plan, like, my career. I feel like most moms don't have the opportunity that I do. So I plan my day, like, training is X of time. Then I spend all this time with Olympia. And then if I need to train again, I have X time in training because of her nap schedules.
So I feel like in the beginning it was difficult to learn her nap schedules, even though she's never on schedule, but at least I know that for certain parts of the day I'm spending all that time with her, because I don't want her to ever feel like I'm not around. I'm a super hands-on mom. Maybe too much.
Just a couple of weeks ago Serena attended the wedding of her good friend Meghan Markle, the Royal Wedding, at Windsor Castle and she was fascinated by the whole ceremony and was thrilled with the African American elements included by the new Duchess of Sussex.
"Yeah, it's different. You know, it was really exciting to see so much African-American culture impacted in the wedding, and I was really happy that Meghan wanted to incorporate that into it," Miss Williams said. "I think it was just a whole cultural shift and change. It was seeing how far African-Americans have come, I thought it was an incredibly inspiring and beautiful and really motivating thing. I was so proud of her and so happy for her."
Q. You're so used to a schedule as an athlete and then you become a mother, so how does that schedule change and how do you keep focused and look ahead towards coming back?
Yeah, well, my priority is Olympia. No matter what, that's my priority. I have given tennis so much, and tennis has actually given me a lot, and I couldn't be more grateful.
She's my priority, and I work everything around her. Like I said, I want her to know that I put -- I really try to put her first in my life, along with, you know, God and my family. I really try to put that first in my life. I feel like everything else will fall into place, and it has. It's all -- I feel like it's all going to work out.