Here is what some of the players are saying before the French Open
RAFA NADAL
Q. You have a 79-2 record here at Roland Garros. What is it about Roland Garros that brings out the best in your game?
NADAL: Oh, I am not sure at all, but being honest and talking about the true, about the situation, is about the clay that I had a lot of success on clay during my career, and here is the most important tournament and in the same time playing best of five. So that's the difference.
Q. Your victory last year and maybe this year would be more beautiful for you if Roger were here?
NADAL: Exactly the same (smiling). Being honest. Exactly the same. No, no, is not -- I cannot say that the victory of Federer when I was injured or victory of Novak when I was injured is not that beautiful. Would not be fair for my side. When I am winning and other players are not playing for some reason, that's all.
Is bad news for the tournament but not for myself if I win. For me, the victory means exactly the same.
Q. How do you feel physically coming into this tournament after your season on the clay?
NADAL: Good. Of course after very tough beginning of the season with two injuries in the same place. Is true since I came back I played well, played a lot of matches and having good success since I came back in Davis Cup. But every tournament is different, and here we are to try our best, to have good days of practice before the tournament start, and try to be very competitive for the beginning.
Q. How important was it for you psychologically to win in Rome after Madrid and then especially the way you won in the final?
NADAL: Yeah. Everybody knows that Madrid is a tournament, is the most different tournament on clay of the clay court season. At the same time is the most difficult one, because the ball flies a lot. This altitude is different story, no?
But of course I lost, and was a loss, and a match that I didn't play very well. So of course was important for me to stay there mentally, to be ready for Rome, and that's what I did. I think I played a good tournament in Rome, winning some important matches, and at the same time going through situation that I didn't went through during the whole clay court season, because I didn't lose a set during Davis Cup, Monte-Carlo, Barcelona, and in Madrid I won two matches straight sets and then I lost in straight sets. Was not moments of that pressure or that, you know, moments that you need to be there, you need to play well, no?
So Rome I had plenty of these moments, and I came back after a set against Fognini. Then I played very tough first set against Novak in that semifinals and in the final having a little bit of everything, but coming back, too, that's situations that helps to keep going, to keep being confident, and to get used to play this difficult moments that the normal thing is you have these difficult moments in our sport.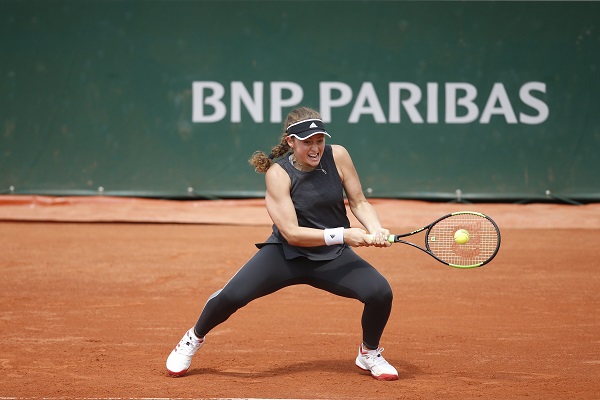 JELENA OSTAPENKO
Q. Can you describe your feelings, the emotions when you came back into Roland Garros for the first time following on from that win last year?
OSTAPENKO: Yeah, I mean, of course the memories are great from here. It's a very special place for me, winning the title last year. Actually when I came, I practiced yesterday first day because I arrived on Wednesday, and I felt, like, really good here, to be back here.
Q. This is just your third main draw here at Roland Garros. Does it feel like that, that this is just your third go-around, or because you won it last year, does it feel a little bit more familiar and like home?
OSTAPENKO: Honestly I haven't thought about it that it's only my third time main draw. No, I mean, I'm feeling really good to be back here. Of course it feels like home also, because, I mean, I won the title here, and spent the two weeks last year. I mean, just feeling great to be here.
Q. How many times have you dreamt at night about that final from last year? How many times have you replayed that match?
OSTAPENKO: I think I actually saw it just a couple of times and, yeah, I mean, it's great memories and great feeling.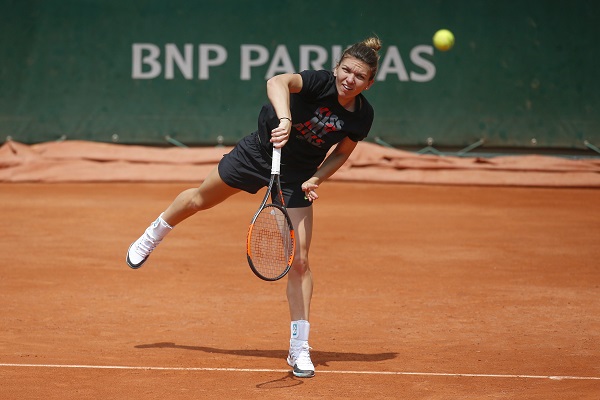 SIMONA HALEP
Q. In Rome you had a tough final and you complained of being stiff. How are you feeling now?
HALEP: Yeah, I was a little bit tired after the semifinals, but was not about injuries. So I'm okay. I have no pain. I relaxed myself after a few days, and I'm training hard. So I feel ready to start.
Q. What does it feel to be back here?
HALEP: Well, it's great to be back here. It's always a pleasure to play in Roland Garros and also to come in Paris. I come also for holiday, so... I love this city. It's a nice feeling. You know, it's great that I have one more year playing here. I'm enjoying the time. I'm thankful of everything I have and to be here again.
Q. You're chasing your first Grand Slam here. How do you put that to the back of your mind and focus on each match as it comes?
HALEP: It's not that difficult to do that, because I know that every match is going to be very tough. It's a Grand Slam. Everyone is at the highest level here. So it's going to be difficult. I'm not thinking about the title, because it's really far. I'm thinking just of my first match. It's going to be a tough one, but I have my chance. So I will go there and I will take day by day.
Q. How would you describe your confidence levels coming into this year's tournament, say, to a year ago?
HALEP: Well, a year ago was not about defending so many points, so it was a little bit different. This year I come with, I can say, this pressure, but I don't want to focus on that one. Of course I have more confidence this year, because last year I was able to do a great result.
But doesn't mean that this year is going to be the same or can be better. You never know. So I will take day by day, and I will see how the tournament goes, and then we all know. So it's nothing to think about it, nothing to put, like, pressure and focusing on particular thing.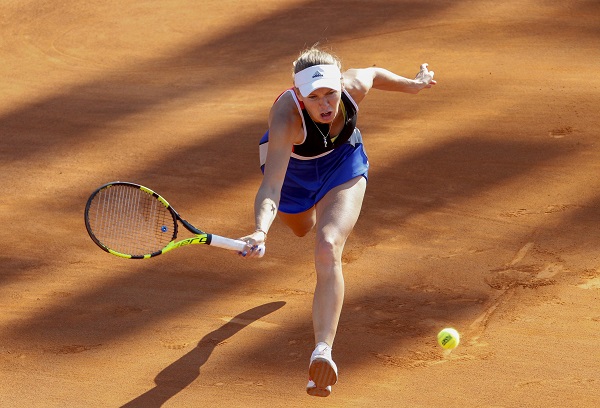 CAROLINE WOZNIACKI
Q. How different does it feel coming to a Grand Slam knowing you're now a Grand Slam champion? Does that feel different coming here thinking, well, I haven't got that with me anymore? You can always enjoy it more?
WOZNIACKI: Yeah, I think the biggest difference is really when I'm in here in the press conferences. I think that's the biggest difference, because I'm not getting asked anymore, you know, what it takes to be a Grand Slam champion, why I haven't gotten there yet.
It feels amazing to have that with me now, and hopefully I can build on that. You know, we have three more Grand Slams left this year, and this is the first one after Australia and I'm going to try and do my best to go as far as I can.
Q. Last year the run to the quarterfinals, you had a good week, week and a half, really, came up against somebody who was on fire. But do you take confidence out of that, like, does that run build into this year at all, or is it just new tournament?
WOZNIACKI: I think it's a little bit of both. I think I have had some decent runs here in the past. I lost to Schiavone in the quarterfinals one year where she obviously won the tournament after. I lost to Ana Ivanovic in the fourth round one year when she won the tournament and then Ostapenko last year and she won the tournament.
I think I have proven myself that I can actually play on this surface, and, you know, it's all about trying to get the timing and trying to get the head right, really.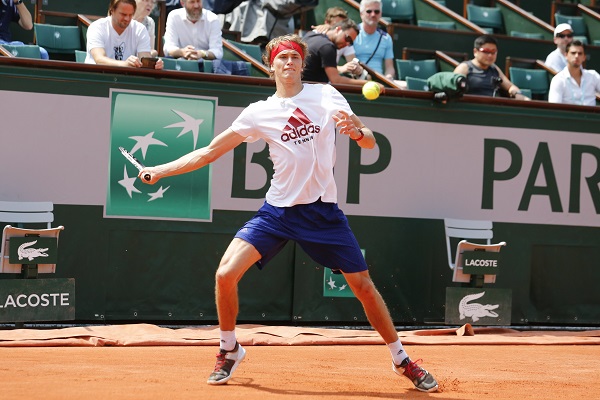 ALEXANDER ZVEREV
Q. Can you just talk about the confidence about your results on the clay have given you coming into Roland Garros?
ZVEREV: It's obviously been a fantastic clay court season for me. You know, winning so many matches in a row, as well, over a period of Munich, Madrid, and Rome, was great coming in here. Obviously there is a lot of other great players playing here, Rafa, Novak, and everybody. They are all getting on top of their game. I think this is going to be a very interesting tournament.
Q. You played a very good final in Rome. Perhaps if the rain delay hadn't had come it might have been different. Does that give you the confidence that you could perhaps go all the way here?
ZVEREV: I mean, this is a long tournament with a lot of hard matches. I'm not trying to think that, you know, I'm going to play Rafa in the final. That's not how I'm thinking. I'm thinking about every single match. I'm thinking about how to beat Berankis in the first round. That's my thought process right now.
Of course I played good tennis in the clay court season so far, and I know that I'm able to do so hopefully here, as well. But, you know, I just want to go match by match and see how the tournament goes and, you know, we'll see who will play his best tennis here.