Rafa Nadal and Elina Svitolina have conquered Rome and head to Paris feeling good.
While Rafa Nadal has become an even greater favourite, if that is at all possible, for the French Open, Elina Svitolina has definitely put herself into the strong contender category for Roland Garros after both won the Internazionali BNL d'Italia for a record eighth time and second straight year respectively.
In yet another outstanding performance Mr. Nadal, who returns to the world No.1 ranking, bounced back after losing Madrid to win Rome over Alexander Zverev winning 16 of the last 19 points from 1-3 in the final set 6-1, 1-6, 6-3 while Miss. Svitolina accounted for Simona Halep 6-0, 6-4.
Rain twice interrupted the men's final and it seems like the greater experience of the Spaniard maybe helped steer him to victory in that situation and while he is experienced enough not to be overtaken with euphoria going into Paris, he still must be feeling good about his chances at the year's second major with an eleventh title on the line.
"Being honest, today is a day to enjoy this title (and) for me, it means a lot to win in Rome here again," Mr. Nadal said. "We speak about Paris I think enough in Monte-Carlo. And we'll have time to speak about Paris before the tournament.
"But answering your question, ball is different in Paris, court is different. Conditions are completely different. I don't believe that what happened, even if I lost/even with the victory, creates a big impact about what can happen in Paris.
"But, winning always is winning. And, of course, the victories help more than the losses."
For Miss. Svitolina this win is her eighth title from as many finals and she cites the fact that losing the Wimbledon junior final to Eugenie Bouchard all those years ago left a mark on her – she was very angry and sad at losing that title which she desperately wanted. It has pushed her further.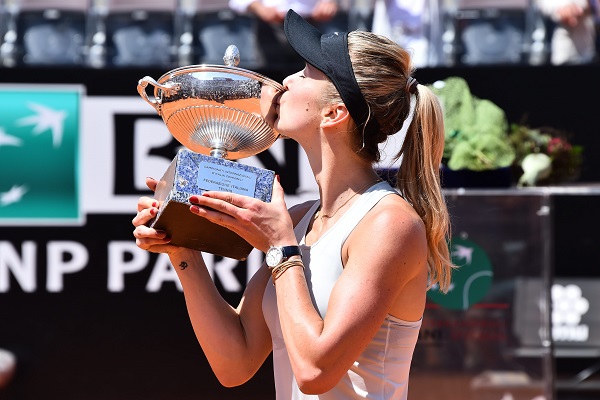 "This really taught me a lot," she said. "It was really very painful. I think from that final I said to myself, I'm never gonna just go there and do nothing. In that final, I was like so stressed, so scared, that I didn't even play two balls into the court. So, you know, ever since that moment I decided that I'm gonna go out there and do something. Like today, you know, from the first point, I was trying to play really aggressive and to go for my shots."
The Ukrainian has twice been a quarterfinalist, her best effort at Roland Garros including last year however, overall, her results at the majors have not been extraordinary. Still, she believes it will be different this time around.
"Last year, I was almost first time for me going into the Grand Slam as a favourite," Miss. Svitolina said. "This year, it's different. I also was hoping I was one of the favourites. There was couple of Grand Slams that I was close. But still, it's gonna be different. I'm going to take it as a challenge first.
"For me, very important to take one match at a time and just go out there and enjoy playing on the big courts, atmosphere. Roland Garros, that's what we are training for. And I'm gonna give it the best shot."
She has described the majors as "tricky". She explained it's the pressure from all around and the expectations from herself. There is the extra need to be physically and mentally ready from the first point because "everyone is more motivated to play against you when you are high seed".