Alexander Zverev won his first Madrid Open and it should set him up well for the French Open.
Rafa Nadal is the out-front favourite for the French Open. That doesn't mean he will necessarily win but right now, despite his loss at the Madrid Open, he remains the leading contender. So where would that place Alexander Zverev now that the German has won the Madrid Open for the first time beating Dominic Thiem quite comfortably 6-4, 6-4?
"Rafa is the favourite no matter where he plays on a clay court. Doesn't matter where it is. He's going to be the favourite in Rome. He's going to be the favourite in Paris. Probably even bigger favourite in Paris than anywhere else. He's still the guy to beat," Mr. Zverev said.
Zverev has made a huge impact on the tour over the last year, that's the regular ATP Tour, but his run at the majors has been disappointing. He has not been able to transfer the consistency across at the Australian Open, French Open, Wimbledon and US Open. Obviously, he has the ability to do it but just has not strung things together when he has needed to.
His best effort was at Wimbledon in 2017 when he reached the fourth round, but he is still very new on the scene; he has only played eleven majors and the Major Four are a completely different kettle of fish. How they are approached, how the draw pans out over two week, best of five sets and on and on and on, highlight their difference.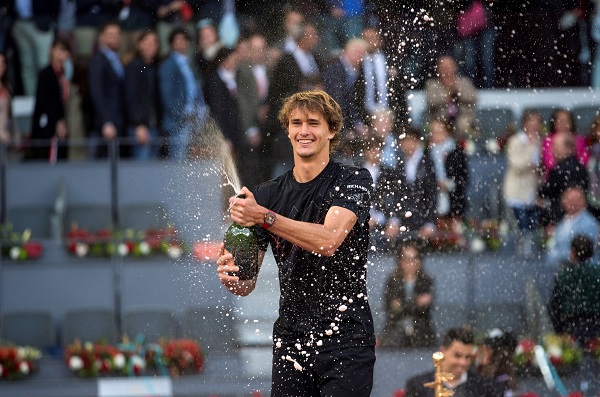 These events cannot be compared to the regular tour and experience has to be developed.
Last year Mr. Zverev won Rome right before Roland Garros but crashed out in the first round of Paris. Now he has won Madrid the consideration of him going far at the French Open is high again.
By winning Madrid with the altitude helping his serve, Mr. Zverev becomes only the fifth active player to win three or more Masters 1000s joining the Big Four, Rafa Nadal, Novak Djokovic, Roger Federer and Andy Murray to achieve that and at just 21, that is quite an achievement.
But, just but, this French Open could very well be the breakthrough Mr. Zverev is seeking. He has served his apprenticeship and a greater element of maturity has entered his game. Sure there can be the tempestuous bouts, and that's fine as long as those moments are used to channel the right path when it matters.
"I just feel confident and comfortable right now," the German said. "Obviously I'm unbelievably happy, but I know there's still a lot of work ahead to get to where they are.
"It's Massive. Winning another Masters is unbelievable. But before the French Open, there's still Rome where I'm the defending champion. Obviously I have a lot of motivation to do well there.
"I'm going to do the best I can to prepare myself for there, see how it goes."
Alexander Zverev equals his career high ranking of three moving back up one while Roger Federer goes to one and remains the oldest man in the top 90, Rafa Nadal is at two with Grigor Dimitrov dropping one to four,.