Petra Kvitova won a thrilling final at the Madrid Open but should that put her in as one of the major favourites for Roland Garros?
It is well documented in tennis what Petra Kvitova went through over the last couple of years and the tragedy she encountered with the stabbing in her own home in Prague, so to see her back on the winners list is incredibly heartening. The success she has been having this year is well deserved and it could not come to a nicer person.
She won the Madrid Open by beating surprise finalist Kiki Bertens 7-6, 4-6, 6-3 and it became her fourth title of the year and her third at that event. She is now being considered as one of the favourites for the French Open.
Okay, let's start depressing the brakes just slightly there.
Certainly if Miss. Kvitova were to go all the way at Roland Garros it would be an incredibly popular result but let's just look at her record there; she has reached the semis just once, in 2012, otherwise she has not ventured past the fourth round and the last time she did that was in 2015.
Clay is not her best surface. Yes, Madrid is on clay but consider this, the Spanish capital has altitude and that allows her to take advantage of the conditions. The altitude is a major help to her game. Quite possibly that is why of the big European clay events Madrid has been the least successful for Rafa Nadal – he's won it five times compared to Monte Carlo and Barcelona eleven times each, Rome seven times and Roland Garros ten times.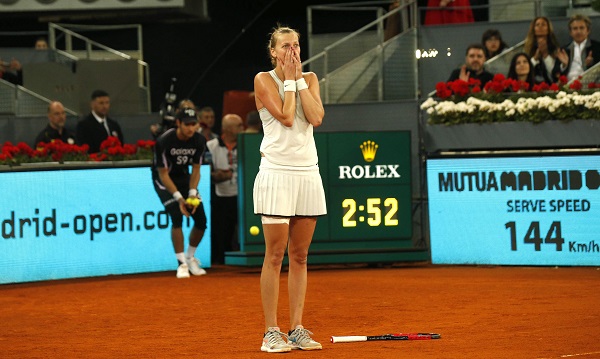 When it was put to Miss. Kvitova, who by the way has withdrawn from Rome, that she would be one of the favourites for Paris, she rolled her eyes.
"I think I've been in semi-final one year," she said. "Probably I can play well there. But on the other hand, I know how tough it is. Winning Prague and here, it made me very happy. On the other hand, a Grand Slam is a different story. It's different attitude, different balls, whatever.
"For me, I'm going there trying to play better than the last time. I don't know, I don't want to put any pressure on me in a way. I think there are maybe better players playing on the clay. We'll see what happen over there."
Certainly, she is in form and has won more matches this year than any other woman and she has an enviable record in finals; in the last 24 she's played, she's won 20.
"I was always saying that I love to play those finals because of the trophy," Miss Kvitova said. "That's what we are fighting all week, for the trophy. It's always pretty close, but pretty far as well.
"You meet the best players in the final, so it's always putting lots of effort to win. My last three finals I played for three sets, which it's pretty tiring as well. I don't know. It probably was the same (this one), or playing Muguruza in Doha, Buzarnescu in Prague. It's always a big fight, which is nice, but on the other hand probably I loved it, right?
"I don't know. I just always wanted to put the best, saving probably for the final. That's why I love to play tennis, so... It's extra motivation."
Other than Wimbledon which she has won twice, generally the majors have been a hurdle for the Czech – semis at the Australian and quarters at the US Open are her best at those. For me she will be shining at the All England Club rather than the French Open, but happy to be proven wrong.