For the first time in 51 weeks Rafa Nadal has lost a match on red clay but it's not the end of the world.
OMG! Can you believe it, Rafa Nadal has lost a clay short match? His first since Rome last year and the same opponent, Dominic Thiem.
Spying on the quarterfinal against the Austrian, the Spaniard had set a new men's record by winning 50 consecutive sets on clay; it was also a record for any surface in the Open-era having passed John McEnroe who held the record with 49 consecutive sets won on carpet in 1984.
And while Nadal 's loss is newsworthy in tennis, it' s not as if it 's lost to a nobody. However, it will be interesting to see if Dominic Thiem backs it up so often we have seen him win over a mega-name only to lose in the next round.
Here are four recent examples in the last year - last month in Monte Carlo he beat Novak Djokovic and lost to Rafa Nadal, last year at Roland Garros he hammered Mr. Djokovic and was in turn hammered by Mr. Nadal, Rome 2017, as mentioned he beat the Spaniard but it was killed in the next round by the Serb and in Barcelona 12 months ago he beat Andy Murray but then crashed to Mr. Nadal.
Do not get me wrong, he lost to unreal opponents, best of the best, but when you, yourself, are among the best and have such wins you are expected to back them up.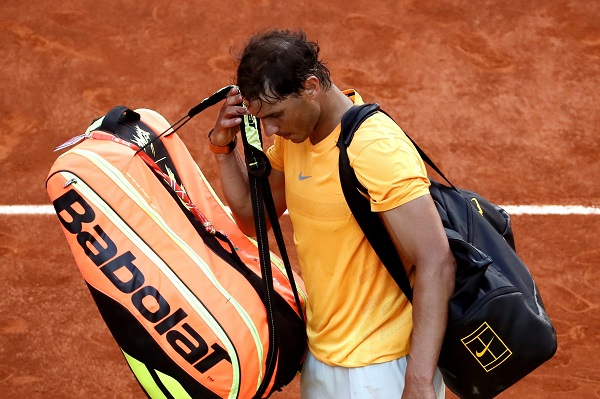 But I digress, this is about Rafa Nadal and he was obviously not happy with the loss of Spanish sarcasm was revealed when he was asked "how do you get to Rome". He replied: "By plane."
He went on to explain: "Being honest, I am not, as I said a lot of times: when I am winning, I am not super happy, and when I'm losing, I'm not super sad. Is not a drama that I lost the match, no? I don't have to do a lot of things different.
"I won 50 straight sets on this surface. Today I lost the match. It was not my day. But that's part of this sport. That's part of the sport in general. So, I can't go back to the hotel and think that I have to do a lot of things different to prepare the next events because will not be something that will be very smart for my part.
"I just have to analyse what's going on and just going to try to play with more determination, more aggressive."
It is one loss. It is not a disaster. As Boris Becker once famously said: "Nobody died." Even if Mr. Nadal loses in Rome where he will try to regain the No.1 ranking because of this loss it will revert back to Roger Federer (he will still be seeded one, irrespective, for Paris as the Swiss is not playing), it will not be his turn to go to Roland Garros where he has played.
Rafa Nadal remains the favorite fan for the most important clay short event in tennis.