Novak Djokovic continues to struggle with his return with an early loss in Madrid adding to the frustration.
Yet another early round loss for Novak Djokovic and the risk of his ranking dropping to its lowest level since October, 2006.
The frustrations are mounting and yet the need to look at positives is all the more crucial for the winner of twelve majors. It is the history behind him that he must draw on.
"It's not the end of the world, you know," Mr. Djokovic said. "Obviously, I've played this sport so many years and had a bunch of success. I try to always remind myself and be grateful for that.
"At the same time, you know, nobody is forcing me to play this sport. I do it because I like it. I want to do it. And that's something also that makes me fortunate, you know, to play the sport. So, you know, that's where I draw my strength. And, you know, as long as I keep going, as long as I love the sport, I'll keep going. And that's all it is."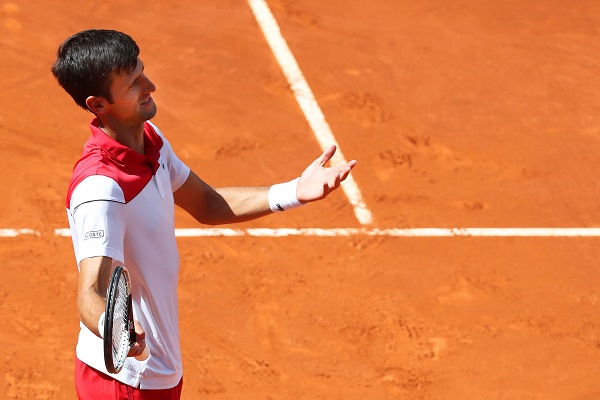 The Serb lost to Kyle Edmund in Madrid who had never taken a set off him in three previous matches and on clay (their first meeting ion the surface) Mr. Djokovic should have had the advantage, but the situation is that Novak is seen as vulnerable. As previously written on the pages of www.wearetennis.com players right now do not have a fear of him as once was the case.
When he starts to win the crunch points and matches, things will change all over again - Roger Federer is a case in point. The aura that surrounded him had faded but when he returned in 2017 and began to win all over again and claimed the majors he did, that glow came right back. That doesn't mean there won't be losses, but opposition is put on notice.
"There are obvious things that are not working well for me," he said, "but I have to keep working on them and pray, and hope, that my game will get stronger, get better as definitely as the matches go the distance."
Maybe some of that negative vibe needs to be change; words like "pray" and "hope" are removed and possibly replaced with "expect". It might sound like a small point, but he can't let the frustration show as much as it might be there.
"Obviously I'm disappointed from losing this match, but I can be happy with the progress of the level of tennis," Mr. Djokovic said. "I haven't played a whole bunch, a lot of matches. there are positives to take out from this. But obviously disappointing to go out early in the tournament."
His tally on the clay swing so far this year with Monte Carlo, Barcelona and Madrid is six matches with a win-loss of 3-3. Compared to last year with one event less (Barcelona), he also had six matches, but the win-loss record was 4-2.
The loss to Kyle Edmund will see his ranking slip to 18 or 20 depending what other players around him do. The last time he was that low was October, 2006. It will be very strange to potentially see him without a top 16 seeding for Roland Garros, just as it was to see Roger Federer in that situation at the 2017 Australian Open.
Curiously imagine what might be the case if the change in seedings from 32 to 16 was brought forward.