Maria Sharapova and Novak Djokovic have not really bounced back as many expected them to on returning to the circuit.
Maria Sharapova and Novak Djokovic have not been able to do so since their departure for the following reasons: - Ms. Sharapova due to a 15-month suspension for using a banned substance and Mr. Djokovic for his elbow injury.
Ms. Sharapova began her visit twelve months ago to the tournament in Stuttgart while Mr. Djokovic resumed his playing schedule after a six-month break at the Australian Open. She has played 13 events and, in that time, a win-loss record of 21-12 goals.
She won the title in Tianjin but there is nothing in Tianjin. Her ranking has not broken inside the top 40 oz. In fact, her ranking will take a step backwards following Stuttgart, dropping from 41 to outside the top 50, at 52. A far cry from being world No.1.
Mr. Djokovic meanwhile has played just five events and has a win-loss record of 5-5. Only once he has won more than two matches at an event, his first tournament back, the Australian Open where he won three. Mr. Djokovic has lost three openings in this year to Barcelona to qualify Martin Klizan. The Serb sits outside the top ten, at twelve.
It is a disappointment that they would have thought and figured out what they would have done. After all they are not your run-of-the-mill players.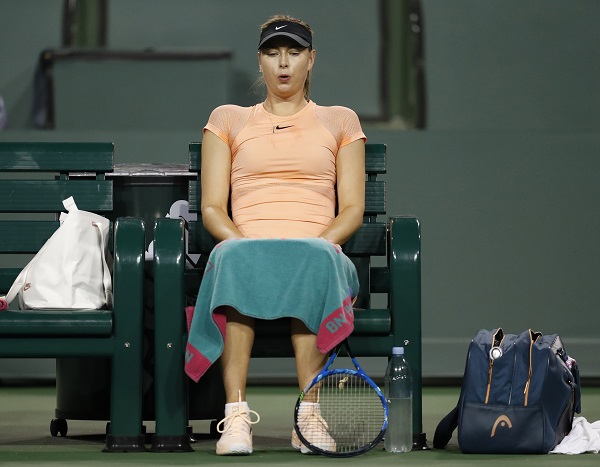 The frustrations are highlighted by the fact that they have changed the team around them yet again but this time they are almost back to the future.
I would not say that there is a question of crossroads but there is no doubt there would be plenty of concern over what direction needs to be taken by them. What they do to turn fortunes around is the million-dollar question.
Speaking of dollars, that's not even a consideration for either of them - Ms. Sharapova has made $ 37million in on-court earnings and has the most lucrative endorsement deals and Mr. Djokovic has earned $ 110million on-short.
It's all about their competitive drive and winning, that's what it is all about.
Dr. Ann Quinn is about how to turn around careers. Having worked with elite athletes, including winners of major, gold medalists and world champions at Tennis Australia, the WTA, the ITF, the LTA and Nick Bollettieri Academy, she knows how to bring out the best in an athlete. Her book is "How to be an Extraordinary Athlete".
"Dr. Quinn said," Hitting lots of balls in practice is fine but it is so different in a match and if you are not getting the match wins you down and the level of confidence drops away, "Dr. Quinn said.
When you have been the best in the world, you are not prepared to play a second fiddle to anyone and be one of the top of the sport is a bitter pill to swallow.
"Dr. Quinn added," You've got the courage to keep going even when you're losing. "Never give up is the key and have the belief to adapt and keep changing your game; Roger Federer does that superbly. "
Surrounding themselves with the right people is crucial, people who totally believe in you, plus going back to basics is important.
Ms. Sharapova and Mr. Djokovic are looking for confidence and that only comes with winning matches. This is where the mental game comes into being and how they handle the tight situations. To finish a few tight matches with a "W" would be a boost but at the same time, right now, other players are not over awed by them.
So how do you get that sense of near invincibility back?
"Go back to the little things and go back to knowing what brings out the best," Dr. Quinn said. "Those people around them need to be reinforcing all the little things that made them the best of the best. "Paying attention to minute details is vital and you have to be at peace with yourself as well."
It's often said that patience is a virtue and that must be a major element in these situations while continuing to have belief in one's self. As soon as that self-belief goes, there is nothing else to help generate the motivation.
"There is something they do not know about, they know what they can do and they have to keep reincing it. A coach must talk with conviction because they know what the player is capable of, "Dr. Quinn said. "Take responsibility for all your actions and have those little goals to work on every day to get better. Going from being a good player to a great one.