Rafa Nadal continues to turn the clay court record books upside down.
When legendary Bjorn Borg was at his peak the tennis world marvelled at his prowess on clay and we probably didn't think his record would be equalled. However, the Swede's record and that of everyone else who was so proficient on the red dirt, from Guillermo Vilas to Manuel Orantes to anyone else, nothing compares to what Rafa Nadal continues to do on the surface.
When a person is referred to as having feet of clay, it always means that they can't move. They are sort of stuck and legs feel heavy. Nadal is the one person who is an exception to that term and in fact he keeps making a mockery of it.
For Nadal feet of clay can only be a compliment and he has proven it yet again by winning his eleventh Rolex Monte Carlo Open from twelve finals he has played at the stunning location that is the Monte Carlo Country Club.
Nadal defeated Kei Nishikori 6-3, 6-2, closing the final with a backhand winner to make this his 31st Masters 1000, a record, and 76th career title and there is no signs whatsoever of things getting ho hum.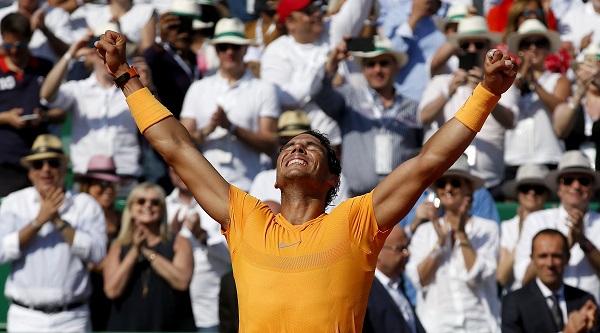 "I always repeat the same, my true feeling is these kind of things not going to happen forever, so just try to enjoy and to play with the full passion and with the full energy and concentration, full love for the sport until I can. That's it," Nadal said.
"I know the day to say good-bye is closer than 10 years ago. Is something that I am not worried about, but is a real thing. So just enjoying every day and trying to play with the best attitude possible, to keep being happy playing tennis, no? That's all.
"Yeah, of course is a special day for me. Winning again this title here in Monte-Carlo means a lot, especially because is the first tournament in the year that I finished. Have the victory in a Masters 1000, especially in Monte-Carlo, that for me is, yeah, one of the most important ones in terms of personal feeling and in terms of history of our sport.
"Very excited and very happy for everything."
Nadal lost just 21 games en route to the title and it's the seventh time he has won his first title of a season at Monte Carlo.
One has to dismiss any thoughts of him being stopped. Sure he may suffer a loss here and there but no one, and I mean no one will have any sort of consistent record over him this year one the clay and if he is able to stay healthy, not even in the future. The likes of Novak Djokovic had wins over Nadal in the past on clay but you can't see that happening in the present state.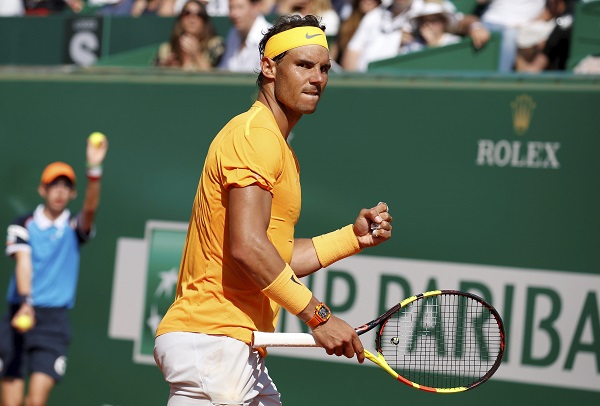 Stan Wawrinka is a question mark, Alexander Zverev was made to look almost like a novice recently, Dominic Thiem is not quite there, Grigor Dimitrov was punished in the semis and none of the Spaniards really and truly appear to have the belief to beat Nadal on clay. They are almost in awe of him. Not for one minute is there the suggestion that they have a sort of defeatist attitude going into matches against him but there probably not the level of confidence and trust in themselves to win.
He is going for an eleventh title also in Barcelona and also Roland Garros, La Undecima, and an eighth in Rome (goodness a weak link – he has not reached a final there since 2014 and not won since 2013).
"My goal is always the same thing: be healthy, because if I am not healthy, I cannot have any goal; second goal is be happy. That's it," Nadal said. "What really makes me happy is go on court and start the tournament knowing that if I play well I have the chances to compete well against everybody and have the chances to win every match.
"For me, tennis is a very important part of my life, of course, but not everything. Never have been everything for me. In life I enjoy. The value of other things outside of tennis are so important for me, too. I going to try to keep being healthy and happy playing tennis, enjoying the life outside of tennis, too."
He did his acceptance speech in English, Spanish, French and a touch of Italian quite a change from more than a decade ago when he came to Monte Carlo as a bright eyed teen who could barely speak or understand any English.
"Eleven titles here, it's unbelievable, so... It's something difficult to imagine," he said. "I always say the same: If I did, somebody else can do it. But is very difficult. I really don't know how these things can happen because is lot of years without making mistakes and without being unlucky on this week. I have been unlucky other weeks, but not this week.
"Yes, very special. The history with this tournament is unique. Yeah, put another trophy in my museum, in my academy, is going to be something great. Eleven is a lot, especially here in Monte-Carlo."