In the best tournament of his career, John Isner has won the biggest tournament of his career and entered Miami Open history books.
On Easter Sunday John Isner was able to put all his eggs in one basket, that being his serve, as he became the first American man to win the Miami Open since Andy Roddick in 2010. And for the historical aspect Isner is the last man to win the title on Key Biscayne which up to this year has served as the tournament's venue for the last three decades, but no more.
Taking things further, this year marked the first time since 1985, the event's inaugural year which was played in nearby Delray Beach, that Americans were involved in winning every title. Besides Isner with the men's and Sloane Stephens with the women's, Bob and Mike Bryan won the men's doubles and Coco Vandeweghe, with her Aussie partner Ashleigh Barty, won the women's doubles. That's very fitting for a farewell in the USA.
But for the near two-metre-tall Isner, it is the biggest title of his career, his first Masters 1000.
Isner came back from a set down to beat Alexander Zverev, who he had never beaten in their three previous matches, 6-7(4), 6-4, 6-4 with match point being emphatic as he slammed down an ace that travelled at nearly 211km per hour.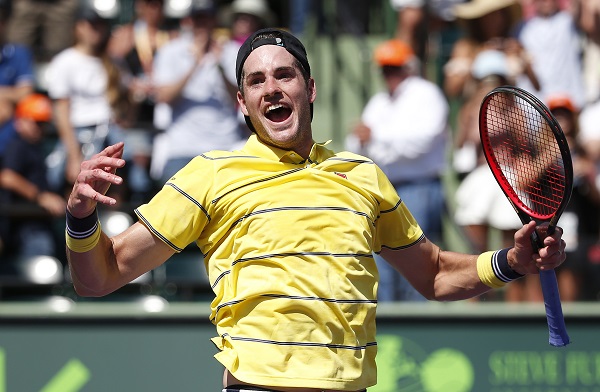 "Yeah, it's incredible," Isner said. "I mean, you know, to come back, as well, after, you know, a pretty disappointing first set, a first set I had certainly some chances in and some break points, and was serving at 4-3 in the tiebreaker and lost four straight points.
"You know, at that point I was actually exhausted. Somewhere along in the second set I found a second wind, and I felt so much better in the second set and the third set than I did in the first set.
"To win like that in front of a crowd like that, with that atmosphere, you can't replicate moments like that. It was absolutely amazing."
The win allows Isner to reclaim his career high ranking of nine in the world and is once again the leading American male player – coincidentally Stephens also goes to nine in the rankings. It was an outstanding run for Isner who had described his start to the year as "streaky".
He beat Marin Cilic in the last 16 and ended Juan Martin del Potro's 15 match win streak in the semis to reach his fourth final at the Masters 1000 having lost the BNP Paribas Open in 2012 to Roger Federer, Cincinnati in 2013 to Rafa Nadal and Paris-Bercy 2016 to Andy Murray.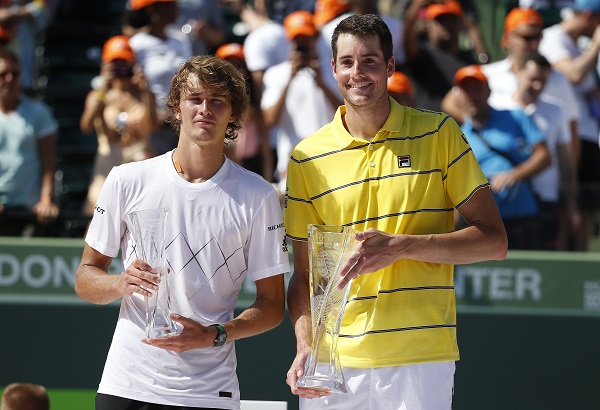 "When you get into the business end of tournaments like this, you're playing for so much," Isner added. "I mean, you're playing for huge points. You know, in a match like this, it can determine whether you're ranked, you finish -- it's just a big deal to get in a finals of an event like this.
"So for me to, having come in here having won one match and to leave this tournament back to top 10 in the world -- I think I got there in 2012 and I got back there in 2014, and now I have matched my high ranking in 2018, so I have done it three times.
"It's up to me now to keep pushing forward. This is a big hurdle for me, mentally more than anything, to get over the hump in a tournament like this. I will have many more tournaments like this and see if I can maybe give myself another opportunity."
Zverev's forehand unusually deserted him in the final but the German said it was not just that aspect of his game that did not allow him to do better.
"My baseline in general (was an issue)" Zverev said. "I think I missed more shots today than I did the whole tournament. Yeah, I played bad from the baseline. But, you know, it's not easy against John, because you always feel the pressure that if you get broken you're not going to win the set. That's maybe a factor, but, yeah, I had a lot of mistakes today that I didn't do the whole week.
"I had a pretty good tactic and a game plan, which, you know, if you just miss, it doesn't matter. I mean, it was not about that. It was more about me not finding a rhythm. That was about it. Yeah, I just missed too many balls. That's it."
Isner said one of the big things for him is the stability of his personal life which adds to how he performs on court.
"I think you have seen other players in the past that play well when they get engaged or get married. I think Andy Murray is one, for sure," Isner said. "My personal life is very stable. There's no issues there. I'm so happy where I'm at in my personal life and that does help. It settles things down. You do realise that there are a lot more important things than tennis. I always realise, as well, how lucky I am to play a sport for a living.
"So I have been put in a very fortunate position. I'm married to the love of my life, and I play a sport for a living. It's pretty special."