Sloane Stephens has won her sixth career title, fourth in the USA and first Miami Open and she will enter the top ten for the first time.
Sloane Stephens has a perfect record in finals that she has played in the United States, she has won all four of them, add in Auckland and Acapulco and her career record is now 6-0 in finals.
The Miami Open is the second biggest of her career, behind the US Open from last September. But, maybe, winning the last women's singles title to be played at the Key Biscayne venue, in the region she grew up in and where her tennis developed, could push the Miami Open closer to the US Open title in importance.
Stephens became the 15th different women's champion when she accounted for the French Open champion Jelena Ostapenko 76(5), 6-1 in a first-time meeting. It was not a final that reached any great heights. It was a match that was riddled with service breaks and errors which quelled the lead-up anticipation of the match.
Nonetheless, Stephens rightly would not care about that. The fact she won another very big championship is all that matters; she's now won 18 of her last 20 matches on US soil.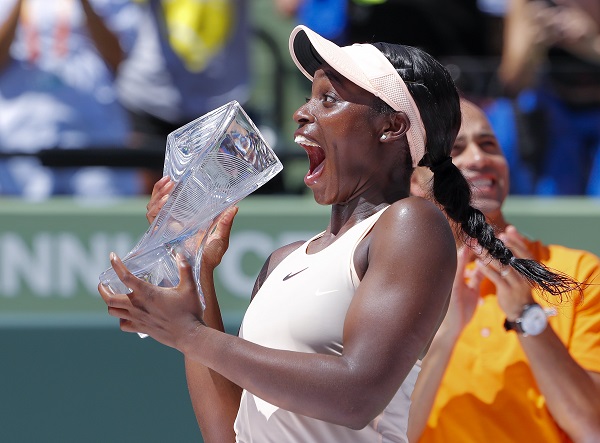 "Obviously this place is pretty special to me," Stephens said. "I grew up playing tennis here. When the USTA was here, we played Orange Bowl and all sorts of tournaments here.
"I'm definitely happy that I could be the last person to win here. I have had some amazing experiences here, and I'll definitely miss it, but I think I just feel fortunate that I was able to do that here in South Florida with all my friends and family watching.
And breaking into the top ten, reaching nine, for the very first time provides her with an added thrill.
"Yeah, I'm super excited," Stephens said. "It's something that I have wanted for a really long time. I think that it took a really long time to get there, just to get to that 10, because I was at 11, and I'm so tired of them saying career-high ranking No. 11.
"So I'm super excited that on Monday I will be inside the top 10. It's something I really look forward to. It's really exciting. And then obviously winning the tournament is just cherry on top."
For Stephens winning in Miami silencers her detractors. After Stephens won the US Open she failed to win any of the next eight matches she played and it was not till February that she scored her first match win.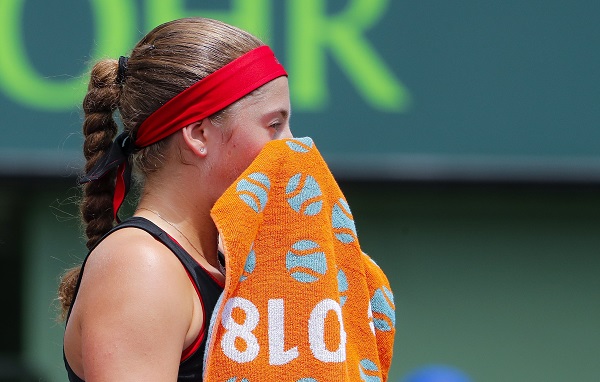 "I wouldn't say it was difficult (to get over the negativity)," she said. "I think I just needed to figure out what I needed to work on for myself, and that was getting back healthy and making sure that I was 100%, ready to play no matter what the circumstance.
"I made sure after Australia I got in the best shape possible. I really just focused on myself and made sure that I was the best version of me, and no one can take that away from me.
"I think I didn't have to - you know, whatever people said, whatever, it is what it is, but now I'm here and I have this beautiful trophy, and no one will ever be able to take that away from me, so I'm just going to walk with my head high and, you know, embrace it."
It has been quite a rise or return for both players. Twelve months ago both were ranked outside the top 60 for different reasons – Ostapenko was still making a move while Stephens was trying to get over injuries and surgeries.
"Of course we were working hard and just trying to improve," Ostapenko said. "And also the French Open last year gave me a lot of confidence. The beginning of the year this year was not amazing for me, but I was working hard. I think even losing in a final but still making final and playing some great matches, it's good for me."
Stephens was the ninth different American women to reach the Miami Open final and by winning it she becomes the sixth American woman to do so joining Serena Williams, Venus Williams, Monica Seles, Chris Evert and Martina Navratilova. The last American woman to win it was Serena in 2015.
It was only the eighth time in the last 20 years the final did not to feature at least one of the Williams sisters and when the last point was played Stephens has conceded just two sets and only 40 games for the championship.