Novak Djokovic is doing some soul searching to try and find his way out of the tennis playing rut he is in.
The way Roger Federer staged his return to tennis last year quite possibly gave everyone a false sense of appreciation of how difficult this comeback stuff is. The same cannot be said for Serena following the birth of her baby and some has been written about that but joining her in the frustration stakes with things not going according to what is expected Novak Djokovic.
Mr. Djokovic appears to be in a rut and he is finding it hard to get out of it and the frustration is being heard in his voice. He is not used to be in the situation he finds himself but to suggest he is cooked is way too premature.
Mr. Djokovic crashed out in his first match at the Miami Open to Benoit Paire 6-3, 6-4 having lost to Taro Daniel in his first match at the BNP Paribas Open and before that to Hyeon Chung at the Australian Open.
He has now lost three matches in a row and the last time he lost three or more matches in a row was end of the year in 2007 – semis of Madrid, second round (after first round bye) in Paris-Bercy and all three round robin matches at the tennis Masters Cup (now ATP Tour Finals).
"I'm trying, but it's not working. That's all. That's all it is," Mr. Djokovic said. "I mean, obviously I'm not feeling great when I'm playing this way. Of course, I want to be able to play as well as I want to play. Just it's impossible at the moment. That's all. I lost to a better player.
"I felt I started the match well, first six games, then I just ran out of gas. He was serving well. I just wasn't able to break him down. He was just coming up with the good shots at the right time. It happened very fast."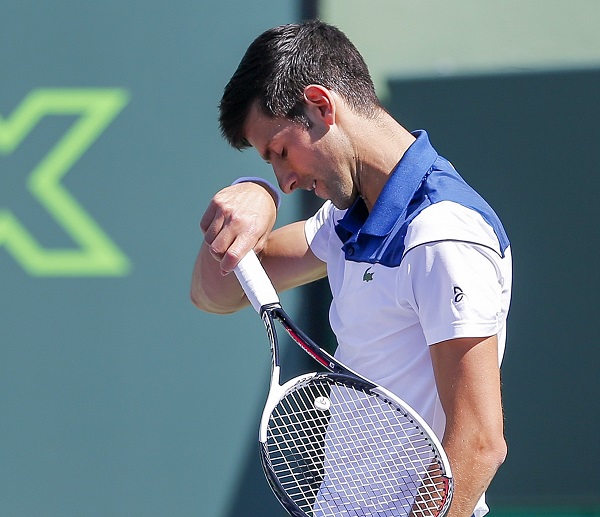 To hear Mr. Djokovic refer to himself as having an empty tank is bizarre. He was always Mr. Positive and while he suffered infrequent defeats, it was never because he was physically and/or mentally drained, where he could not find a way to turn a match.
There is almost a sound of dejection in his voice. He says he is "trying everything" but nothing is working out but incredibly he admits to the fact that he is nowhere near the level he used to be or where he expects himself to be.
It's almost like he is at a crossroads wondering which way to go and in doing so opening himself up to be exploited by his contemporaries.
He believes the lack of match practice has a lot to do with it but not getting the wins under his belt is not allowing him to get the matches which in turn is not allowing him to gain the confidence he needs.
Mr. Djokovic said he wanted to play the BNP Paribas Open and Miami Open to gauge where he is with his game and loves being on the hardcourts. Federer branded him as the best mover on hardcourt the modern game has seen. He also wanted to get some matches in before the clay season.
It seems he was not ready to do that.
"Obviously the circumstances that I was in in the last two years were kind of very challenging," Mr. Djokovic said. "But I'm not the only one that goes through that. I mean, there are tougher injuries that players go through. I don't want to sit here and whine about my last couple of years. The truth is that it wasn't easy. Obviously, I compromised my game and the movement and everything because of the injury. I'm trying to figure things out."
He suggested he would not go on court if he didn't believe he'd win. He is not being forced "with a whip to go out on the court".
"I love this sport (but) unfortunately I'm not at the level I would like to see myself at, but it is what it is. Life goes on," Mr Djokovic said. "I don't know what to expect. I'm not expecting anything. Obviously I'm facing myself with various challenges in my game, health. I'm trying to figure things out and see what happens."