Serena Williams lost in the first round of Miami, the earliest she has ever lost at that tournament, but it was her attitude after the match that disappointed more.
The dust seems to have settled following Serena Williams quick exit at the Miami Open, her first ever loss in the first round of the event in the 17 years she has played it. She was mad angry at the result and high-tailed out of the facility and blew off the mandatory post-match media conference something that would incur a paltry fine of $1000.
The uninitiated have started questioning if the writing is on the wall for Williams. Really? Are they forgetting who it is? It is not Jane Citizen they are talking about. Have they forgotten how Roger Federer and Rafa Nadal, players of calibre, were written off when injury forced them off the tour? Look at the way they came back.
People think because it is Serena she can walk away from the game for a very extended period and come back and overwhelm everybody. She used to do that but now she is older, and she has had a baby and let's forget all the complications she went through after the baby was born.
A lesser woman would have given the game away (no better way to retire than when you become a mother) but she wants more and the record of 25 singles majors is in her sights. When Serena wants more, not much can stop her once she gets going.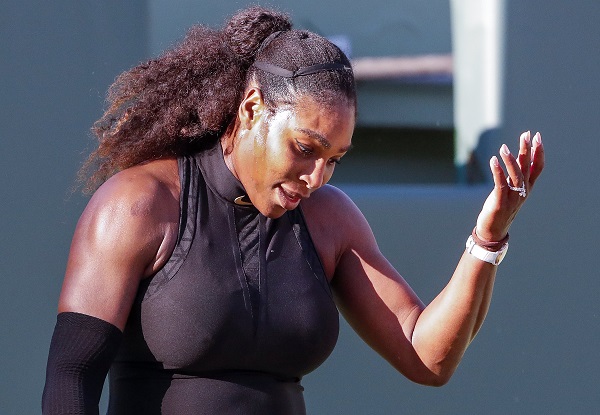 On this occasion it is going to take her a bit longer to get back in the swing of things; she has only played two events in singles, a total of four matches. That's nothing after what she went through but there can be no doubt what she will achieve.
Her loss in Miami to Naomi Osaka who won the BNP Paribas Open just days before, was definitely disappointing to her knowing how fierce a competitor she is. Still, that loss is no disgrace so her attitude after the match when she whisked herself away from the facility quick smart was wrong and lacked respect for those doing a job covering the match and her "journey".
As angry and as disappointed as you can be after a frustrating result there is a level of professionalism that needs to be followed. There is an obligation to address things at the mandatory post-match media conference. The issuance of a 61word statement does not fill the void.
No doubt she believed her effort was sub-par and that is within her right as a dogged fighter on the court. By comparison Roger Federer was bitterly disappointed and frustrated at losing the BNP Paribas Open final to Juan Martin Del Potro after hold three championship points. Still he fronted the situation and equipped himself superbly though he was gutted as all hell … and admitted so.
Granted it is rare for Serena to do what she did but it is never a right time to do it. Remember Rudyard Kipling's poem "IF" … "if you can meet with triumph and disaster and treat those two imposters the same".
The loss itself she suffered was not disappointing but what followed was.