Naomi Osaka and Juan Martin Del Potro claimed career firsts at the BNP Paribas Open.
For Naomi Osaka and Juan Martin Del Potro the BNP Paribas Open will stay in the memory for a long time. For both of them it was a first. For Osaka it is her first career title and for Del Potro it is his first Masters 1000 title.
Osaka used his powerful game to defeat fellow 20 year old Daria Kasatkina 63 62 whole Del Potro came back from three championship points down in a match full of tension and thrills to defeat Roger Federer 6-4, 6-7(8), 7-6 (2).
"I don't really know what's going on right now," said a slighty stunned Osaka. I really feel I have another match to play tomorrow and it didn't really sink in that I won. I'm just happy. I really wanted to win this but I also just tried to think of it as a first round match and just not psych myself out too much."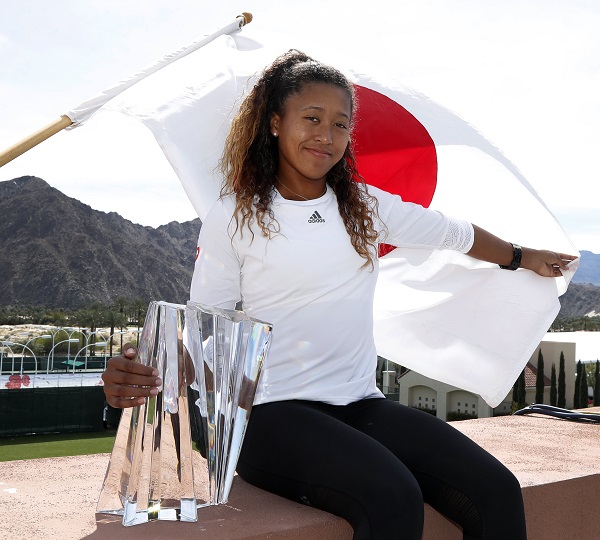 Osaka dominated pretty much from the start after a service break exchange in the first two games. She broke in the eighth game and then served out the first set. In the second set she opened up a 5-1 lead and overwhelmed the Russian.
Both were nervous before the match but the Japanese player settled down faster and better. She is the first woman from her country to win the title and she is the youngest since Ana Ivanovic in 2008 and the third unseeded player to win joining Serena Williams and Kim Clijsters – not bad company to be keeping.
"I'm a little bit superstitious, which is weird, because today - usually in the morning I eat the same breakfast, like, every time," Osaka said. "But then today they brought me sourdough toast instead of wheat. I freaked out a little bit, but I still ate it. And then I was thinking, if I lose this match because of the sourdough toast, I'm going to be really upset.
"But, yeah, I mean, I'm not that - like, I'm not really that sure on, like, the habits that people have. But I just think people that win more are more confident, and that's why they're more likely to win again."
Kasatkina made it clear that Osaka was better than her and said that she "deserved to win".
"It was my biggest final so far and during the match she was able to manage her nerves and stuff and I was still a little bit tight during the match. It is what it is," Kasatkina said.
The two women then shared a private jet to Miami and the next stop on the tour and for both it is the first time flying that way. Both were very excited about that.
"I hope we get to Miami without any fights," Kasatkina said laughing. "I don't think so. It's going to be alright … I hope."
Osaka added: "I have never been on one, so that's going to be fun for me. Yeah, I'm going to try not to listen to music, so I'm going to see if she's going to talk to me, because -- I'm going to see how that works out. But it's not like you can talk to anyone in an airplane, anyway."
Private jets are the norm for Federer and to some extent with Del Potro who is flying so high with his win. It wasn't that long ago that he thought his career was over after three surgeries and he was depressed. Now he's achieved another career goal in winning a Masters 1000.
Delpo was up a set and a break and had match point in the second. Federer got back in and the crowd went berserk. The second set breaker was brilliant as Fed won the last three points.
The final set went with serve and in the ninth game the world No.1 got the advantage and broke. He was serving for the title. He was in a record eighth final and a record sixth title was a point away … three times. Del Potro produced forehand brilliance and saved them. Then in the tiebreak the Argentine turned on the pressure, Federer double faulted twice and Delpo rolled through.
"Well, it's so big," Del Potro said. "I cannot believe I won this tournament, beating Roger in a great final and level of tennis. We played great tennis today. I'm No. 6 in the world, I think? Which is so good to me. And I'm excited to keep working. I'm not expecting -- I not expect to go up in the ranking. I don't care about the numbers. I just want to keep winning title like this if I can.
"But the first thing is try to be healthy during the whole year and play where I like to play. Now I have to do a smart schedule on clay to feel 100% for the rest of the season. It was an unbelievable match in all the ways."
Federer said he has to get over it but he made it clear it hurts.
"I feel frustrated, you know, that I let an opportunity like this go by. Serving 40-15, any game I probably win -- I don't know what the stat is -- 90-something percent," he said. "So it should sting, like you said, for a bit. The question is how long? It won't be long, but it's disappointing talking about a great match like this, losing, even though I was right there, you know.
"I don't know. Having Juan Martin come in and having to hit something past me that's very uncomfortable for him, and you pick the wrong side and you're like, Why am I picking the wrong side? Is it him or me? What is it? You just don't know. Next thing you're shaking hands and congratulating your opponent. It's like, Okay, too good. You move on.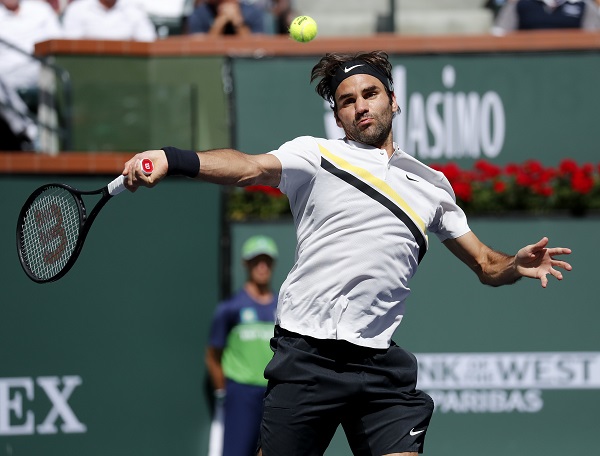 "And obviously there is not too much time to dwell over it. Like I said, I'm happy for Juan Martin. It's a tough one. And I still had a good week here. I still see the positives at the end of the day.
"It was a great match, honestly. Good fun. Good intensity. We enjoy that. And also it was tough and fair on the court. It was Juan Martin and myself. At the end you saw we are appreciative of the finals that we played against each other, which I think is really important for both of us."
Before the finals, Jean-Yves Fillion the CEO of BNP Paribas USA announced that the company would stay title sponsor for another five years.
"I have been privileged myself and the Bank, as well, to be associated and to be part of this wonderful journey with the BNP Paribas Open for now a decade," he said. "What I'm thrilled to announce today is that the Bank has renewed its commitment to sponsor this tournament for the next five years, which, all in, will lead to 15 years' relationship. It's a very long time in any space, by the way, and in the world of tennis specifically."