Serena Williams started her return to tennis at the BNP Paribas Open but a lot of the talk was baby talk.
Serena Williams has begun her comeback. Is it a comeback or should it be classified more as a return? It seemed just a touch appropriate that her first official singles match since winning the 2017 Australian Open was on International Women's Day. Serena showed that as a woman she can have it all.
It goes without saying that she is legendary in sport but now she has allowed a window to open on her other side, that of a mother and wife. She appears to have, at first notice, a more relaxed persona. The fire on court is still definitely there but an element of off-court softness is in play … maybe the guard is down a touch.
Before she kept her private life very private and no doubt that will continue to a great extent, but she is revealing about the bundle of joy that came into her life last September – Alexis Olympia Ohanian.
She won her first match back when she beat Zarina Diyas at the BNP Paribas Open and said she texted her husband before the match asking if feeling emotional was normal. The baby was not with her.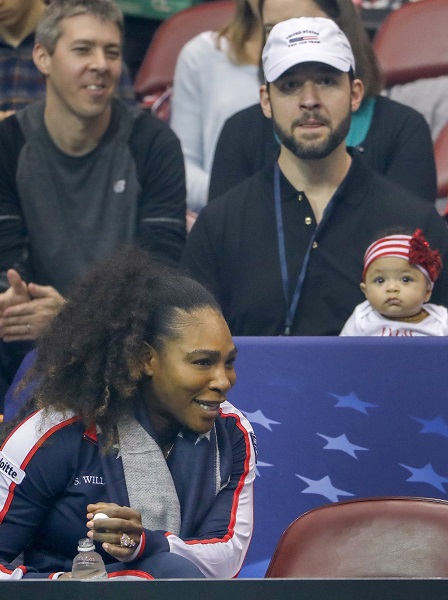 "I almost cried before the match. I wanted to cry," she said. "I really missed her but playing at night really helped because I know she goes to bed and goes to sleep and with that I can't play with her anyway. There's nothing I can do."
Serena has had a number of periods in her professional life when she has had to stay away from the game for various reasons whether it was due to the murder of her sister Yetunda or being injured so severely that she could not walk or suffering from a pulmonary embolism. However, on this occasion it is very different.
This time she is playing with nothing to lose but much to gain. Maybe, just maybe losses won't be as hard to take knowing that Olympia would be in her arms soon after any match.
She says it is a "real joy" to be on court. That has maybe not always been the case.
Earlier this year in a very revealing article in Vogue she opened up about how sick she was after the baby was born and for the second time in her life she had a brush the unthinkable.
"Sometimes I think about those moments in the hospital, just not even realising how serious it was until later and just being able to come through that just pushes me to realise no matter what happens I'm capable of being strong whether I won or lost. There's so much more to life," Serena said.
She is grateful and excited to be playing and in the tournament. She wanted to see where she was, and she compared it to the times when she was first starting on tour.
Serena says it is fun to be on the grounds of a tournament but with baby and husband in tour, her "entourage has definitely grown". It is a learning curve and an adjustment because husband Alexis is working, he comes and goes but she is "going with the flow". That in itself is a departure for Serena.
"I've not done this before. I make mistakes, but I am okay with that; just ready for what happens," Serena said, declaring that while she was away she watched tons of tennis and enjoyed it and saw it as a celebration but ironically once she started hitting the practice courts, watching tennis waned.
Serena was not ready to play the Australian Open, but she has gone up many levels since January and when asked where she would place her level, it was a sort of amusing, typical Serena response: "I was thinking from 0 to Serena, I'm probably with S. I have a way to go. I'll get there. It's a journey for me. I'm not going to get there instantly but I'm just going to go for it.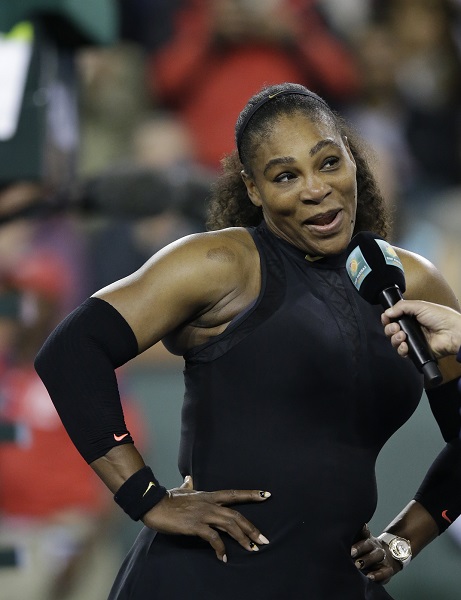 "I'm taking it one day at a time. I'm not where I want to be but I'm getting there. That's what I realise, I'm not going to get there today or tomorrow, but I will eventually get there. I have my goals.
"I know when I want to peak and when I don't want to peak. At some point I need to start and jump and need to fly. Every day is going to be a challenge for me and I know I will overcome it."
She is definitely not ready to retire although she admits the birth of her first baby would have been a great way to bow out.
"I just felt the journey isn't over and I definitely wanted to come back," she said. "I definitely think it's a case of waking up saying I don't want to do this, I don't want to win, I don't want to go out there or I want to spend more time with Olympia. I don't know. I've always said one day I'll know and it hasn't happened yet."
The conversations switched back to Olympia and her eyes light up all over again when asked what her favourite part of the baby is: "Her toothless smile is definitely my favourite thing. Just holding her, the way my heart skips a beat. I never thought about that. I always thought it would never be like that."