Davis Cup by BNP Paribas has been played for over a century, now there is a proposal to see the event go through its biggest ever change.
Let me start by saying I love Davis Cup by BNP Paribas. I love the concept of home and away but more than that I love the whole idea of nation against nation. World tennis, the professional tour is, for 97% of the time, an individual sport. That is just the way tennis is, so to have an event where players are placed in national teams is very special.
Professional golf, which tennis is most compared, to doesn't have anything close to the Davis Cup by BNP Paribas. They have the Ryder Cup and the President's Cup but they are not remotely the same.
It is the USA versus and International Team in the case of Presidents Cup and its USA versus Europe. In tennis it is individual nation against individual nation. Players have the opportunity to play for their countries. That is what is so special about Davis Cup and golf will never have that.
But while Davis Cup, essentially in its present format, has served the world of sport majestically for pretty much a century, there have definitely been some chinks and cracks in the format of the competition. Many have said it has to be "fixed" but have never come up with a legitimate concept to fix the competition and maintain its status as an annual competition.
Davis Cup by BNP Paribas continues to be the sporting world's biggest and greatest annual team competition. That should never be lost.
Some, mainly Americans, say it should be player every second year, baloney to that. Other than the Olympics which is every four years, is it too much to ask a player to represent their nation every year?
The ITF has now announced plans to revamp the Davis Cup but before anything can be set in stone it has to gain a two thirds majority from member nations at the AGM in August, this year to be held in Orlando, Florida.
The proposal is for a 25 year, $3 billion partnership with investment group Kosmos which has as its founder and President the football player Gerard Pique. The concept is backed by Japanese billionaire Hiroshi Mikitani, the Chairman and CEO of Rakuten which is title sponsor of the Japan Open in Tokyo.
The Finals will feature a round-robin format followed by a quarterfinal knockout stage. Each tie will consist of two singles and one doubles over best-of-three sets. Personally, I would prefer best of five tiebreak sets. The 16 World Group nations will automatically qualify for the Finals, and a further two nations will be selected.
There will also be a play-off round held during the Finals which will include the eight nations that qualify from the Zone Group I events. The eight play-off winners will earn a place in the following year's Finals.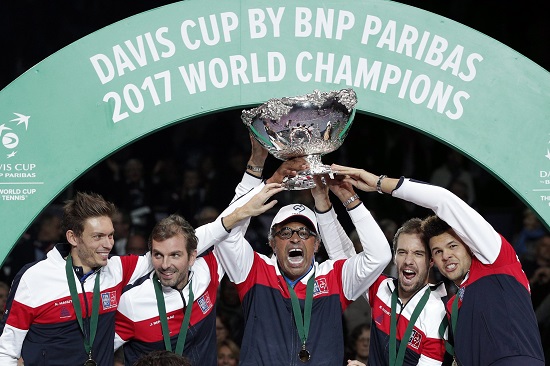 There will be no change to the format of zone group competition. In Zone Groups I and II, home-and-away ties will continue to be played during the traditional three weeks in the calendar. Zone Groups III and IV will continue to consist of week-long round-robin events.
This proposal is expected to generate huge funds of ITF tennis globally. I have no doubt that the ITF has done all its sums regarding this. I just hope that tennis never sees a repeat of what happened many years ago when tennis signed an arrangement with a company called ISL which went bust and crippled the sport financially for quite some time.
The ITF Board of Directors unanimously endorsed the proposal that will see 18 nations competing over one week in a major city location in November, the event will be staged by Kosmos in partnership with the ITF and 2019 is the first year the new concept will take place.
The proposal includes significant increases in prize money for players, apparently a figure of $20million in prize-money has been suggested, and ITF member nations, and the funding of grass roots projects and other tennis development programmes.
The proposal is subject to further development, and the successful completion of due diligence and finalisation of a formal agreement.
ITF President David Haggerty said: "This is a complete game-changer for the ITF and for tennis. Our Board has supported a bold and ambitious plan for the future of Davis Cup by BNP Paribas, one of the sport's most cherished and important events and a key cornerstone in our ITF2024 strategy.
"Our vision is to create a major season-ending finale that will be a festival of tennis and entertainment, featuring the world's greatest players representing their nations to decide the Davis Cup champions.
"This new partnership will not only create a true World Cup of Tennis but will also unlock record levels of new investment for future generations of tennis players and fans around the world."
Something similar for the women's Fed Cup by BNP Paribas is likely to be on the cards.