15-year-old Ukrainian Marta Kostyuk has made tennis observers sit up and take notice.
Marta Kostyuk is only 15 years old. She reminds a lot of people who are involved in tennis, of Martina Hingis. Whether she goes on to be what Hingis was remains to be seen and there is the risk of putting that sort of pressure on Kostyuk.
Last year she won the Australian Open juniors and that gave her a wild card in the 2018 main draw qualifying which she swept through and then made the third round where she lost to country woman Elina Svitolina. She started the 2018 season ranked 523 and a month into the year had slashed that to 185.
This weekend she made her debut at Fed Cup by BNP Paribas and at time played with the maturity we are coming to expect from her.
But there was also the immature emotion that comes with being a 15-year-old.
It is obvious that Kostyuk has a lot to learn. There can be some signs of petulance when she plays; there is nothing wrong with that, it all adds to the learning process And, she must learn to harness that emotion.
Also, like we have seen so many times before with players her age, she just wants to play more tournaments. The age eligibility rules prevent that in an effort to help prolong an individual's career.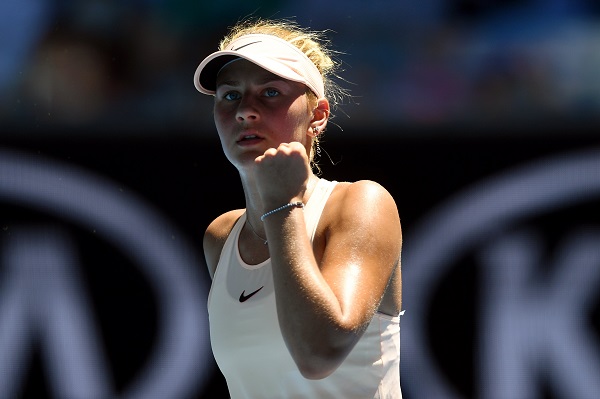 "The biggest (experience) probably that I understand I can play against everyone, Kostyuk said at the Australian Open. "It's not, like, super, like, big difference between all the players. What else? I don't know. I still didn't think about this yet. I just feel like I can play against everyone and I can fight."
After losing to Svitolina she explained that she doesn't look at the past as things cannot be changed from what occurred. She knew she made mistakes but wasn't sure if she would change anything if she played the match again. Maybe as part of her development looking back at losses would be a benefit. It is said you learn more from losses then wins. By recapping what occurred, one should get the understanding of how to play a similar point if it happened again, or how to handle one's self in situations.
The Svitolina loss left her in tears but she was able to shake it off not long after and she credits her mother for some of the strength she has
"She was always giving me life situations when I had to figure it out by myself," Kostyuk said. "Probably that's one of the reasons. Well, I don't know. I had quite adult life since I was small, so probably also this. But I didn't think about this that much, because I also can be a kid, you know, at the same time. It's not like I'm always like this, serious. I'm still 15."
"(My mum) said it was fine. Everyone knows that you can play better, and you showed everyone how you can play. Nothing, like, nothing bad had happened. I don't know. I don't want to talk about this, because I will start to cry again. I want to - yeah. So, she said that everything is okay."
Playing the Australian Open has given Kostyuk even more of an appetite for the big time and the different emotions a major brings; playing on bigger courts and more, plus there is the added attention from social media that no 15-year-old wants to ignore.
Kostyuk rarely gets tired of playing tennis, as she put it "really, really, rarely" and it is not something she considers, but off the court she likes different things and like any 15-year-old she is on the phone to friends … even while eating, till her mother tells her to put the phone away and finish her food. Certainly, a familiar situation in thousands of households, only thing is Marta Kostyuk could be sitting at a table near Simona Halep or Caroline Wozniacki or Novak Djokovic, the player she idolised growing up.
This past weekend she got the opportunity to play Fed Cup by BNP Paribas and being in that environment can only be a huge benefit in her learning curve. Training weeks leading into the team competition are intense and it is such a different mindset because you are not playing as an individual but on a team and for your nation and team mates. Any disappointments are magnified.
"I love to play Fed Cup. Doesn't matter juniors, pros, doesn't matter," Kostyuk said. "I love to play for my country. It's one of my favourite tournaments. Well, it takes a lot of energy from you, but it's still one of the best for me. Of course, I know how to play on the team, and I can clearly say that when I play teams I play until the end. Doesn't matter, fighting until the end."