Roger Federer takes another step on tennis' historical path.
The emotions flowed from Roger Federer as he held the Norman Brooks Challenge Cup. There were sobs and tears that flowed down his face. It shows such a personal side to a man who is a remarkable athlete, who is extraordinarily rich and who has a heart and soul. Federer shows what the accolades truly mean to him
It was evident all over again after the final of the Australian Open. Federer defeated Marin Cilic in three hours three minutes 6-2, 6-7, 6-3, 3-6, 6-1. As he made his acceptance speech the voice was getting shaky and then all the built up pressure and joy and deep inner feelings erupted. Even the man Federer is compared to, Rod Laver whose name is on the arena they played in, was reaching for his camera.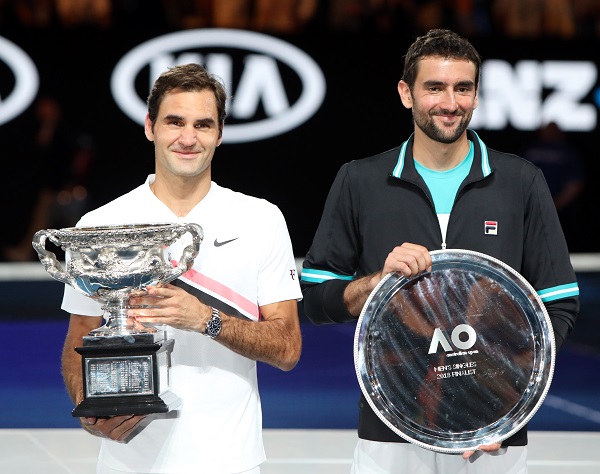 "I didn't see that through my thick tears, that he was taking a picture of me crying," Federer said laughing." I don't know what to tell you. I think what happened is I got to the finals very quickly. The semis was cut short. I had a lot of emotions left in me.
"When I start thinking about what I was going to say, every subject I touch actually is very meaningful and very emotional. Thanking your team, congratulating Marin, thanking the people, thanking the tournament. But I hoped over time in the speech I would start to relax a little bit, but I couldn't. It was what it was. I wish it wasn't so sometimes. At the same time I'm happy I can show emotions and share it with the people. If I got emotional, it's because it was a full crowd again. No people in the stadium wouldn't make me emotional."
From a record seven finals, Federer has won his sixth Australian Open which equals Roy Emerson and Novak Djokovic and it is his 20th major from a record 30 finals making him the only man and one of four players, the others being Margaret Court, Serena Williams and Stephanie Graf, to win 20 or more majors.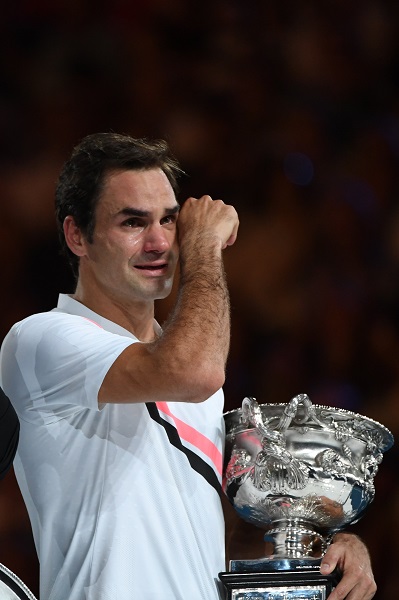 "It's about living the emotions that I went through tonight again at the trophy ceremony, going through a tough rollercoaster match, five-setter against Cilic, who is a great player, and then getting No. 6 here, No. 20 overall. It's just a very special moment," Federer said. "Defending my title from last year, sort of the fairy tale. That's what stands out for me, maybe not equalling Emerson or Novak. They had their own unbelievable careers. I admire what they're doing and have done with Emo. Yeah, it's definitely a very special moment in my life again.
"(And) I don't have a special memory with the number 20. I think that was a tricky one tonight. All day I was thinking, How would I feel if I won it, how would I feel if I lost it? I'm so close, yet so far. I think I was going through the whole match like this. I've had these moments in the past, but maybe never as extreme as tonight. Getting to 20 is obviously very, very special, no doubt."
The way Federer started it seemed like he was going to race through in straight sets but Cilic was superb in staying in touch with the second set and when he earned that, he had belief. The final was see sawing – Federer went ahead, Cilic pegged things back and into a fifth they went, and it was the first game of the final set that was the cruncher as Cilic, who moves to a career high of three in the rankings, failed to convert break points. Federer held and then broke and began to run away with it.
"Yeah, well, feeling a little bit obviously disappointed, which is normal," Cilic said. "It was a big battle, five sets. I managed to turn it around. In the fourth set, it was a big boost for me with the game that I played on 3-2 when he was serving. Then that lifted me a lot up. I started to play great tennis. I was hitting the ball great. I was just playing phenomenal.
"Then first game of the fifth set was more or less crucial at the end with having those four breakpoints that I didn't convert. Just a little bit tougher game, my service game next game. Just it ran away from me. But really happy with the performance that I did. Mentally was tough."
The win sees Federer alongside Ken Rosewall as the only men in the Open-era to win three majors after the age of 35 and Federer is the oldest man since Rosewall in 1972 to win the Australian Open. He now narrows the gap between himself and Rafa Nadal for the No.1 ranking to just 155 points.