Caroline Wozniacki has captured her maiden major, the Australian Open.
The pre-match entertainment had Australian singer Natalie O'Connor belting out ABBA's "The Winner Takes It All". How very appropriate were those lyrics for what was soon to follow:
Though it's hurting me, now it's history.
I've played all my cards and that's what you've done too,
Nothing more to say, no more ace to play.
The winner takes it all, the loser has to fall
Caroline Wozniacki has taken it all. She created her own personal history by finally winning a major on the third time in such a final having twice lost at the US Open. Not only that she regained the world No.1 ranking exactly six years after she last held it and that has now become a new record for the longest span between stints at No.1.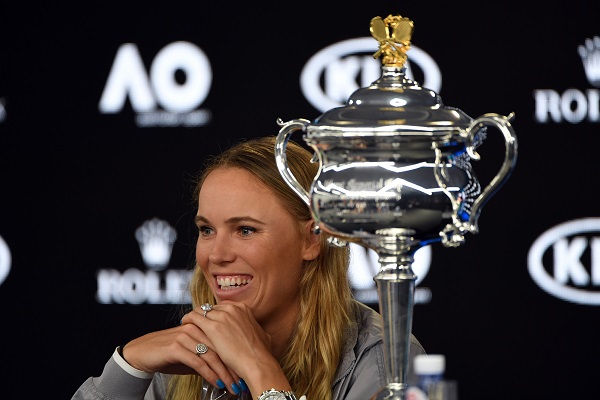 "Obviously that's very special. I think being new Grand Slam champion and world No. 1 sounds pretty good (smiling). I'm very excited for that. It's a dream come true," the new champion said as she hugged the Daphne Akhurst Memorial Cup.
"It was such a tough grind. It was very hot out there. I think both of us were very tired in the end. At the same time we fought our hardest, and I'm very proud to be here with the trophy."
"I'm just happy that I won the title. It's really special to start the year off like this. It's incredible. It was a very special moment for me out there on court today."
In a final that must be ranked as one of the greatest of recent years and one that will live long in the memory, Wozniacki defeated Simona Halep, also in her third final at the majors having lost two at the French Open, 7-6, 3-6, 6-4 in two hours 49 minutes. It is the longest final in games at the Australian Open since 2003 when Serena Williams defeated Venus Williams by the identical score line.
The tennis played was quite extraordinary. These two women produced shot making and retrievals that were stunning. The stretched returns on the run, the angles and down the line shots kissed those lines or and skidded off corners were breathtaking. Neither woman gave an inch as they chased down almost everything that crossed the net. This was tennis at its highest and so worthy of a final at the majors between the top two rankled women in the world.
Wozniacki opened a 5-2 lead in the first and when serving for the set at 5-3 dropped her serve and Halep made a charge. The tiebreak fell to the Dane easily, the only one-sided aspect of the match. Halep started feeling dizzy in the second set as the oppressive, humid conditions took its toll. Medical staff checked her blood pressure and pulse and said it was all okay.
Halep rebounded with the set and in the decider Wozniacki was up 3-0. Halep reeled off four straight games and was serving for 5-3 but Wozniacki broke back for 4-0. Halep was later to say that she was sunning out of fuel but still glorious returns were being made. Wozniacki went up 5-4 and the pressure was on Halep. Wozniacki went on the attack once more and the point that brought up championship point was so brilliant that the rally was mesmerizing.
"That was a crazy point. I think we both played very well," Wozniacki said understating the rally's brilliance. "I had that backhand cross-court. I knew at that point I have to hit it hard, I have to just go for it cross-court. It went a little shorter than what I had really thought that I was going to do, that wasn't what I was aiming for. I was like, Wow, that's a great shot. I'm going to take it.
"Then the last point she played very aggressively. She had a short second serve. I went in and played aggressive. I started off the point that way. Then she was playing aggressive, and I was just trying to fight off, playing it deep. I hit a couple of framed shots. There's a lot going through your mind at that point. You're like, No, I had an opportunity. I should have hit it a little bit differently. When I saw that ball go into the net, it was crazy emotional."
One couldn't help feeling for Halep after her brave effort, to be holding the runner-up trophy again. She tried to be brave and she was in public view but away from the lights and crowd she admitted to breaking down. She would be inhuman if she did not after a match as emotional as that one.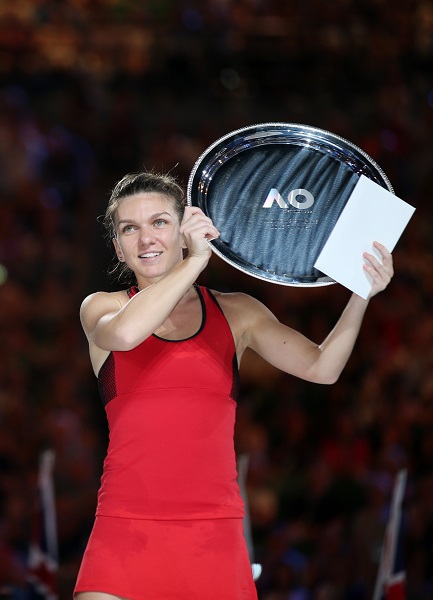 "I can still smile. It's fine. I cried, but now I'm smiling. Is just a tennis match in the end," Halep said. "But, yeah, I'm really sad I couldn't win it. I was close again, but the gas was over in the end. She was better. She was fresher. She had actually more energy in the end.
"I was really tired. I had so many problems at my feet, pain everywhere. But, you know, I think I did pretty well with all the things that were going on. After the first set, I just was out. I don't know what happened. No energy, no power. But then I just said that I have to hit all the balls, and then I could take the second set. I came back in the third set, but when I had to serve for 5-3, the gas was gone, so I couldn't make it. It's a bit sad.
"I did 100% what I could today. That's why I can say that I'm not sad for that. I'm sad that I lost the match, I was not the winner. But, you know, life goes on. For sure in the future, if I keep working like this and I keep playing like this, I will be in a good position again."
Caro then concluded: "Right now, I'm going to go home and sleep with Daphne and I'm going to enjoy the moment."