Here's what some of the stars are saying leading into the Australian Open.
NICK KYRGIOS
Q. Do you have a particular goal this tournament?
I'd like to do well. I'm not going to say quarterfinals, semi-finals, anything like that. I just want to take it one round at a time. Everyone started the year hungry. They can play great quality tennis. I do not want to look ahead at all. I want to take care of business at a time.
Q. Looking back to Brisbane, what is the biggest thing you took from?
More mentally. I overcame some adversity in that tournament, having a couple of times. Just the way, I think that's the improvement, and that's what I was pretty happy with at the end of the day.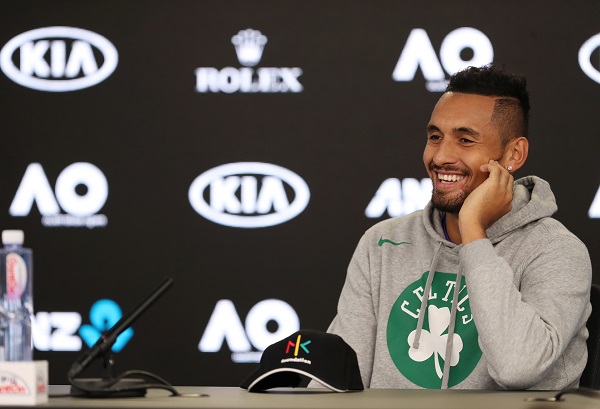 SIMONA HALEP
Q. This is the first Grand Slam you've come into the world No. 1, top seed. How does that feel to you? Does it feel different?
Not very different. Special purpose for me. It's nice to be in this position, for my experience, for everything. It's really, really nice. I do not feel pressure. I feel okay. I feel fit. I feel ready to start. Every time is tough every game of a Grand Slam. Nothing changes that I'm No. 1 or No. 2 or No. 3. I'm just looking forward to start the tournament and to give the best.
How does it feel like in Shenzhen?
I came in the same situation in 2015, so I played quarterfinals, good memories. Hopefully I can do that again. But every game is going to be tough. The first round is always the toughest. I'm just focusing on that, then we'll see.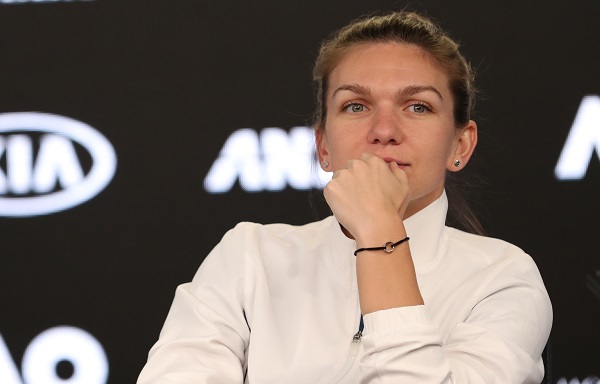 ALEXANDER ZVEREV
Q. Based on last year, you've had a little something to do now, and what you would like to improve this year. How do you view last year? What do you want to do better?
I think improving the Grand Slam performance is one thing. I mean, the furthest I have got to the fourth round of Wimbledon. A lot of times not because I played bad, but because I played very good opponents. I lost to Nadal here. I lost to Raonic in Wimbledon. Every time in five sets. That's nothing to worry about too much. But obviously that's a goal for me this year.
Q. Have you figured out, what are you playing, what you would need to improve?
Not much. I mean, I've been shown on many occasions over the years that I can play and beat the best guys in the world. I mean, I'm No. 4 in the world for a reason. Not trying to sound cocky or anything, but I've always said that I'm always working hard, I'm always trying to improve performance at the Grand Slams. Hopefully I can do this week.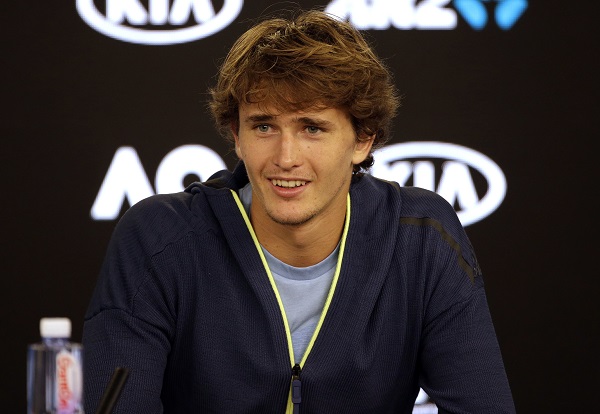 NOVAK DJOKOVIC
Q. Could you tell us about your new serve, new serving action, and how long did it take to get used to it?
Happy New Year to you, too. Great to see you all, first of all. It's been a while. Have not had this long break in my career. I'm just playing tennis, having an opportunity to compete again in the big tournaments. I've missed it. At the same time, I had plenty of time to spend with my family, and also took a different look at my game, my body, just an overall strategy on which I want to move forward. I've introduced new people to my team. Obviously, the service is something that we worked on, referring to your question. It was obviously part of my game that I had to address because of the elbow issues. I worked on Radek (Stepanek) and Andre (Agassi). Andre came over, spent a week with the entire team. Ever since Radek decided to join the team, he was with me more or less the whole time, trying to spend as much time as we can. Obviously the beginning, even though the service of motion compares to the old ones, it is not entirely different, but at the beginning and those small tweaks and changes have made a lot of difference mentally. I needed time to get used to change, understand that it's good or not good for me. So far it's been working really well. I do not want to say 'new serve', but new service motion. I needed time to get used to change, understand that it's good or not good for me. So far it's been working really well. I do not want to say 'new serve', but new service motion. I needed time to get used to change, understand that it's good or not good for me. So far it's been working really well. I do not want to say 'new serve', but new service motion.
Q. Through the years, you are used to being hunted, now you are in the role of the hunter. Is it going to change anything when you get back on the court?
In some way, yes, because I have not been playing on the desired level. Even the first part of the last year, I was struggling with the performance, as it was holding me back. Of course, the next part of the year I did not play. The ranking dropped obviously. I still know what I'm capable of, and I believe in my own abilities to win against the best players in the world. I know that if I want to go to the level of performance - mental and physical - that I can actually have a good luck to go far in the tournament. Now, it is possible that this year is in the future, probably yes. It's different circumstances. But it is exciting. Honestly, it's a good place to be.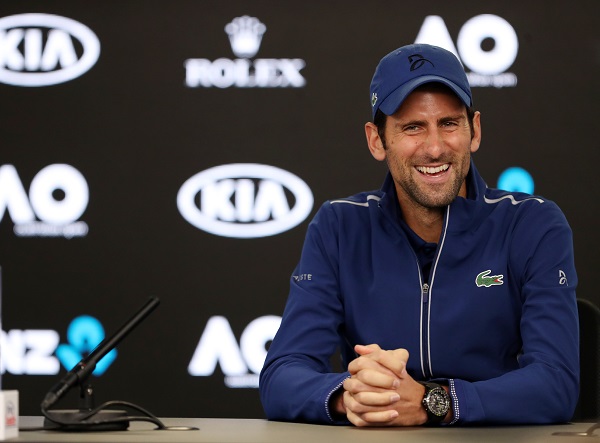 RAFA NADAL
Q. Is there any special importance for you that you're starting the year as the No. 1 player?
I'm being honest. That's the real thing. Everyone starts from zero. I start from zero again. Start as new season, an exciting one. I hope to be healthy and competitive, and most important thing, I hope to enjoy tennis one more year.
Q. How are you feeling physically and mentally? How do you feel about this tournament? Good. The first time I am here. Is new situation for me. But I feel good. I feel that I had a good week and a half of practices. Remain this afternoon and tomorrow, the last practice before the competition start for me. I really hope to be ready. I feel myself more or less playing well. So, yeah.
Q. Between the ATP Finals (O2) and now, what was the process like? You were in a pretty bad way at the O2.
Had been a long season. Good one, but at the same time, without a lot of tournaments but playing a lot of matches. Yeah, I had to stop for a while. I started it. That's why I was not able to start playing in Abu Dhabi and Brisbane. We decided to start soon, because we need to start from a slow start, to be fresher, a little bit more mentally and physically, and do things the right way. That's what we tried to do. Here we are to try my best, try to see if I am able to start.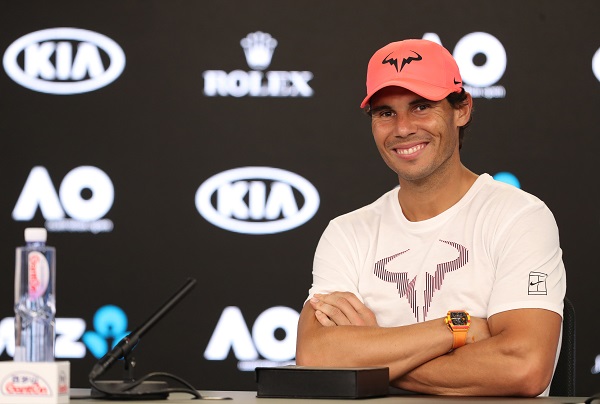 SLOANE STEPHENS
Q. Can you talk about how your life has changed since the US Open last year?
It has not changed that much since So I try to keep it very simple. But I did not go to that. I'm doing before.
Q. It has changed since you got a big check. I'm sure you're greeted differently when you go out.
No. Check is still in the bank. That has not changed at all. And, yeah, I mean, everyone has always been pretty when I've gone out so ... Everyone is still pretty nice.
Q. You say you have not changed since the US Open, but do you find it's changed, you are doing more,
Yeah, of course, you guys are tweeting about me more. Everyone is talking about me more. I mean, it's kind of what comes with the territory. You can not put too much emphasis on it. I think it's a tough transition when you're playing tennis for 11 months to winning at Grand Slam. It's never going to be anything you expected. In terms of that, it's a little bit overwhelming. For me, I like to stay in my own little bubble and do my own thing. I'm going to continue to do that. When I'm able to be myself, keep my same routines, do what I like to do, I have the most fun, enjoy myself like that. It's kind of been what I'm trying to do.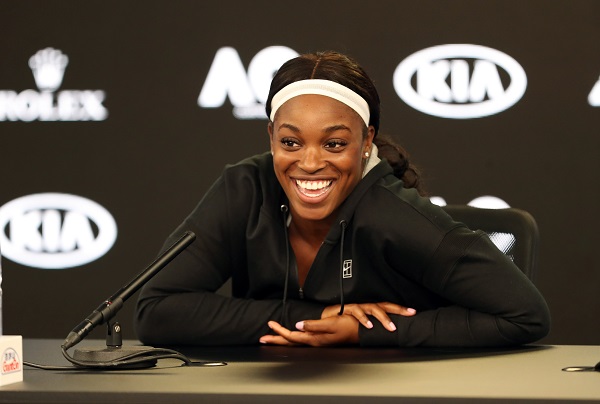 CAROLINE WOZNIACKI
Q. You are back in the top No. 2 for the first time in several years. How are you feeling over your last 12 months?
I feel good. I think I've had a great last year. Something I'm very proud of. Just happy to be here, playing pretty well. Hopefully I can build on that.
Q. Being at such a high level, what would you put that down to?
I think it's been the fact that I've been healthy. I thought I was healthy, you know, I could just get the job done, just enjoy it more. I think it's a combination that all goes together. That's been great.
Q. Do you ever look back when you were No. 1 for so long?
Not really, to be honest. I think mostly because I'm still playing. I think you're done playing, you can reflect on your career, you'll look back. That's the time to kind of reflect on it. Right now, it's a new focus, a new focus, it's your time off so you do not want to think about tennis. There's always something going on.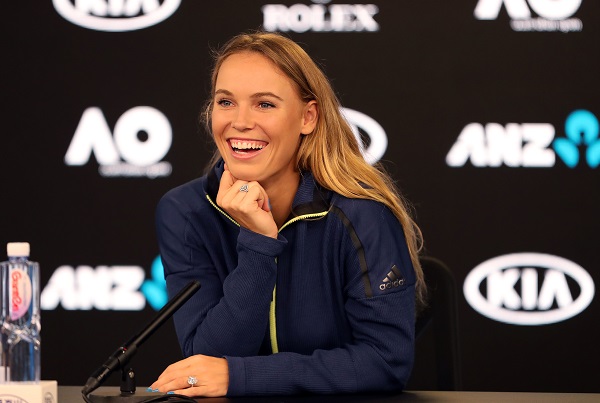 ROGER FEDERER
Q. Compared to a year ago, how do you feel in your life compared to a year ago?
Well, totally different. You know, this year I hope to win the first few rounds and get rolling hopefully, I was just hoping to win. It was more of a 'let's see what happens' kind of tournament, maybe similar to what Novak or Stan or others are going through this year. It's like, let's just see what happens. I'm not at 100%, but you never know in a week's time what's going to be happening. If you're in the draw, you give yourself a chance. That's what happened for me last year. All ended up better than I thought it would, as you know. Yeah, it was the tournament of the year for me, no doubt about it. All the five-setters, as well. Having no expectations was so nice after all these years always having expectations, like now this year again. With age, I feel like, I play down my chances just because I do not think a 36-year-old should be a favorite of a tournament, it should not be the case. That's why I'm more relaxed, you know, at a later stage of my career.
Q. Realistically you are probably the favorite, so what do you make of that?
Well, yeah, maybe that's some people's opinion maybe. You know, I feel like you have somebody like a Rafa, and you've got it, and you know it, it might be a favorite, too. At the end of the day, it's all just beforehand. The draws are always tough, you know, I must admit. Never look at a draw and think, That was lucky, that was a bad draw. It's always tough because everybody can play. My focus, yeah, I have my own problems, you know, to get through my section of the draw, my game. That's my focus, not the other players really further down the line. It's nice that one year later I am in the world and seeded highly. Okay, I have more points to defend this year than last year. Last year I was looking at slipping out the top 30. This year is not going to happen. It's just great to be back. I'm so, so happy the Australian Open, it's time again. I can not believe it's been a year, but it's okay. I'll make the most of it.