Margaret Court has turned down her invitation to the Australian Open.
Seven months ago, there was the furore in tennis about Margaret Court, winner of more singles titles at the majors than any other player, and her comments about same sex marriage. She remains very opposed to it and it resulted in calls for the court that bears her name, Margaret Court Arena, at Melbourne Park, home of the Australian Open, to have a name change.
That was never going to happen, and it has not happened. The court was named because of her achievements in tennis and not her beliefs. Also, her views were well known when the court name was determined and agreed to.
Margaret Court Arena was named through the government of Victoria as is the case with Rod Laver Arena and not Tennis Australia. Tennis Australia does not own the land or the facility where the Australian Open is played.
Mrs. Court is entitled to her opinion. It is a free society and she can voice her views. Melbourne and Australia are not North Korea, nor are they like some nation in the Middle East. No one needs to agree with her, but she is free to express her views just as those who agree with same sex marriage.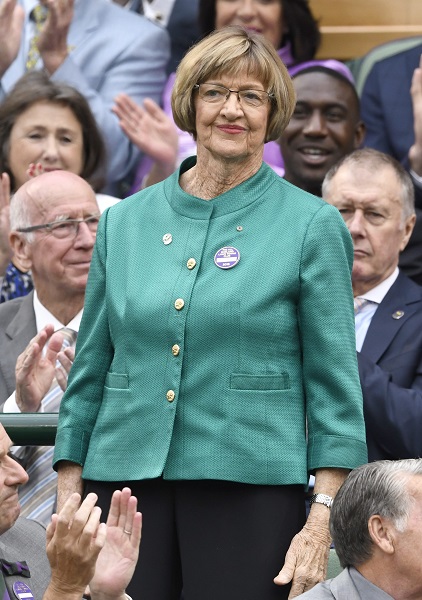 The whole issue has surfaced again as the Australian Open looms. Mrs Court and her husband Barry were invited to the Australian Open as they are every year and every year they attend and take prominent seats in the President's Box. This year Margaret Court has turned down her invitation to attend the Australian Open. Instead she says, she will "go crabbing" (crab fishing).
I don't care what anyone else says, and I will say that I do not agree with her views, but I find it sad that one of the greatest players the sport has ever seen, a person who changed women's tennis for its time, has felt that she would not be accepted and turned down her invitation. To not be able to sit in an arena that bears your own name (something so rare in sport) is incredibly disappointing.
Players who have suggested they would boycott playing on Margaret Court Arena need to take a reality check. They are there to play a tournament, one of the four most important in the world and they are receiving big money to do so.
They should not be able to say where they will or wont play. If they don't want to play on a court, then don't play the event.
The public are paying to attend, and they should not be prejudiced.
If a member of the public is uncomfortable about being in that arena, then it is their decision to avoid it. The players have a contract to play and should not have that option.