Lucas Pouille has played the match of his life to give France the Davis Cup by BNP Paribas for the first time in 16 years.
What Lucas Pouille would have felt when the final ball was played sealing the Davis Cup by BNP Paribas for France, ending a 16-year wait, and which saw his racquet slip from the palm of his hand as he collapsed on the court, could never be put into words.
As much as he might try, Pouille would not be able to describe the emotions. His heart would have been pounding almost out of his chest.
"I'm so emotional right now," Pouille said. "To play in front of this crowd, in front of my family, my friends, it's a feeling from another world."
It was like he was transported to heaven while still on earth. Every muscle fibre in his body, every bone would have been trembling. This was the greatest moment of his life. He had just played the greatest match of his life. Nothing but perhaps winning a major sometime in the future would be comparable.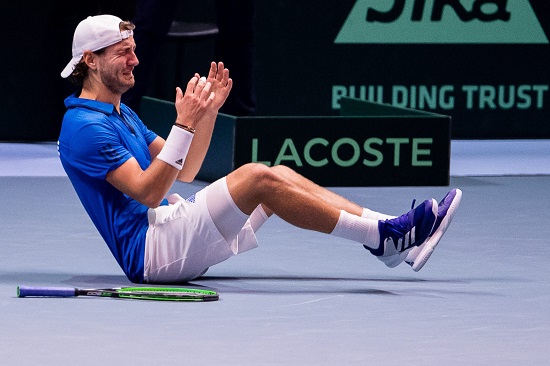 Pouille is a very softly spoken person. His good looks that are punctuated by ice blue eyes and slightly long darker blonde hair worn under a back-to-front cap, makes him look as if he has just come of the beaches in Australia.
Maybe he can surf, who knows, surfing takes a lot of balance but despite losing his previous two Davis Cup matches, Pouille showed all the balance necessary to secure France's tenth Davis Cup by BNP Paribas when he beat Steve Darcis so emphatically (6-3, 6-1, 6-0) in the deciding rubber.
"There are no words needed," Pouille said. "Just look at the atmosphere and the emotion... I'm just so proud of my team. We really wanted this trophy and finally we got it after 16 years. I'm very happy."
Tennis players know they must rise again after defeats, but it certainly took a Herculean effort from Pouille to rise after the first day when he lost to David Goffin, who he had not lost to before. Losing any match in the final of a Davis Cup is more daunting than losing at any other time, irrespective of how good the opposition is.
"He is definitely a different, better player, that's why he's had the end of season that he's had," Pouille, who says Goffin is one his best friends, said. "'He is now among the best players in the world, his level has been incredible since his Davis Cup semi-final. His level is getting higher and higher. He's playing the best tennis of his life."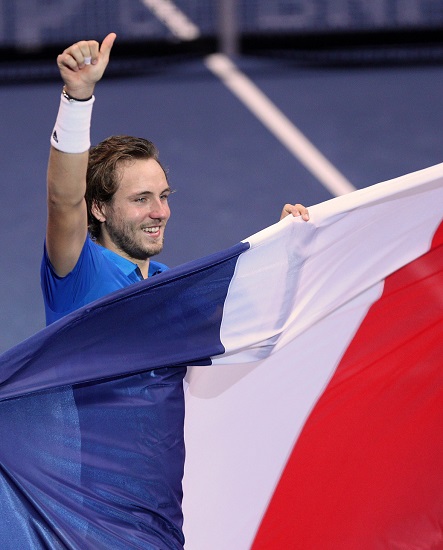 It has been quite a journey, as much of a cliché as it sounds, for the 23-year-old who was named "Most Improved Player of the Year" last year and who cites as his hobbies shopping and fashion.
Pouille, who was born just 75 kilometres from Lille where the final was played, is also a smart cookie academically having completed a bachelor degree at France's National Institute of Sport.
But for him all that is a blur as he holds on to and stares at one of the greatest trophies in all of sport.
"There's nothing more beautiful than winning as a team in front of my friends and family. Now we're going to celebrate and enjoy it," Pouille said, as the curtain was brought down on the 2017 tennis season.
This achievement will live forever in his memory and even if he doesn't win another match, which is never going to be the case, he will always be Lucas Pouille – Davis Cup winner.