It's a new scenario for David Goffin as he heads into the Davis Cup by BNP Paribas final.
David Goffin is having the best year of his life.
Goffin qualified for the ATP Finals for the first time where he had wins over Rafa Nadal and Roger Federer and he ends the year with a career high ranking of seven. But his year is not quite over for him yet.
There is one more thing on his schedule and it's the final of the Davis Cup by BNP Paribas.
This weekend the Belgian will lead his nation against the favouritism of France in Lille at the fabulous Pierre Mauroy Stadium which hosted the final in 2014 and the semis this year.
This is just the second time (the other being 2015) in over a hundred years that Belgium is in the final. The last time they lost at home to Great Britain.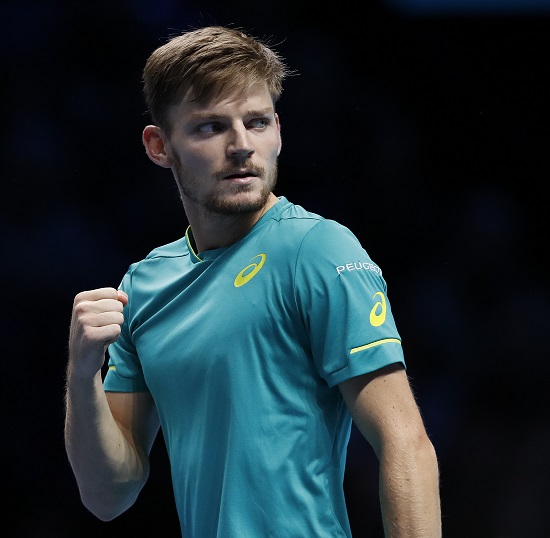 But even in the couple of years since, Goffin has become a way better player – he even thinks he is a better player by competing in the season-ending championship. Still, having said that, there is a new aspect for him. He has not played so much tennis before going into a Davis Cup final and the pressure will be on him.
He remains undaunted.
"It gives me confidence, but it will be something different when you play for your country and not for yourself," Goffin said. "But the way I managed the pressure will help me to manage (in London) will help me to manage also the pressure (in the final) but it will be something different. It will be against the stadium."
His further thoughts leave you wondering if the extra tennis will be of benefit. Certainly, Andy Murray went through it a couple of years ago in that last final, but then Murray is way more used to the level of attention that Goffin is now dealing with. Murray has won majors and has been No.1 in the world.
This all new territory for Goffin.
"I will tell you next week," he said to me. "If you are in Lille, I will tell you maybe it was a negative thing to play the final. But there is nothing negative in this period. I have to play the final in Davis Cup. I have (played) the final in London. It is something incredible.
"The fatigue doesn't mean anything. I just have to go for every match, every moment of the court, enjoy that moment because, yeah, it's the biggest final of my career, (the ATP Finals) and Davis Cup. I will try to play match after match, give everything on the court like I'm doing for the moment."
He says just the week at the ATP Finals, qualifying and reaching the final has made him a better player mentally, and not just mentally but physically as well. It has been tough, no doubt but the excitement has kept his adrenaline at its peak.
He says he has proven to himself that he can do it and that his mind and body are in the right place. Rightly so he has immense pride in what he has achieved. He gave everything in London and has no regrets; that was never in question. But despite a few days before he has to play, there can be no letting down.
In every practice session before the first ball is hit on Friday he has to keep his head on alert. He is the lynchpin for Belgium. Steve Darcis, Belgium's No.2 singles player turns into a different player in Davis Cup, and that's great, but it is all hinges on David Goffin who is likely to play all three days.
He must provide the lead and while he has done that before in Davis Cup, backing up after a full-on few weeks will not be easy to do. However, he can look at it as one more push, one last event and it will be time for holidays.