Czech tennis player and Wimbledon champion Jana Novotna has passed away at the age of 49.
Oh Jana I will miss you. I am so sad to hear you have left us.
Like many in the tennis world, I knew Jana Novotna well. It was easy to get to know her because she was such an approachable lady and now she has gone, and the sport of tennis is just that bit poorer of her departure.
Novotna was only 49, so young, too young. The dreaded "C" took her.
She battled bravely just as she did on a tennis court but tragically and sadly she was not able to save this match point as she was able to do on a tennis court. She loved the sport dearly and once said that a day without tennis would indeed be a sad one. She can continue playing this wonderful sport to her heart's content on that centre court in the sky.
She loved representing the Czech Republic in Fed Cup and all that went with it but it was in 1998 all her dreams came true when she won the most treasured prize of her life, Wimbledon. It was third time lucky for her having been in the final in 1993 and 1997. It is the 1993 final that remains one of the most famous in Wimbledon history.
Jana lost to Stephanie Graf in the final. She so desperately wanted to win. During the presentation ceremony her emotions got the better of her and she broke down in tears as the Duchess of Kent presented her with the runner-up trophy. Jana cried on the Duchess' shoulder and was consoled by the kindness of Her Royal Highness.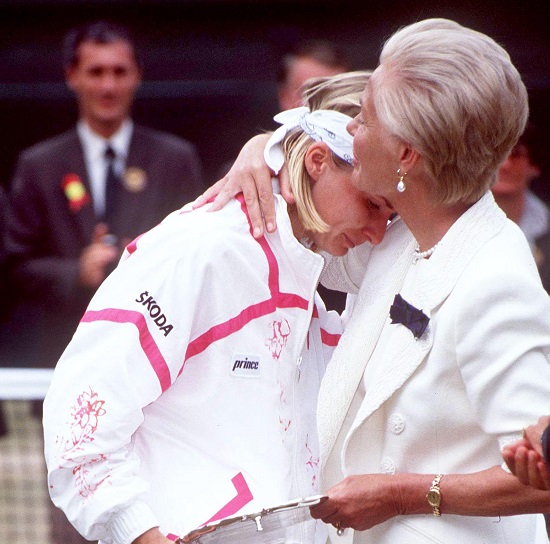 Jana, who reached a career high ranking of two, was just as much as a kind soul. She had a ready smile and never failed to go out of her way to talk to you and ask how things were. She was a generous person and a dignified human being.
In 2005 she was inducted into the International Tennis Hall of Fame and she was as proud of that honour as she was with that Wimbledon trophy.
New mind about all the singles trophies she won and the 70 plus doubles championships, here was an unassuming down to earth human being.
On a personal note I will miss her. Rest in peace Jana, you deserve it. You made things nice when you were around us.