Grigor Dimitrov has won the biggest title of his career but a couple of years ago he could not have imagined being in this position.
A couple of years ago Grigor Dimitrov was like a rudderless vessel trying desperately hard to get out of the currents not unlike the strong currents in the River Thames. He was struggling big time and just was not realising the potential everyone knew he had. There was frustration aplenty and Dimitrov did not know how to pull away and not go under water.
His ranking had dropped into the 40's and there were questions about whether he really had it. At that time he too questioned where he was going and he certainly did not consider where he is right now. Dimitrov will end the year at a career high ranking of three, but really he is feeling on top of the world.
He won the biggest title of his career. The ATP Finals is the fourth title he has won in 2017 and what he went through a couple of years ago remains at th back of his mind as he never want to go back there. What he has now is going to stay.
Dimitrov beat David Goffin 7-5, 4-6, 6-3 and because he went through the tournament without losing a match (includes three round robin matches), he banks $2,549,000. It was an incredible achievement.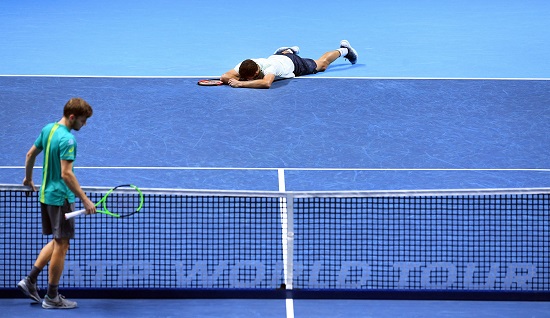 I asked him if those years ago he could have envisaged being in this position.
"No. No. Definitely not. If you ask me, no," Dimitrov said. "What was I, like 43, 44, 45? No, there I was thinking, 'How can I put it together, put three balls in the court?'
"But again, with the right set of mind, with the right people, with the right support, things happen. For me, that period really helped me a lot. I think I needed that. And I appreciate those, like, six, seven months that were a complete struggle for me. I appreciate them in a way that, I mean, only yourself if you've been through that you would understand that.
"In that particular moment, I really realized what I really need to work on, who are the real people around me, who really counts on me, who matters to me. There's so many lessons that I took out of that period that everything else, what I did, every little step that I took every day, you know, towards the good, it felt like a great day.
"Little by little, yeah, drop by drop, here I am."
He brought Dani Vallverdu on board and the Venezuelan board player-coach who had been with Andy Murray for years began to get the results. It was a journey they embarked on and each stop was becoming more and more interesting.
When he got to London and his first time qualifying for the year-end championships he could sense his opportunity and this was his biggest stepping stone. It was all just falling into place for the 26 year old so when Goffin netted a backhand on match point Dimitrov dropped to the court on his back and a few tears trickled down his face.
"It just came out" Dimitrov said. "Simple as that. I don't know, it's a special -- it's a special event. I mean, you don't get the chance to play that -- well, sometimes you get the chance to play that every year, but sometimes you don't.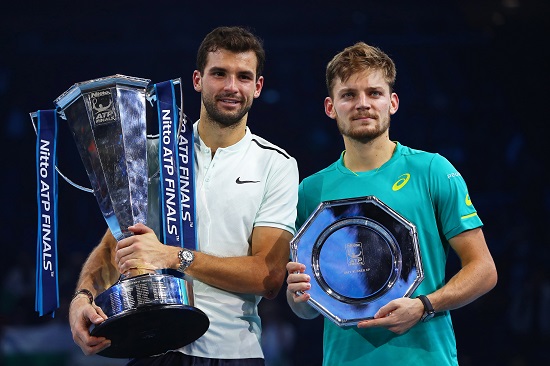 "For me, the way that the year has been, I mean, I felt I deserved to be here, yes, but I didn't want to imagine that far ahead that, Yeah, I'm going to be on the final, win the whole thing.
"It was also just the end of the year, the last match. Knowing I don't have to go to practice tomorrow will be great feeling when I wake up in the morning, I just can do whatever I want. As a tennis player, you don't have that freedom that much. If you want to be up at the top, there's no shortcuts.
"Yeah, I'm fully dedicated. This year I think I've done a lot of work on that. I sacrificed days that I should have probably had off, maybe go to a little vacation here and there. Now it pays off."
Obviously, this is Grigor Dimitrov's tournament, but it would be a be unfair to brush David Goffin aside as the runner-up. He worked with his disappointment, but it had been a remarkable week for him, if not the best week of his career despite losing. After all he became only the sixth player to beat Rafa Nadal and Roger Federer at the same tournament and he will finish the year at a career high seven.
"I think after this week I'm a better player mentally," Goffin said. "Yeah, obviously mentally, but also, yeah, physically. It was tough (but) I proved to myself that I can do it. I was at the right place because, you know, sometimes you are for the first time in the top 8, you don't know how it's going to go, if you're going to play a good level.
"I proved to myself that, yeah, I'm in the right place, and I deserve to be here in this tournament. Then match after match, I took more confidence until the final. So I'm proud of what I've achieved, even if I'm disappointed about the final.
"I gave everything. I have no regrets after the final. Anyway, it was a great week. So, yeah, I think I'm a better player."