Grigor Dimitrov has given himself a second opportunity and he is realising his talent which is evident as he is now in the top ten.
I just love watching Grigor Dimitrov play. No, that's not enough of an endorsement. I would actually cross a busy highway to watch him play. He just gets on with a match, there is no futzing about or any sort of idiosyncrasies and all that which goes with superstitions or as a plane would rather say, "I have routines".
There is such a fluidity about his game and the way he moves around the court. It is no wonder he was compared to Roger Federer I his younger days and was given the label "Baby Fed". Dimitrov has certainly shake off the nickname and without doubt he is his own man and any further comparisons with the great one need to be curtailed.
Many a player cast with such a comparison would after a while get frustrated. It can play on one's mind but Dimitrov makes no issue of it and just gets on with it.
"Well, I think the comparisons and all this, they don't really matter anymore," he said. "As I said before, I'm saying it now, I'm really looking after my game and what I'm doing right. I think one of the wrong things you can do is to try to follow somebody else or try to, as I said, follow in the footsteps, the things that they have done."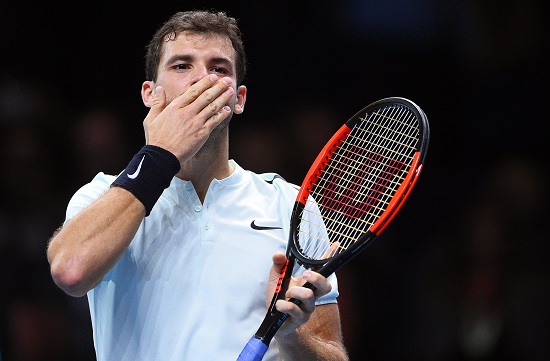 Back in 2014 Grigor had a breakout season but then things seemed to get derailed. He struggled with his tennis. It wasn't as though he had taken his foot off the accelerator and expected the results and what not to come to him. There was pressure on him to repeat and while the Federer comparison was pretty evident, he did come of the tracks a bit, plus attention was being paid to his private life as he was dating Maria Sharapova to boot.
His attention was being spread.
Dimitrov essentially took stock. He was not prepared to just be a player who did not fulfil his talent. Danny Vallverdu who used to be with Andy Murray came on board "at a very crucial moment" and from then on Dimitrov turned the corner. 2017 has seen his play some great tennis starting with a run to the semis of the Australian Open and now being the first man from Bulgaria to qualify for the year-end championship and finish the year well inside the top ten.
His 6-0, 6-2 win over David Goffin at the ATP Finals was arguably his best match of the season.
"It could be," Dimitrov said. "I've played I think a little bit over 50 matches right now, 40 something. I think I need to sit down and think about it, but right now, from the top of my head, this is definitely the one that sticks out in terms of consistency, focus, striking the ball, movement, agility, everything that I can possibly think.
"Everybody that has been in my team deserves a lot of credit. Without that, I wouldn't be the same guy. Again, it also comes down to the whole team, of course, Dani, my family, closest friends. This is the base of everything.
"For me, this is such an important part. If I'm all good with that, in a way nothing else matters. It doesn't matter if I'm going to play on a centre court or on Court 18 if I have all that sorted out. Like this, you all have the same goal together. You strive to be better. I think automatically you build up such a bond that just things starting to come together.
"Yes, of course I've worked a lot on and off the court. I felt I've been pretty consistent, playing well. Yeah, I think just a little bit of everything. I think every small success we're trying to build on and build on. That's why you're here on that stage right now, because this is what you deserve. Also, you get what you put in."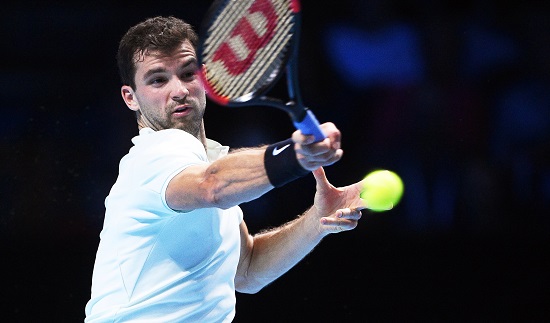 Not only is Dimitrov a super player, but he is also a good guy with a sense of humour and a very easy personality as this exchange demonstrates.
Q. Nadal said the other day that against you he played one of his two best matches.
GRIGOR DIMITROV: Yeah, he said that to me, too.
Q. That gives you some sort of satisfaction, I guess.
GRIGOR DIMITROV: Really? I lost four times this year. C'mon
So it doesn't give you satisfaction, okay. What about the best ranking, if that gives you some more confidence? Last thing is, you are Bulgarian, you were born in Haskovo. You lived in Paris, are a resident of Monte-Carlo. You had a Russian girlfriend in Los Angeles. I'd like to know if you think about yourself as a citizen of the world?
GRIGOR DIMITROV: You mentioned only one girlfriend in there? Man, c'mon. And you missed two other countries I lived in. Anyway, fair enough, fair enough. Right now, I'm enjoying one of my best seasons. I'm still here, happy. There's nothing to escape. Ask me something directly, I'll tell you. You didn't ask me. You just stated the facts.
Q. I want to know the countries where you live better, where you see yourself better in the future.
GRIGOR DIMITROV: I wish I knew. I think it took me quite a few years to settle myself where I'm at right now. But deep down in my heart, I'm Bulgarian. I still have a Bulgarian passport. I compete for Bulgaria. I'm proud to be Bulgarian. Zero shame of anything of that, or anywhere else I lived in the world.
Dimitrov says the most important thing is to find your own balance, find your way to coexist obviously with yourself and follow your dreams, follow your goals and once that's been found, there is no reason to change.
Right now Grigor Dimitrov is in a good place – he is solid and comfortable and he is not "sacrificing anything in my life right now".