Rafa Nadal withdrew from the ATP Finals with injury again. The world No.1 could do without the title of "Most Injured Player".
Everyone knows that Rafa Nadal has brought the curtain down on his season. Injury again. He played one match at the ATP Finals, lost a tense one to David Goffin for the first time and then withdrew.
It marks the first time in his career that Nadal has withdrawn from back-to-back tournaments midway through the events. His withdrawal in London from the season-ending championships a rare event he has never won, follows the withdrawal he had in Paris. Previously, Nadal has had four walkovers and seven retirements in his career.
Through his career Nadal has had one injury after another. It's part of his history and if he does another biography he should dedicate an entire chapter to the injuries and the treatments he has undergone and where. It might be a help to medical science. It is the same with Kei Nishikori and Milos Raonic but they have not come close to the career heights Nadal has reached.
"Is true that I am probably the top player that had more injuries and more troubles in the careers of everyone, no?," Nadal said, with the only other one who might challenge him being Pat Rafter.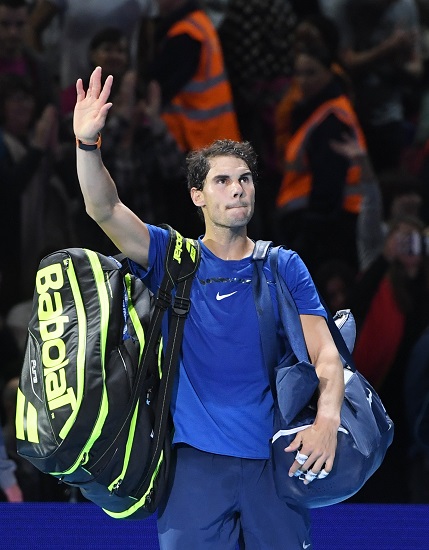 "Is always about this challenge. But I am used to this and I know what I have to do. I think I am ready to do it. I know what I have to do. I know all the things that happened in the past when I had these things, and I know the treatment that I had to do. I know the periods of time that I need to work. Then if the treatment works or not, we will see."
The fact that Nadal has experienced so much on the injury front only adds to his incredible achievements. That he has still managed to win 75 career titles including 16 majors is amazing. It really is beyond remarkable.
The fact that it is nothing new for him is sad to see or hear but at least he is experienced in the course of action that is required, but as he puts it "that's how it work, my career".
"At the same time. I can't complain. I feel very lucky about all the things that are happening to me," he said. "I am, of course, disappointed. But I am not going to cry. I had a great season. I really appreciate all the things that happened to me during the whole season. Thanks life for this unforgettable one.
"I going to work hard to try to give me more chances the next season to keep being at the top and fighting for the most important things. Thank you, and Merry Christmas, everyone."
Yup he still managed to get that line out through his disappointment.
And if, and when, he does retire from the sport, he would certainly be a very realistic actor if one was needed to be a patient in a medical or hospital drama. Rafa Nadal would know what to do and probably even use the medical terms confidently.