The USA has won the Fed Cup by BNP Paribas after a long wait but it was Coco Vandeweghe who was the star.
It's been a long time. In fact, it has been 17 years but now the USA has its hands on the 2017 Fed Cup by BNP Paribas and it is the 18th time overall the nation has won the women's world cup of tennis.
The USA defeated Belarus which was playing its first final and the home nation was missing their star player Victoria Azarenka who is caught in the middle of in a custody battle over her baby son. Yet they still managed to take things down to the wire before the USA won the deciding doubles to make it 3-2.
But while such competitions are not about individuals more often than not one player stands out and takes charge. They take the lead and set the examples. In this final that player was American Coco Vandeweghe who won all three matches she played..
This has been the best year of her career. Vandeweghe has threatened big results before but has not quite got there. That has all changed. Sure, she has lost some matches she should never have lost but that is also part of the learning curve and also understanding the situations.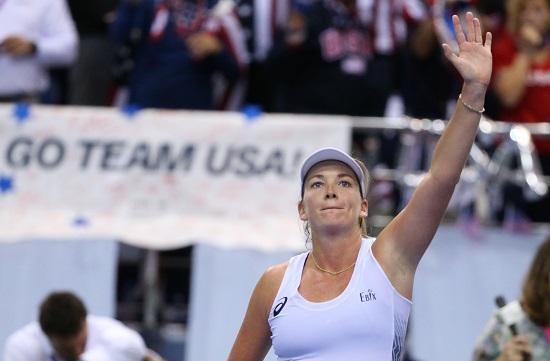 This year she has made the semis of two majors and the quarters of another and was a finalist at the WTA's Elite Trophy, their second level year end championship, and she has ended the year in the top ten.
Vandeweghe is a woman player I would go out of my way to watch. There is an attitude on the court and a bit of a swagger. She plays a no holds barred type of tennis and she is exciting to watch. I love the power she wields and her athleticism she has on the court. You may need to censor some of what comes out of her mouth (some of what she says warrants giggles) but heck she has got one big personality.
Since taking on Australian tennis hero Pat Cash as her coach (he also doubled up as USA Fed Cup coach for the final – Pat's mother was American), you can see the confidence levels rising in Vandeweghe.
Never could anyone believe Cashy would be involved in women's tennis but it goes to show the type of payer Coco Vandeweghe is. She plays aggressive tennis which is the type of tennis Cash played. Their personalities mesh and they don't mince words; probably both would call a spade a f*%#&@g shovel. He has brought the best out in her and she has been totally receptive to all he has said.
"I couldn't have wished for a better player," Cash said. "I'll watch her any day and she is one of the few players on the women's circuit where you sit down and say, 'OK, there's going to be some action here'."
She has been described as "combustible" and that is rather apt but this leadership role Vandeweghe assumed, with how she played in the Fed Cup by BNP Paribas, could be her next launch pad. We have seen it before when a team has done incredibly well, individual players have gone on to excel – Andy Murray and Novak Djokovic were perfect examples after winning Davis Cup by BNP Paribas.