Sloane Stephens, after spending eleven months off the tour and watched her ranking drop as low as 957, has come back to win the US Open.
Sloane Stephens's eyes lit up and her face was radiant as she recalled match point: "Just like, Wow, how insane? I actually won the US Open. Wow. What a moment. I think it was a little bit of just, like, Wow. I mean, it's hard to explain, obviously. Winning a tournament is extremely special, but winning the US Open, being an American player, is even more incredible."
It was the same response she had when the trophy was being presented to her following her 6-3, 6-0 win in 61 minutes over her close friend Madison Keys. At the net after the match point was done the two of them had the longest embrace. There were tears with Keys and Stephens was speaking to her, commending her while Keys nodded her appreciation.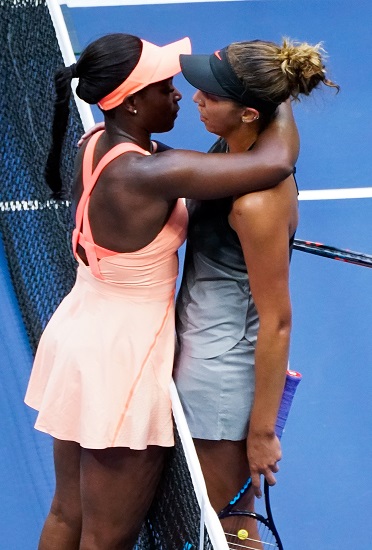 "I think we have known each other for so long and we have been through so much that we wanted to share that moment with each other," Keys said. "To be able to share my first Slam experience with a really close friend when it's also her first Slam is a really special moment. Again, if there was -- there's no one else in the world that would have meant as much as it did."
That moment at the net was very special and sadly it is rarely seen in tennis now.
But it was all about the Sloane ranger and the amazing comeback journey she has been on over the last few weeks after injuries and surgeries kept her away for eleven. She missed playing three majors in a row from last year's US Open
The trophy that sat in front of her at her post-match media conference only validates her place in women's tennis.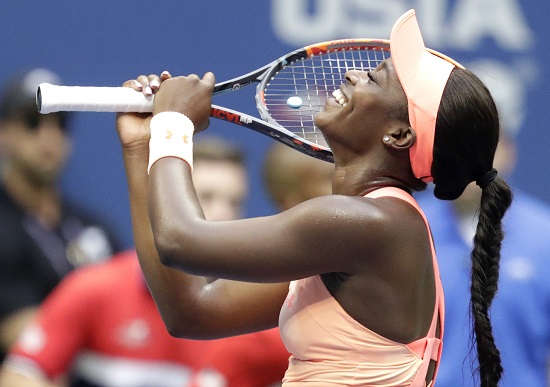 "I mean, I think when anyone has -- I'm going to totally put this in my bio, US Open champion. I think when anyone has a Grand Slam champion in front of their name, it changes things a little bit. So I don't know if I have arrived or already arrived, been arrived, I don't know, but I do know I'm a US Open champion. So whatever that means to you," Stephens said.
When she was growing up she would dream about athletes winning big events. She thought it would be super cool to be in that position. She thought one day she was "going to be able to show my kids that I won the US Open". Not many people can say that, in fact t be precise she is the 94th woman to win the US championships.
"They have already engraved my name on the locker; like, hello. This is awesome," she said laughing.
Rightly so Stephens did not want to talk about all she has been through with her injury and the time she spent away but she did provide some explanation of what she had to endure.
"I was nonweight-bearing for 16 weeks, so I couldn't walk, put no pressure on my foot," Stephens said. "I had on a peg leg, on crutches. Yeah, I don't think -- there is no positive to not being able to walk and not being on one leg. That's not fun for anyone.
"So I think I took it all in stride and I just tried to stay as positive as I could, knowing that one day I'd be playing again and things were going to be better. But that's all I really had to look forward to was just being able to get on the court again."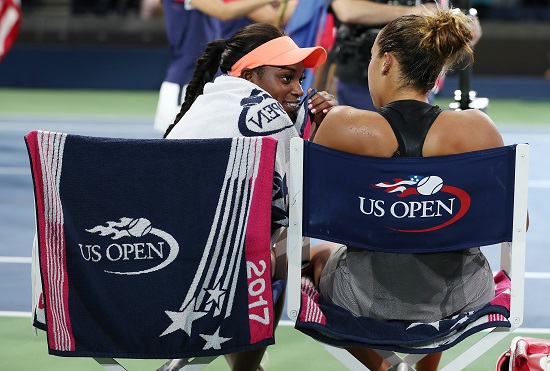 When she had surgery she was not thinking that she would be anywhere near a US Open title. Even at the start of the tournament if it has been suggested she would win she probably would have had them committed to an asylum. Instead she was worrying about her protected ranking which she had used to get into Wimbledon and the US Open and some other tournaments. She said she was thinking about all the wrong things.
But she got a grip of herself and just realised that "whatever is meant to be is going to be". She had worked hard to get where she is and that's all there is to it. It must have taken a lot of stress off her and she was able to play freely and give it a go with every match he played.
"There is no words to describe how I got here, the process it took or anything like that, because if you told someone this story, they'd be, like, that's insane. I'm just happy to be here," Stephens said.
So, does she think she has arrived?
"Yeah," she said with a massive smile.