The Canadian teenager Denis Shapovalov has started to make his mark.
Denis Shapovalov is in a position to do more for tennis in Canada (if not all over the place) than anyone before him, including Milos Raonic who has spent extended periods in the top ten and has been a finalist at Wimbledon.
Shapovalov is only 18, he has long blond hair, he has a surfie look about him and as silly as it sounds – his hat is worn back to front. He appeals to the kids. That's what it is all about. He is almost like that cool older brother and he was asked about that appeal factor.
"Definitely. Just a couple of days ago in Central Park, I was just walking with my team and I ran into this kid who - he was shaking, you know, seeing me. For me, it's -- you know, it's so nice for me to see," Shapovalov said.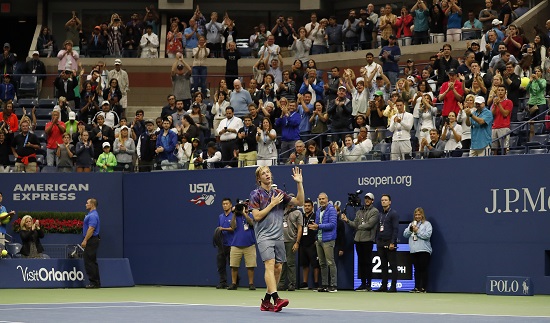 "I mean, this kid I'm just walking, doing my business, and this kid comes up to me, and he tries to talk to me but he can't really start a conversation, he's shaking so much. He's, just, like, 'Oh, my God, wow, I can't believe this.'
"Yeah, it's honestly inspiring, and it's moments like this -- you know, I grew up wanting to play tennis. I want to change, try to change the sport and hopefully, you know, first of all, in Canada. But definitely in America, I think I'm making an impact, and hopefully I can continue to do so, because for me, I mean, the best thing in life is to see kids like this, you know, looking up to you and just aspiring to be like you."
The year did not start out in the best fashion for the teenager. In the first round of Davis Cup by BNP Paribas with Canada hosting Great Britain in Ottawa, Shapovalov was playing Kyle Edmund on the final day and out of frustration he swiped at a ball which then ricocheted towards the chair umpire and hit him around the eye.
Shapovalov was mortified with what he had done and could not be more remorseful. He was defaulted instantly and fined. The teenager used it as a learning curve not that he was a volatile or aggressive individual from all accounts, but it was a lesson well learned. Since then it has only been his tennis and results that have been spoken of.
He is the youngest to reach the last 16 at the US Open since Michael Chang in 1989 and while defeated by Pablo Carreno Busta 7-6, 7-6, 7-6, the greater applause was for the Canadian qualifier, especially when he was about to leave the court but thought again and put his bag down and signed autographs.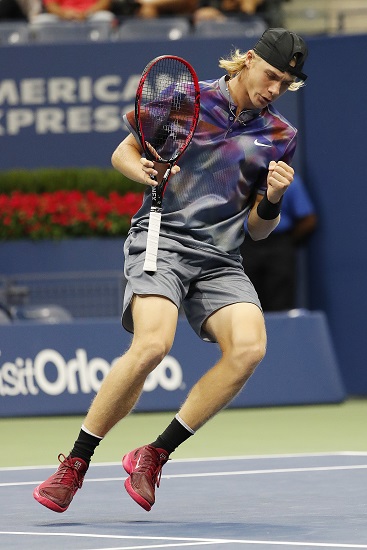 "Favourite memory in the past ten days? Honestly, I think it was the sound, the roar of the crowd when I put my bags down and I went to applaud them. Yeah, they were all screaming. It was so loud, and it was a great moment for me. It really has a special place in my heart, and, you know, now New York for sure, it will always have a special place for me," Shapovalov said.
"You know, hopefully I can come back here for many more years and just try to do some damage."
He said the whole two weeks he has been in New York from qualifying on, have been a joy with the atmosphere he has experienced. It has moved his ranking way up and he's more in a position to pick and choose where he plays now.
"It's another life-changing event for me, and first of all, it's thanks to the crowd. They have been having my back these past couple months. You know, they have been really carrying me. Without them, surely enough, it wouldn't be possible," he said and also thanked his team for their sacrifices.
"Lastly, I just want to thank my parents. Unfortunately, they couldn't come. My mum said she would try to come if I had won today for my next match, but, yeah, it was just too tough with the kids (she is a tennis teacher) and she didn't - she didn't want to feel like she was betraying her students, which I completely understand. You know, for her, it's always priority is her students."
But if Denis Shapovalov maintains what he has experienced in New York and in the few weeks leading up to the US Open, there will be plenty more opportunities for his parents to be there watching him live, and not just at the middle stages of a major but instead at the very end.