It is exciting and amazing to see a member of the "old guard" get the No.1 ranking back.
It is familiar territory for Rafa Nadal but it has been a while. On 6 July, 2014 he enjoyed his last day at the top of the tennis tree. It was the last time he rules as world No.1. Now for the fourth time in his career, Nadal has ascended to the top again and even he, who normally tends to play down thigs, is pretty amazed.
"Is an amazing, positive news," he said. "No, no, being No. 1 after all the things that I have been going through the last couple of years is something unbelievable, so is, for me, is an amazing achievement to be back to that position after few years, three years already without being in that position.
"But here I am. I'm very happy for that, and that's the moment that in the most important, in the last most important event of the season, I need to show why I am in that position now, no?
"So I gonna work hard to show myself and why I am there. So I'm going to work hard, and I gonna try my best to play at the highest level possible in New York."
Nadal is the oldest man to reach No.1 since Andre Agassi who achieved that at the age of 33 on 7 September, 2003 and he is also the oldest, again since Agassi at 33 to regain the top spot on 16 June, 2003.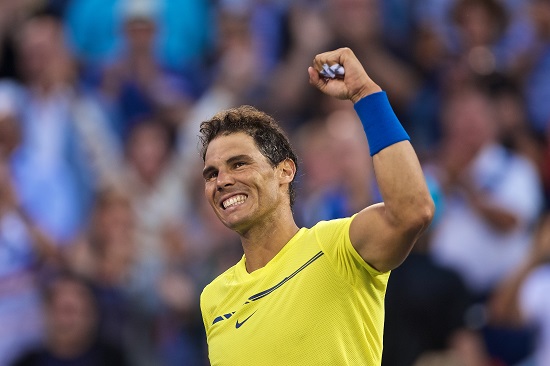 Coming into this stint at No.1 Nadal had held that place for 141 weeks.
It truly is remarkable because the majority of tennis watchers counted Nadal out after three years of persistent injuries that made up so much stop-start tennis. Too many players would have given the game away if they had been through what he and Roger Federer his greatest rival, went through but he and Federer have come back incredibly after the injuries.
Federer and Nadal are perfect examples to follow. They are indeed a lesson that all can learn from, never give up, keep chasing dreams, listen to you own heart and mind and to heck with what anyone else says.
And now he will be seeded No.1 for the US Open, the first time he will get a No.1 seeding at a major since Roland Garros 2014.
How long he will hold No.1 remains to be seen but Federer is certainly nipping at his heels and it is all like being back to the future. Tennis is loving it and it will be thrilling to see who will capture the all-important year-end No.1 ranking … Nadal or Federer.