Australian tennis player, and a friend, Peter Doohan has passed away at the young age of 56.
Court One at Wimbledon in 1987 was an intimate court. It was a bit run down, maybe a couple of splinters might have imbedded in your palm while sitting on the benches, but nothing too serious. It was still about a decade before it would be pulled down and what is the Millennium Building would take its place. That's the building which houses the player garden and the player restaurant, etc.
During the Championships in 1987 Boris Becker was the hot favourite to win the title again. He was the focus of attention wherever he went and his game was certainly suited to the grass courts.
Two weeks before he had comfortably beaten the Australian Peter Doohan in the second round of Queen's Club. The only other time they had met was at the 1985 US Open, two months after Boris won his first Wimbledon, and even then Becker scored a one-sided win.
So it was no surprise when Becker and Doohan were to meet in the second round of Wimbledon in 1987 that the German would be the odds on favourite to win.
Doohan had been around a little while on the tour. His nickname was "Bear". Why Bear you may ask? Well Australians nickname colleagues totally opposite to what they are. Peter was anything but a bear, he was tall and skinny – there was no padding on him, hence he was called "Bear". He was from Newcastle, about two hours another of Sydney. He had enjoyed some good results in singles and did well in doubles.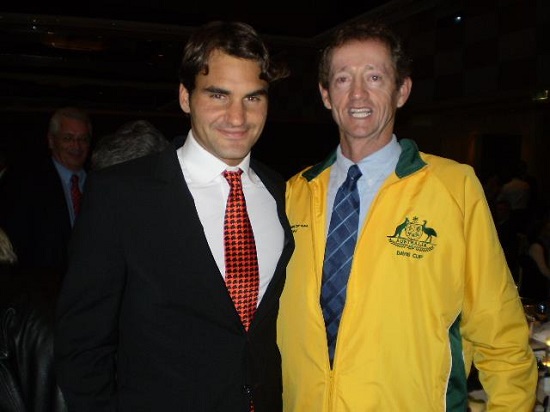 He was under sponsorship with adidas which provided him with clothing. That year he was wearing the Ivan Lendl collection with the multi-coloured squiggly lines across the chest that formed into an eye on the left chest. I remember it well, Ivan had given me a couple of them.
I was at Court One to watch the match having developed a friendship with Peter but it was to see, again, the power of Becker. The court was packed and the fans were so close to the action; they could almost touch the players. Things are obviously so different now. Those were still wonderfully innocent days for world tennis.
Doohan clinched the first set but it was close, a tiebreak. The crowd gasped a bit and applauded loudly for the gross underdog. Doohan was taking it in his stride. Then Becker came roaring back and levelled the match and people began to filter out for just a bit. The feeling was the German was going to cruise now. Doohan had enjoyed, as Andy Warhol once said, "his 15 minutes of fame".
But the match was far from over as Doohan came charging back breaking the lethal Becker serve twice in the third set. Word was spreading around the grounds. Colleagues were joking, with a play on Peter's name as his last name was pronounced "Doin": "What's Peter doin? The response: "He's beating Becker."
He was up two sets to one and there was a calmness around Peter. Boris was obviously not happy and could not turn things. The serve and volley Aussie was causing chaos. It was the fourth set and Doohan struck again. Becker was shouting "nothing" in German. Doohan kept the pressure and suddenly the crowd roared. Wimbledon had just witnessed one of its biggest upsets; "Game, set, match Doohan 7-6, 4-6, 6-2, 6-4. He went on to reach the last 16 that year.
Peter Doohan, Bear, had been given two new nicknames "Becker Buster" and "Becker Wrecker".
It was in June, 1987. 30 years and one month later the tennis community is mourning the passing of Peter Doohan, he was just 56. His life was cut short but a cruel disease. Just nine weeks before he had been diagnosed with an aggressive form of moto neurone disease, MND.
I spoke to Boris this past Wimbledon about Peter and he wanted to know what the situation was. Boris said: "And we think we have problems." Boris was genuinely moved and Peter was in his thoughts.
For those of us who knew Peter, our hearts go out to his mother, his two sisters and his two sons who are in their 20s. He was a good guy, truly he was. He never failed to shout out a hello and would go out of his way to have a chat. Peter will be missed. Obviously the players of now wouldn't necessarily know his name but those of us who knew Peter will never forget that afternoon at Court One, Wimbledon.
R.I. P. Bear.