Roger Federer is the Wimbledon champion again.
Is there anything more than can be said about Roger Federer? He has even admitted that he is surprising himself with the results and achievements he has been enjoying. He is not at the top of the rankings but Federer is the best player in the world right now – titles this year at two majors, two ATP Masters 1000s and an ATP 500 attests to that. He is playing the best tennis of his career.
Federer has created history all over again. Not only was he playing his eleventh Wimbledon final – no other man has reached eleven finals at any of the majors, but he won his eighth Wimbledon which no other man has achieved and that made it his 19th career major.
Federer defeated and injured Marin Cilic in one hour 41 minutes 6-3, 6-1, 6-4. Cilic was severely hampered by an extreme blister that had leaked fluid under a vallous he had on his left foot.
This marked the second time in his career that he has gone through one of the majors without losing a set.
It was 16 years ago when on that same Centre Court he had observers sitting up and taking notice when he defeated one of his heroes, Pete Sampras. It was a shock upset at that time. Two years later he won his first career major and again it was on that same court and the legend was created.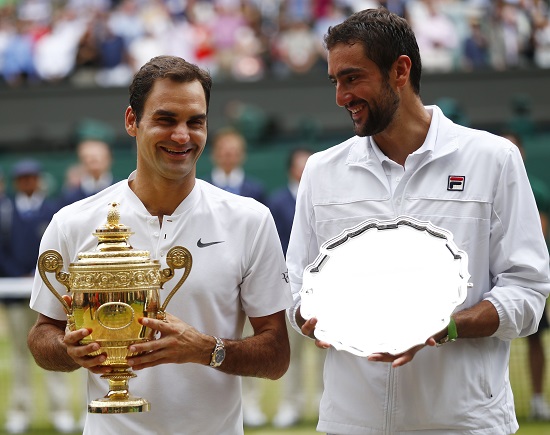 "It is very special. Wimbledon was always my favourite tournament, will always be my favourite tournament. My heroes walked the grounds here and walked the courts here. Because of them, I think I became a better player, too," Federer said. "To mark history here at Wimbledon really means a lot to me just because of all of that really. It's that simple.
"Funny enough, I didn't think that much of it throughout today, throughout the trophy ceremony. I was more just so happy that I was able to win Wimbledon again because it's been a long road, it's been an exciting road. It's been tough at times, but that's how it's supposed to be.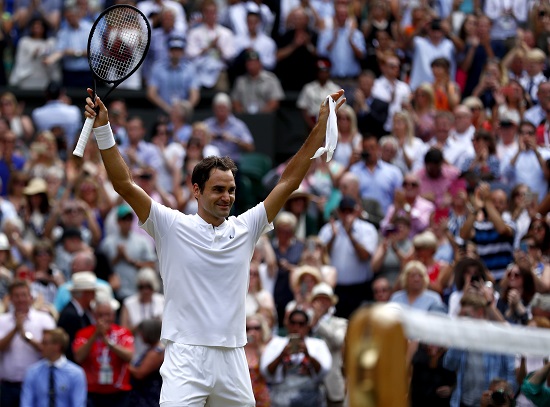 "So to be Wimbledon champion for an entire year now is something I can't wait, you know, to savour and just enjoy. So it was super special. Number eight obviously means a lot to me because at that level, to be part of Wimbledon history, is truly amazing."
Many, in fact most had discounted him after he won Wimbledon in 2012 beating Andy Murray. The results began to dwindle, eh was still very much in contention but he lost matches that he should not have lost and the longer it went without him winning a big one, the more people felt his time had gone. He as stuck on 17 majors for years.
I was wondering if a prediction I made in 2006 would come true; I said he would get to 18 majors but even though the results at the majors were coming I just felt it could still happen. Then in January I felt pretty chuffed with the prediction came to fruition at the Australian Open.
"Honestly I'm incredibly surprised how well this year is going, how well I'm feeling, as well, how things are turning out to be on the courts, how I'm managing tougher situations, where my level of play is on a daily basis; I am surprised that it's this good," he said.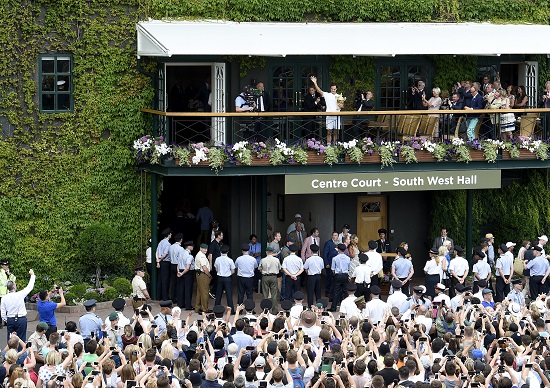 "I knew I could do great again maybe one day, but not at this level. So I guess you would have laughed, too, if I told you I was going to win two slams this year. People wouldn't believe me if I said that. I also didn't believe that I was going to win two this year.
"But, yeah, it's incredible. I don't know how much longer it's going to last; I have no idea. But I just got to always remind myself that health comes first at this point. If I do that, maybe things are actually possible I didn't think were."
This win five years after the last at the All England Club is the second longest wait between titles at Wimbledon in the open-era. The victory has made him the oldest man in the open-era to win Wimbledon. It is his 92nd career title and his 91st win from 102 matches at Wimbledon and he joins Ken Rosewall as the only two men in the open-era to have won multiple majors after turning 35.
And in closing, the Chinese people revere the number eight. To them it is a good luck. Federer served his eighth ace on championship point to win this record setting eighth title losing just eight games in the final and on the eighth of the eighth it will be his birthday, his 36th. Eight should now be his lucky number.