Garbine Muguruza has realised a dream ... she's the Wimbledon champion.
Two years ago on the Centre Court at Wimbledon, Garbine Muguruza was in tears. She had just been beaten by Serena Williams in the final. At that time she said to herself that should would come back and win this championships.
Now Garbine Muguruza is flying high, she is the Wimbledon champion and before she had even walked off the court her name was already on the Honour Board which is just near the doorway that leads directly to and from Centre Court.
"Well, it was amazing," she said gushing. "Like I said before, I always look at the wall and see, you know, all the names and all the history. I lost that final. I'm like, I was close. I didn't wanted to lose this time, because I know the difference. I really know the difference of making a final, which is incredible, but... So happy that it's there now."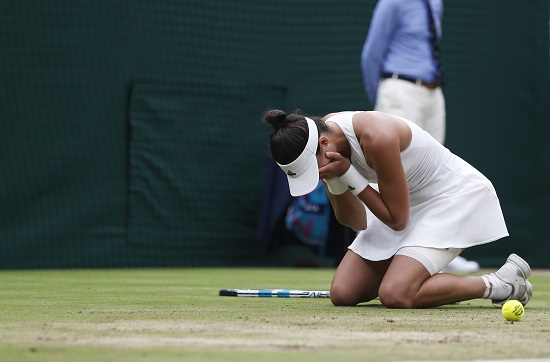 Muguruza played a remarkable match. She saved two set points on her own serve at 5-4 in the first set, one with a grinding rally that ended with Venus Williams netting a return and the other with a big serve. After that Muguruza was never in trouble as game after game after game fell her way.
She defeated Williams 7-5, 6-0. She reeling off nine consecutive games to win her first Wimbledon. The match ended on a challenge. On championship point, a ball from Venus was not called out. Muguruza challenged and it must have felt like an eternity before the Hawk-Eye review flashed up "OUT".
Muguruza fell to her knees and buried her face in her hands. She said nothing went through her mind when she faced the set points. She was expecting the best from Venus because she had been playing so well till then.
"I knew she was going to make me suffer and fight for it," she said. "I'm like, Hey, it's normal. I'm playing Venus here. So I just keep fighting. And I knew that if I was playing like I was playing during the two weeks, I was going to have eventually an opportunity. So I was, like, calm. If I lose the first set, I still have two more. Let's not make a drama, you know."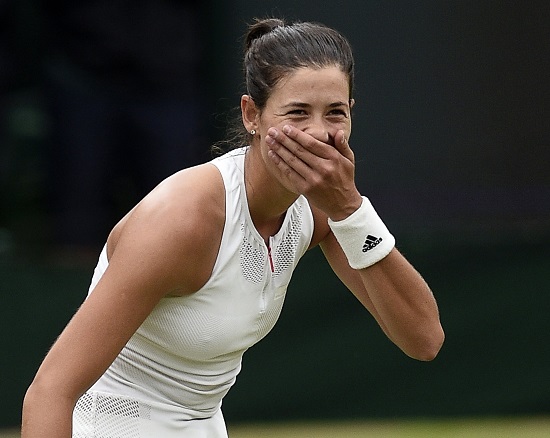 Like most her age she had grown up watching Venus and Serena play finals and win them time and again so playing someone she admired was special. She is now the only person who has beaten both sisters in the finals of majors having beaten Serena at the French final last year.
Now, once the fun of this is over she will have to go back to the grind of churning out wins on a frequent basis. It was something she was not able to do after she won the French Open and carrying that "burden" was not easy especially if you are not used to it.
"It's not easy. It's very good when you win it, and it's hard after when you come back and you know you have to defend it. But that's a good problem to have," Muguruza said. "It was tough obviously, because you know you have a lot of matches to go. You wanted the trophy back.
"But I'm happy to be in this situation. You know, I'm happy that once again I see myself winning a Grand Slam, something that is so hard to do. It means a lot. It means a lot of confidence."
Any tears she may shed are only tears of joy.