Roger Federer and Marin Cilic will play for the Wimbledon championship. This is their first meeting in the final of a major.
He is a month shy of his 36th birthday and still Roger Federer is matching it with the best and continuing to create or extend records. If 60 is the new 40 then the way Federer is playing he has to be the new 25. He is certainly playing some of the best tennis of his life. What he did at the Australian Open was quite remarkable – to take six months off and come back and win the first event of your return which happens to be a major … the Australian Open.
Now he is in the Wimbledon final for a record extending eleventh time as he relishes every moment he spends on the court. He has said time and again how much he loves to match it with players younger than him and for Federer there is nowhere better to prove that than at Wimbledon where an eighth title hovers like a carrot dipped in gold.
He has romped through the Championships without the loss of a set, he has won 17 consecutive sets, Tomas Berdych being his latest victim. It was his closest match but it was still straight sets 7-6, 7-6, 6-4. It was his 19th win from 26 matches with the Czech. It was his 90th win at Wimbledon from the 101 he has played at the All England Club.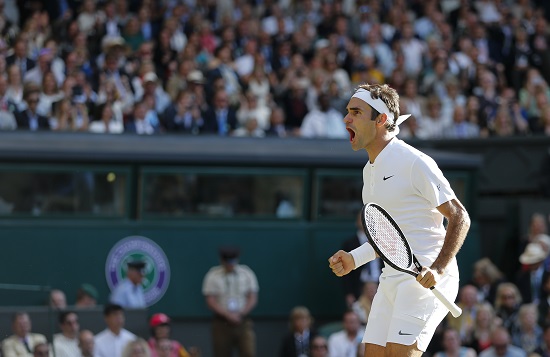 Federer has a special bond with the place. As much as some other players like Pete Sampras, Andy Murray or even John McEnroe may have a special place in their hearts for Wimbledon, no other player feels the soul of the place like Federer. It is almost as if it talks to him. The ivy covered walls, the grass, the very essence of the place is like a benign spirit to Federer.
"I mean, look, it makes me really happy marking history here at Wimbledon," he said. "It's a big deal. I love this tournament. All my dreams came true here as a player. To have another chance to go for number eight now, be kind of so close now at this stage, is a great feeling.
"Yeah, unbelievably excited. I hope I can play one more good match. Eleven finals here, all these records, it's great. But it doesn't give me the title quite yet. That's why I came here this year. I'm so close now, so I just got to stay focused."
It's been five years since he won the title but he feels he is ready for it all over again. He says he has still played good matches on the hallowed lawns since 2012, the last time he won and the year be beat Andy Murray for the title, his seventh.
"Because I've done so well here, you know, grass comes so natural to me, I don't know, I'm just very pleased to be back here," he said. "I mean, yes, you make it sound like the gap is huge. I don't feel like it's that long ago, to be honest. 2003 feels like ages ago. This one is different. I kind of look the same back in 2012, or at least I hope so."
He knows his foe well, they have played seven times and Federer has only lost one; it was at the US Open in 2014 and that year Marin Cilic was in a zone, maybe not a twilight zone but a zone that just channelled extraordinary tennis. Federer even suggested it might have been one of the best performances he has faced at a major. But also everything went right for Cilic who remains one of the nicest, most softly spoken players anyone could meet.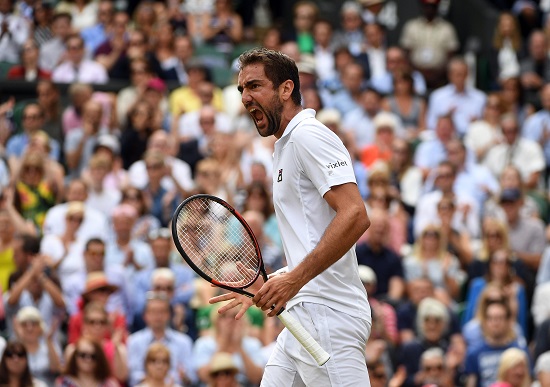 Cilic accounted for Sam Querrey 6-7, 6-4, 7-6, 7-5. Only the second Croat to reach the Wimbledon, he emulates Goran Ivanisevic who ended up winning the title in 2001. He laughed when he said that in Croatia "everyone knows where they were when Goran played". Marin was quite young and at a tennis camp.
Cilic feels that his US Open title "opened so many possibilities in my mind for the rest of my career"
"To be able to do it again would definitely mean, I would say, even more cause I know how much it meant for me to in that first one. It would be absolutely a dream come true to win Wimbledon here," he said.
This will be their eighth meeting and Federer leads 6-1. A year ago in the quarters Cilic had a match point against him but suggested he played a wrong choice of shot and lost. He said he will think back to that match and believe in his own abilities.
"I still know that it's a big mountain to climb. Roger is playing maybe some of his best tennis of his career at the moment, having a great season. I know it's going to be a huge challenge but I believe I'm ready," Cilic said.