Wimbledon is coming to its closing stages but the event has been criticised for its courts and its match scheduling. Was it fair?
Putting together an event like Wimbledon is a massive task and no event the size of The Championships can be 100% perfect no matter how much organisers might try. This year the tournament has come under fire is two areas – the state of the grass courts and scheduling.
Since 2001 the grass courts at The All England Lawn Tennis Club are sown with 100% Perennial Ryegrass to improve durability and strengthen the sward to withstand better the increasing wear of the modern game.
There are years when the players say the courts are playing faster than other years they are slower, yet Head Groundsman Neil Stubley will say they follow the same program each year. The courts are mowed to a height of 8mm and during the event are mowed every day with machines that are highly sophisticated and cost thousands.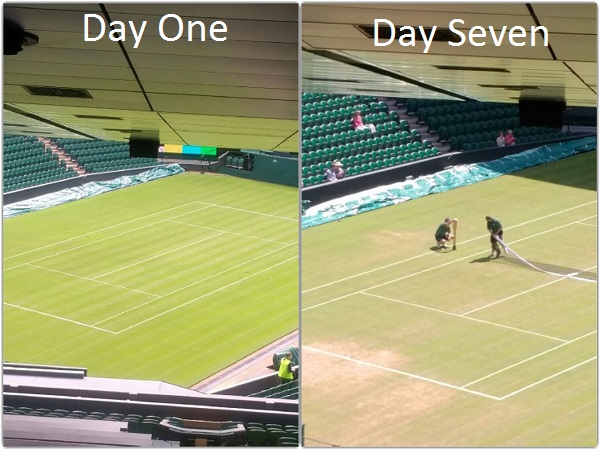 Where the issue comes in is that the weather patterns can change the patterns of how the courts play. Coming into Wimbledon the conditions had been very hot and dry and that has to have had an effect on the grass and the base the courts have been built on.
Players have been totally frank in their words about the surface. Kiki Mladenovic and Alison Riske were scared to play their second round match and wanted it postposed. They said it was dangerous and they were nervous of possible injury. It was at the same time on a neighbouring court that Bethanie Mattek Sands had her horrific injury. BUT, and this is crucial, Mattek Sands' injury was not to do with the court, her knee buckled under her.
Novak Djokovic all but said Centre Court was very disappointing and not up to standard: "The more you play on it, the worse it actually gets, unfortunately, contrary to clay, for example. I'm not the only one, have been complaining a little bit about this condition of the court. But the end of the day it is what it is. You have to accept it. You have to deal with it. It's the same for both players.
"The fact is the court is not in a great condition. I don't think much can be done and what can be done (but) that's not in my area of understanding and competence. The chair umpire in the end of the match asked me about the hole, because midway through the match I mentioned there is a hole. He wanted me to show him, so I showed him. His reaction wasn't that great."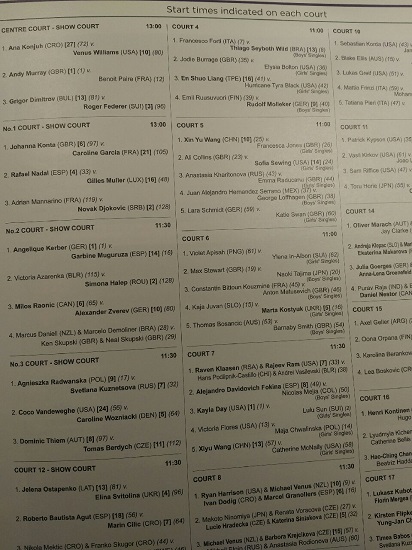 Andy Murray weighed in as well saying while he had no issue with moving, but he did not think the court (he's only been on Centre) is in as good of condition as previous years. He said: "There's quite a few spots on the court, like just behind the baseline and just in front of the baseline, where there's quite big lumps of grass, sort of almost like little divots there, which I don't remember really being the case.
"When I played the first match, (it) was great. I think it's just getting a bit beaten up early. A few of the players have said that about some of the outside courts, as well."
While Murray and Roger Federer have no complaints as they've only been on Centre, the matter of scheduling has been very negative. Arguably the biggest question was why the match between Angie Kerber and Garbine Muguruza was not put on Centre in place of the Ana-Konjuh-Venus Willliams match. It was scheduled for and played on Court Two.
The issue is complex, Venus is a five time winner and hadn't played on Centre till then but Kerber-Muguruza was way better match with high profile players and Djokovic was not happy that he had twice been originally scheduled away from Centre as was Rafa Nadal.
"To be honest, I was really surprised that I was playing on Court No. 2, yes; I mean, the schedule was out then. What can I do? I was going out, trying to play good match on Court No. 2. I played a lot of matches there," Kerber said. "I think we played good match. I think it was a good match from both of us, on a high level. Yeah, I was actually looking forward to playing on one of the two big courts.
"This is not my decision at the end. It's the decision from all the others. At the end I have to take this court which I get scheduled on."
Murray suggested that they should start earlier and play four matches (two men, two women) on Centre and also on Court One. Sure that could be a help but then we go back to the other gripe of the players and that's the start of the courts. If the courts are in a bad way now, what would they be like if four matches were played on them?
Maybe scheduling should be handled by a completely independent panel. Mmm, that will never happen.