Gilles Muller is have the best year of his career and a big win over Rafa Nadal at Wimbledon proves it.
It has been 16 years since Gilles Muller turned pro and he is now enjoying the best year of his career which includes a career high ranking.
The greatest player from Luxenbourg, he has had his fair share of injuries which have been frustrating to say the least but never before has a player been heard to say that an injury ended up proving to be a benefit.
Muller scored the biggest win of his career when he stumped Rafa Nadal in the last 16 of Wimbledon. It was his second win over Nadal from their six matches, the previous one was also at Wimbledon, back in 2005. However, this time on a bright afternoon on court No.1, Muller played like a world No.1.
Muller bolted out of the blocks and created a 6-3, 6-4 lead. There was a question over Nadal bumping his head on a low beam as they waited to walk on court had any bearing on the slower start, but Nadal shook that off. The incident was actually quite funny and both Nadal and Muller had quite a laugh.
Nadal was not laughing for long as Muller's explosive game took hold in what was the best men's match, to that point, of Wimbledon 2017. Nadal, yet again, being prevented from reaching the quarters, a round he has not reached at the All England Club since 2011.
Watched by Prince Felix of Luxembourg, over a four hour 48 minute period and on match point five Muller eventually secured the win 6-3, 6-4, 3-6, 4-6, 15-13. It was survival on court as Nadal was not throwing in the towel – no one expected him to, afterall he had won 28 consecutive completed match at the majors coming into this encounter.
The pressure he was applying was stronger than being in a vacuum.
"I don't know. I mean, just tried to hang in there. I thought I played pretty well through the whole match. Rafa stepped it up in the third and the fourth set. Then I just told myself, Look, I mean, I'm doing the best I can. I'm playing well. Just hang in there and you're going to get your chances," Muller said.
"Got a few of them. Didn't take the first ones. But still kept believing. Yeah, somehow in the end I made it. After I was struggling a bit on my service games in the third and fourth set, I kind of started playing well on my serve again, and won my games more comfortably.
"I felt like at the end I was there all the time on his serves. I was at Love-30, 15-30, 30-All. I felt like I was there all the time. I had a couple match points. I just felt like what I was doing was the right way, just had to be patient."
Muller, who is called "Mulles", says the reason things have been turning around for him is that he has been able to play full seasons and not be in a stop-start situation with injuries.
"The last injury I had was probably the best thing that ever happened to me," Muller said. "I had problems with my elbow, I wasn't able to touch a racquet. I was able to work out physically, I got myself into the best shape I ever was.
"Since then, since 2014 when I came back, I'm able to play full seasons without any breaks during the season. I have a lot of confidence in my body now, which I didn't do before. All this is changing a lot for me. For sure that has been the key for me in the last few years, to be that successful."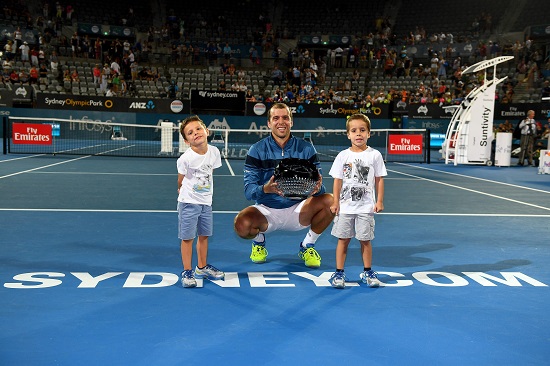 If the Nadal result is the most significant of his career, then things really began for him in Sydney at the start of the year when he won the Apia International Sydney. It was his first career title and Muller was a blubbering mess when he accepted the trophy. He tried to get the words out between sobs acknowledging the support of his wife and two little boys who joined him on the court.
The job is not over for Muller. The improved level of income his results have generated allows him to be more prepared for his matches; there are two coaches and now a physio to take care of him personally. "This is going to be a big plus for me," he said.