Victoria Azarenka is playing her first major since the 2016 French Open ... an adorable little person stopped her from playing till now.
The last time a mother won Wimbledon was in 1980, it was Evonne Goolagong. Can Vika Azarenka be the next one to do it? There is a long way to go before that can happen. Her concentration instead will be on playing Brit Heather Watson in the third round but the fact that she has only been a mother six months and has been playing some impressive tennis is … well, impressive to say the least.
While baby son Leo might be in the crèche at the courts, Vika is striking winners on court and playing now brings a different perspective to her.
"I'm much older than I was before," Azarenka said. "I just feel like there is always going to be another Wimbledon. Every year a different player is going to sit here in this press room and the other press rooms like it happened 50, 60 years ago. To me, I just really feel like I'm enjoying myself coming here every day. Enjoying the journey and being able to bring my son here. And hopefully, you know, in 20 years he'll be playing here maybe."
Azarenka has come back from her far share of injuries but this comeback is so different; the fact she is playing Wimbledon as a new mother, Leo was born last December, so to see her on the courts scoring upsets and driving winners is so amazing.
"It was something that, you know, was a sad situation to be injured," she explained. "For me this time it's a happy thing that I came back and took a conscious decision to be away, and it's more meaning. A little bit more outside of the tennis court for me to be able still to do what I love to do.
"It's a good balance for me that I play because I want to play and I love to play, and, yeah, it just feels more purpose for me.
"I get a different vibe when I come back, you know, with my kid on the tour rather than when you're injured. I feel like I have so much more support from the outside, which is great feeling, definitely."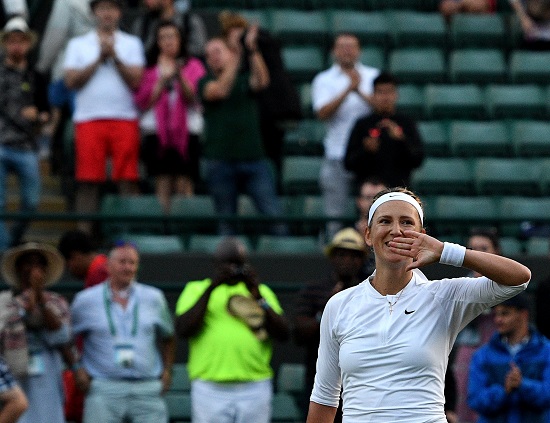 Andy Murray is kore than impressed by Azarenka's return so soon after the baby. He said: "There is differences for the men and women coming back after having children. You know, the physical changes we don't have to go through. It is obviously a lot more challenging. Takes a little bit more time probably for the women.
"Azarenka seems to be doing really good. (Kim) Clijsters obviously is a player that I'm sure a lot of the women will look to, came back after giving birth and did fantastic; physically was in excellent, excellent shape.
"So there is absolutely no reason why Vika can't get back right to the top of the game. I'm sure if and when it happens, if Serena wants to come back, I'm sure she will be able to get back to the top of the game, as well."
Maybe Azarenka could start a mother's group on the women's tour, there seems to be a growing trend. Mandy Minella of Luxembourg is playing four months pregnant. Vika has been speaking to that other famous mum-to-be, Serena Williams and notes could be compared.
"I talk to Serena, not every day, but we do talk once in a while," Azarenka said. "And we have for my whole career. I have talked to Kim, actually. She was coming with Yanina after my practice court and it was just fun to chat and we both agreed it's the best thing that can happen to you in the world.
"It wasn't a long conversation, but it's nice to see that some of my colleagues that have children and we have much more in common than just tennis."