Why do people think they can get away with breaking the rules? Dan Evans broke the rules and has been caught. When will they learn at sometime they will get caught?
Dan Evans, the British player who is No.3 in his country and had been part of the British Davis Cup team, failed a drug test that was taken out of competition in Barcelona. He has accepted the findings that showed he had cocaine in his system. While no big name in the big picture of the tennis world, he still had somewhat of a profile, especially in the UK.
Needless to say that the suspension Maria Sharapova was handed has come into play as to how the Evans case is being viewed.
Evans is a knockabout individual. He has been in trouble a number of times in the past with tennis authorities. He is a fool for what he did and will be criticised for just not learning a lesson, or lessons, from his past indiscretions but really the past should not come into this equation.
Evans, who is ranked 50 but has been as high as 41, has admitted to the cocaine but there is nothing manly with him admitting it as some have made out.
He said in a statement: "This is a very difficult day for me, and I wanted to tell people face to face. I was notified a few days ago that I failed a drugs test in April, where I tested positive for cocaine.
"It's really important that you know that this was taken out of competition and the context completely unrelated to tennis. I made a mistake and I must face up to it. I do not condone for one second to anyone that this was acceptable behaviour.
"I have let a lot of people down, my family, my coach, my team, sponsors, British tennis and my fans. I can only deeply apologize from the bottom of my heart, this has been an extremely sad and humbling experience. I would like to thank you for the support of my career to date for the good and the bad times."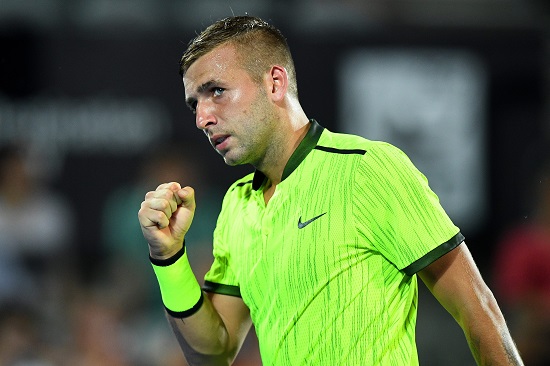 What he did was a slap in the face to those who have stood by him in the past, people like Andy Murray and British Davis Cup captain Leon Smith and his own coach Mark Hilton who poured so much time into Evans. His family who are just everyday people – his father is an electrician and his mother is a nurse – and have no doubt been floored by what has cropped up. Their disappointment should be felt. What he has done is a slap in the face to all of them.
One can't really compare the case of Sharapova and that of Evans. Sharapova is not accepting of what happened and her suspension. She maintains she was exonerated, which she was not. While her suspension was reduced, it was certainly not dismissed. If it had been dismissed then yes she would have been exonerated.
Sharapova failed to notify authorities that she had been taking the meldonium pills. Every pill ingested by an athlete whether it be an aspirin or something incredibly powerful has to be indicated on forms that players are obliged to complete.
Taking cocaine, which is a pathetically idiotic thing for anyone to do, can only harm the person taking it, in this care Evans. The drug Sharapova took is seen as something which can enhance performance which is robbing an opponent of being able to play on a level playing field.
Evans, who is 27, could face a ban for two years for his stupidity. That was the length of time Martina Hingis was banned for when she failed a drug test also for cocaine in 2007.
It remains to be seen how this will affect him. He could be contrite at the beginning but then it send him off the rails even more because he won't be able to venture anywhere near a tennis event – hopefully that will not be the case. If Evans has any sense he will remove himself and reflect on what he has done and start working for his return.
One thing if he does return, there should be no wild cards offered, just as there should not have been for Sharapova.
Anyone who takes drugs is an idiot, a selfish irresponsible fool, who affects the lives of others, not just themselves.