Rafa Nadal created history by winning his tenth French Open.
What a feeling it must be to know that you have created and are a part of history. Rafa Nadal is in that position with his win at the French Open. It was his tenth crown, la decima. He has done what no other man has achieved, won ten titles at the same major. It is truly remarkable.
He not only beat Stan Wawrinka but after the first four games, humbled him. The Swiss had no chance. He only earned one break point in the entire match which was over in two hours five minutes 6-2, 6-3, 6-1.
Not only did he make it No.10 but that was his 15 career major putting him behind only Roger Federer on 18, it was his 53rd clay title and his 73rd career title.
Nadal however seems to shy away from what he has achieved, whether it's to take pressure off himself or whether he does not want to rub it another person's face, we don't know.
He was asked how much something like this may free him up to play without pressure.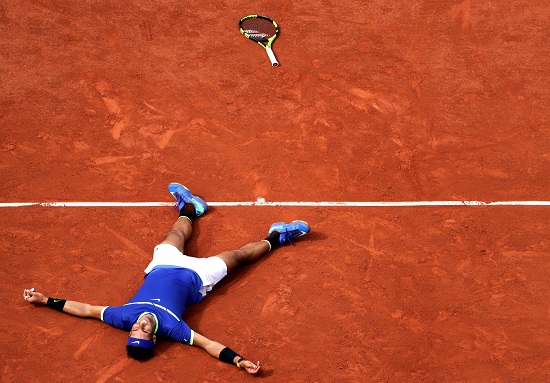 "I'm going to be under pressure in one week when I play in Queen's," he said. "No, that's the real thing and that's the sport. And that's the beautiful thing about our sport I say before, no? 15 is an unbelievable thing for me. And 10 here, much more. My motivation is still there.
"I really want to keep competing for important things, and I gonna keep working hard to try to have more days like today. That's my motivation, and that's why I am playing tennis, still playing tennis, because I have the passion for the game and I like the competition. I keep having chances to compete for the most important things, and that's what I want to keep trying to do."
Even when he was asked to rate where this tenth title would rate among the other nine from Roland Garros in the trophy cabinet, he said that every Roland Garros has been very important.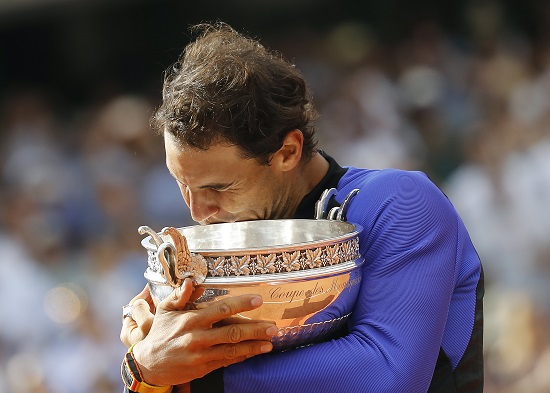 "You have some ones that are more special than others, obviously, but everyone have been unique," said Nadal. "Yeah, I enjoyed every one, no? Is true that this one is gonna be one of the more special for the number, for what happened on the ceremony after the final, for so many things, no?
"And because I am 31 already and not a kid anymore (smiling). Because of the level of tennis and accepting that I have been in the problems, physical problems for the last period of time, that's an important one."
He lost only 35 games the whole tournament which is the second fewest games lost at a major, the only person ahead of him is Bjorn Borg. It is the third time he has won the title without losing a set.
And as the number pile up, he is back in contention for the No.1 ranking. After the French open he moves to No.2 for the first time since October, 2014, so the top of the heap is within reach.
"I am playing well. I am in a good position," he said. "I just won the most important event of the year for me, so that's the only thing that matters today, no? Winning these kind of titles, then you have chances to become any number on the ranking. I don't know. I am playing well. If I am able to keep playing well, why not?"