History is on the line for Rafa Nadal at the French Open.
La Decima is still so very much alive. It is scary to imagine that one man can have the type of record Rafa Nadal has on clay and in particular at the French Open. To consider someone being the first in history to achieve something is tingling and to be able to say you were there to witness it is pretty special.
Nadal will play his tenth final at Roland Garros when he meets Stan Wawrinka. To be in a tenth final at the same tournament, let alone it being one of the four majors and the toughest one to win, is a stunning feat in itself. Only two other men have reached ten finals at the same major – Roger Federer has done it at Wimbledon and the late Bill Tilden did it at the US Championships.
Nadal has lost only two matches at Roland Garros (in 2016 he gave a walkover because of his wrist injury and that does not count in the stats because he never took to the court) and has never lost a semi-final or final on Court Philippe Chatrier.
While he is incredibly proud of what he has done at his most special and favourite tournament, he sort of shys away from talking about the statistics. Probably one, to keep things under a lid and to not get overawed by it in other words try to stay humble, and two, to keep the pressure off his shoulders because if you start praising yourself and slapping yourself on the back it would be very easy to lose sight of what's ahead … winning again.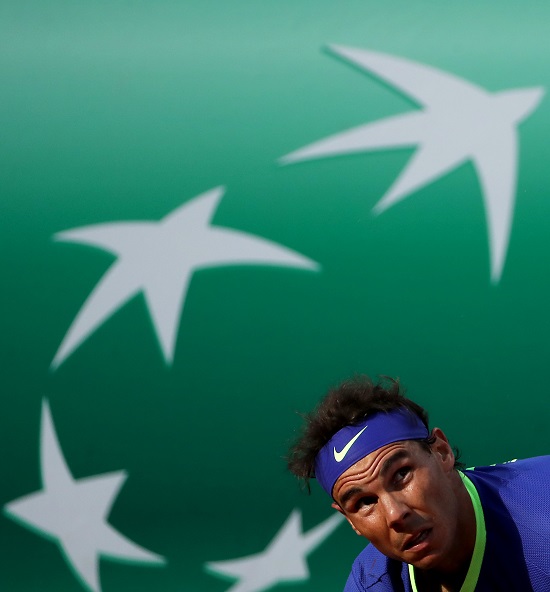 "I think I don't make more history, no? It's enough. 9 are more than good," Nadal said with a bit of a bashful laugh. "I think I always say the same, but it's true, no? 9 or 10 is only 10% more. Is true that 10 is a beautiful number, but actually my favourite is 9. But for sure it becomes 10 will be my favourite. I don't know.
"The thing that I am more proud about my career probably is the 2013 year, no? 2013 was amazing. Because I had too many problems on my knee, so I was not able to practice at all. And I finished the year being World No. 1, winning here, winning the US Open. So that's the thing that I am more proud. I don't know. 9 here is probably difficult. I always say the same.
"If I did, probably gonna come somebody and gonna do it, because I don't consider myself very special. But is obvious that you need to combine a lot of things, and a lot of things have to put together to have that record. And if it's 10, even more. You need to be lucky, you need to play well, you need to be healthy that week, that two weeks. So it's a lot of things. I am not the right one to say, but play 10 finals here is something difficult."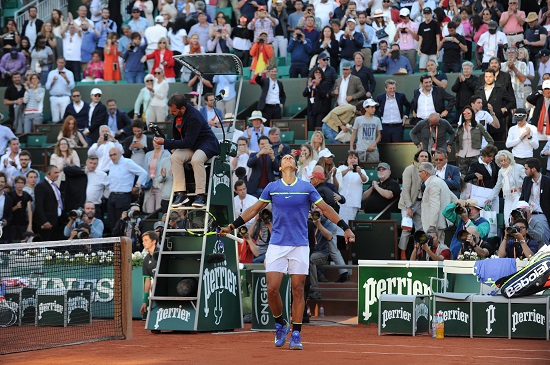 He doesn't consider himself special? Seriously? I don't think Roger Federer or Novak Djokovic would say that about themselves. He is just the greatest clay court player the world has ever seen. But, heck he has actually acknowledged that playing ten finals at Roland Garros is "something difficult".
C'mon he has won 52 clay titles, no man has achieved that. Going into the final against Wawrinka he has dropped only 29 games and no sets; four times he has reached the French final without losing a set and twice (2008, 2010) won it that way, he's won 23 matches on clay this year and lost just one, to Dominic Thiem who he tidied up in the semis.
"I think to play Rafa on clay in French Open in a final is probably the biggest challenge you can have in tennis. He's the best player ever on clay (and) he's going for his 10th Roland Garros, so it's something really impressive, something tough," Wawrinka said. "It's for sure gonna be really difficult. But again, in the end of the day, it's the final. The pressure is on both players. No one go on the court thinking he has no pressure.
"We both want to win the title, and we both gonna give it all on the court. He's for sure gonna be the favourite with what he's done in the past, but also this season already he's playing so well. So I will have for sure to play my best tennis."
Not just play his best tennis, but better than his best. It will be a shock if la decima does not happen.